League leaders Tottenham host title contenders Liverpool on Sunday lunchtime.
The north London club will be hoping to maintain their good start to the new campaign which has seen them win two and not concede a goal thus far. They may also find encouragement from the fact the visitor's defensive issues from last season have not quite been corrected judging by their recent visit to The Etihad.

Differently, Brendan Rodger's troops will be hoping to return back to winning ways after being out classed by Manchester City on Monday night - losing 3-1.

The Merseyside club will be buoyed by their latest addition, that of Mario Balotelli, who joined from AC Milan on Monday.

The Italian hasn't enjoyed the best of times at White Hart Lane. During his spell at Manchester City, the striker controversially stamped on Scott Parker's head without punishment.

The away side will be hoping for a repeat of their last performance and result at the Lane; when they went there and thumped Andre Villas-Boas' team 5-0.


KICK-OFF: Sunday, 1:30pm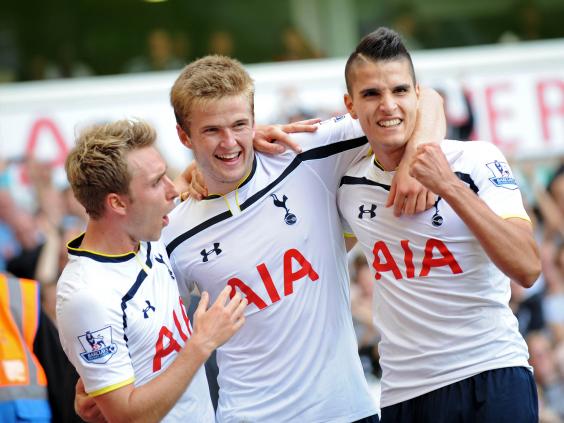 PAST THREE MEETINGS
Liverpool 4 (Kaboul (OG), Suarez, Henderson, Coutinho) Tottenham 0, Premier League, March 2014
Tottenham 0 Liverpool 5 (Suarezx2, Henderson, Flanagan, Sterling, Sturridge),
Premier League, December 2013
Liverpool 3 (Suarez, Downing, Gerrard) Tottenham 2 (Vertonghenx2),
Premier League, March 2013
STATS…

Both teams have played out this fixture, 142 times in the league with Spurs winning 41 attempts and Liverpool succeeding on 66 occasions and the remaining games ended in draws.
Tottenham - the latest match in pictures
Tottenham - the latest match in pictures
1/110 Southampton 2 Tottenham 2

Tottenham left-back Ben Davies is carried off with a suspected dislocated shoulder

Getty Images

2/110 Southampton 2 Tottenham 2

Nacer Chadli calmly slots the ball into the net to make it 2-2

Getty Images

3/110 Southampton 2 Tottenham 2

Southampton players celebrate after Graziano Pelle scores his second

Getty Images

4/110 Southampton 2 Tottenham 2

Pelle jumps highest to head in his and Saints' second

Getty Images

5/110 Southampton 2 Tottenham 2

Erik Lamela celebrates getting Spurs level

Getty Images

6/110 Southampton 2 Tottenham 2

Pelle pokes the ball beyond Hugo Lloris to open the scoring

Getty Images

7/110 Tottenham 3 Swansea 2

Andros Townsend celebrates scoring Spurs' third

GETTY IMAGES

8/110 Tottenham 3 Swansea 2

Bafetimbi Gomis of Swansea City is stretchered off at White Hart Lane

GETTY IMAGES

9/110 Fiorentina 2 Tottenham 0

Mohamed Salah makes it 2-0 to the Italian side

GETTY IMAGES

10/110 Fiorentina 2 Tottenham 0

Mario Gomez celebrates after scoring Fiorentina's first

GETTY IMAGES

11/110 Fiorentina 2 Tottenham 0

Roberto Soldado wasted a glorious chance for Spurs

GETTY IMAGES

12/110 Liverpool 3 Tottenham 2

Mario Balotelli scores his first Premier League goal for Tottenham

Getty Images

13/110 Liverpool 3 Tottenham 2

Steven Gerrard scores from the spot

Getty Images

14/110 Tottenham Hotspur 2 Sunderland 1

Jan Vertonghen got Spurs off to the perfect start with an early goal that deflected in

Getty Images

15/110 Tottenham Hotspur 2 Sunderland 1

Jermain Defoe made his Sunderland debut at his former club

Getty Images

16/110 Tottenham Hotspur 2 Sunderland 1

Sebastian Larsson equalised with a stunning free-kick for Sunderland

Getty Images

17/110 Tottenham Hotspur 2 Sunderland 1

Gus Poyet and Mauricio Pochettino watch their teams in action

Getty Images

18/110 Tottenham Hotspur 2 Sunderland 1

Emmanuel Adebayor came on for his first game since 9 November

Getty Images

19/110 Tottenham Hotspur 2 Sunderland 1

Christian Eriksen scores a late winner for the home side

Getty Images

20/110 Tottenham 5 Chelsea 3

Diego Costa got Chelsea off to a great start when he opened the scoring after 18 minutes

GETTY IMAGES

21/110 Tottenham 5 Chelsea 3

However, Harry Kane scored an equaliser

GETTY IMAGES

22/110 Tottenham 5 Chelsea 3

With Danny Rose and then Andros Townsend from the penalty spot scoring before half-time to put Spurs in control

GETTY IMAGES

23/110 Tottenham 5 Chelsea 3

Townsend scores on half-time, before Kane scored Tottenham's fourth after the break

GETTY IMAGES

24/110 Tottenham 5 Chelsea 3

Eden Hazard got one back for Chelsea before Chadli hit the fifth for Spurs

GETTY IMAGES

25/110 Tottenham 5 Chelsea 3

John Terry scored a late consolation

GETTY IMAGES

26/110 Tottenham 0 Manchester United 0

Neither Manchester United or Tottenham could break the deadlock

GETTY IMAGES

27/110 Tottenham 0 Manchester United 0

Hugo Lloris was in inspired form, denying a host of chances for Manchester United in the first half

GETTY IMAGES

28/110 Tottenham 0 Manchester United 0

Spurs threatened to steal all three points late in the game but it ended goalless at White Hart Lane

GETTY IMAGES

29/110 Leicester 1 Tottenham 2

Harry Kane scored his 15th goal of the season inside a minute

Getty Images

30/110 Leicester 1 Tottenham 2

Kane silences the crowd at the King Power Stadium

Getty Images

31/110 Leicester 1 Tottenham 2

Danny Rose battles with Danny Simpson on Tottenham's left wing

Getty Images

32/110 Leicester 1 Tottenham 2

Leonardo Ulloa heads Leicester level early in the second-half

Getty Images

33/110 Leicester 1 Tottenham 2

Ulloa salutes the crowd after his equalising goal

Getty Images

34/110 Leicester 1 Tottenham 2

Spurs played mob Eriksen after his brilliant free-kick handed them all three points

Getty Images

35/110 Tottenham 2 Burnley 0

Spurs striker Harry Kane poked the home side into an early lead

Getty Images

36/110 Tottenham 2 Burnley 0

Ashley Barnes curled a wicked shot beyond Hugo Lloris to equalise

Getty Images

37/110 Tottenham 2 Burnley 0

Barnes celebrates with Burnley team-mates

Getty Images

38/110 Tottenham 2 Burnley 0

Erik Lamela scored the decisive goal with a fantastic strike from outside the area

Getty Images

39/110 Tottenham 2 Burnley 0

The goal was Lamela's first in the Premier League since joining last summer

Getty Images

40/110 Tottenham 2 Burnley 0

Danny Ings reacts after missing a good chance in the second-half

Getty Images

41/110 Tottenham 4 Newcastle 0

Spurs' striker Harry Kane scores their third goal

GETTY IMAGES

42/110 Tottenham 4 Newcastle 0

Newcastle United's Jak Alnwick punches the ball clear

GETTY IMAGES

43/110 Tottenham 4 Newcastle 0

Nabil Bentaleb (centre) celebrates putting Tottenham ahead

GETTY IMAGES

44/110 Besiktas 1 Tottenham 0

Besiktas players celebrate at the final whistle

GETTY IMAGES

45/110 Besiktas 1 Tottenham 0

Besiktas forward Cenk Tosun scores the winning goal in the 1-0 victory over Spurs

Getty Images

46/110 Besiktas 1 Tottenham 0

The Olympic Stadium during the floodlight fail

GETTY IMAGES

47/110 Besiktas 1 Tottenham 0

Slaven Bilic, the Besiktas coach, watches on from the sidelines

Getty Images

48/110 Besiktas 1 Tottenham 0

Tottenham striker Roberto Soldado (left) is denied by the Besiktas keeper Tolga Zengin last night

Getty

49/110 Tottenham 0 Crystal Palace 0

Nabil Bentaleb competes with Martin Kelly for a high ball

Getty Images

50/110 Tottenham 0 Crystal Palace 0

Players from both teams line-up before kick-off to remember the Christmas tribute from the First World War 100 years ago

Getty Images

51/110 Tottenham 1 Stoke 2

Kyle Naughton receives his red card

GETTY IMAGES

52/110 Tottenham 1 Stoke 2

Nacer Chadli celebrates his goal for Spurs

GETTY IMAGES

53/110 Tottenham 1 Stoke 2

Jon Walters scores Stoke's second

GETTY IMAGES

54/110 Tottenham 1 Stoke 2

Bojan Krkic (right) fires his shot past the lunge of Tottenham Hotspur's Danny Rose to score the opening goal

GETTY IMAGES

55/110 Tottenham 1 Stoke 2

The players observe a moment of silence in a mark of respect to fallen soldiers since World War I on Remembrance Day

GETTY IMAGES

56/110 Asteras Tripolis 1 Tottenham 2

Andros Townsend celebrates with Harry Kane - the two Tottenham goal scorers in this Europa League tie

Getty Images

57/110 Aston Villa 1 Tottenham 2

Andreas Weimann celebrates after ending Villa's long wait for a goal to put the home side in front

Getty

58/110 Aston Villa 1 Tottenham 2

Nacer Chadli pulls Tottenham level in the 84 minute

Getty

59/110 Aston Villa 1 Tottenham 2

Harry Kane celebrates scoring Spurs' winning goal with Andros Townsend

Getty

60/110 Tottenham 2 Brighton 0

Harry Kane celebrates scoring Spurs' second goal with Andros Townsend

Getty Images

61/110 Tottenham 2 Brighton 0

Referee Mark Clattenburg gives Brighton's Inigo Calderon a talking to

Getty Images

62/110 Tottenham 2 Brighton 0

Erik Lamela gives Tottenham the lead

Getty Images

63/110 Tottenham 1 Newcastle 2

Ayoze Perez and his teammates celebrate with the away fans

GETTY IMAGES

64/110 Tottenham 1 Newcastle 2

Ayoze Perez scores for Newcastle to complete the turnaround

GETTY IMAGES

65/110 Tottenham 1 Newcastle 2

Sammy Ameobi scores with his first touch to level for Newcastle

GETTY IMAGES

66/110 Tottenham 1 Newcastle 2

Emmanuel Adebayor heads in the opening goal for Spurs

GETTY IMAGES

67/110 Manchester City 4 Tottenham 1

Sergio Aguero completes his hat-trick from the penalty spot to put City 3-1 up

GETTY IMAGES

68/110 Manchester City 4 Tottenham 1

Roberto Soldado reflects on his penalty miss

GETTY IMAGES

69/110 Manchester City 4 Tottenham 1

Sergio Aguero sees City's second penalty of the game saved and then hits the rebound over

GETTY IMAGES

70/110 Manchester City 4 Tottenham 1

David Silva is fouled to give City their second penalty

GETTY IMAGES

71/110 Manchester City 4 Tottenham 1

Sergio Aguero gets his second of the afternoon from the penalty spot

GETTY IMAGES

72/110 Manchester City 4 Tottenham 1

Frank Lampard is fouled by Erik Lamela to give City a penalty

GETTY IMAGES

73/110 Manchester City 4 Tottenham 1

Christian Eriksen celebrates his equaliser for Spurs

GETTY IMAGES

74/110 Manchester City 4 Tottenham 1

Christian Eriksen equalises for Spurs

GETTY IMAGES

75/110 Manchester City 4 Tottenham 1

Sergio Aguero celebrates his opening goal

GETTY IMAGES

76/110 Manchester City 4 Tottenham 1

Sergio Aguero fires City into the lead

GETTY IMAGES

77/110 Tottenham 1 Southampton 0

Christian Eriksen celebrates his winning goal

GETTY IMAGES

78/110

Christian Eriksen fires in to give Spurs the lead

GETTY IMAGES

79/110 Tottenham 1 Besiktas 1

Demba Ba broke English hearts again with a late penalty to share the spoils.

Getty

80/110 Tottenham 1 Besiktas 1

Andros Townsend continued his recovery from injury in the Europa League.

Getty

81/110 Tottenham 1 Besiktas 1

Harry Kane, fast becoming an important player for Spurs, put his side ahead after 27 minutes.

Getty Images

82/110 Tottenham 1 Besiktas 1

The Turkish supporters were in fine voice throughout the ninety minutes.

Getty

83/110 Tottenham 1 Besiktas 1

Slaven Bilic returned to London to take on Tottenham at White Hart Lane.

Getty

84/110 Arsenal 1 Tottenham 1

All 10 of Oxlade-Chamberlain's Arsenal goals have come at the Emirates

Getty Images

85/110 Arsenal 1 Tottenham 1

Alex Oxlade-Chamberlain fired in Arsenal's equaliser from close range

Getty Images

86/110 Arsenal 1 Tottenham 1

Nacer Chadli (second right) fired Spurs into the lead after Mathieu Flamini gave away the ball in midfield

Getty Images

87/110 Arsenal 1 Tottenham 1

Worryingly for the Gunners Aaron Ramsey was taken off after hurting his hamstring in the first half

Getty Images

88/110 Arsenal 1 Tottenham 1

Danny Rose and Alex Oxlade-Chamberlain battle for the ball in a tense, nervy north London derby at the Emirates

Getty Images

89/110 Arsenal 1 Tottenham 1

Ryan Mason (right) made his Premier League debut for Spurs in the match

Getty Images

90/110 Tottenham 0 West Brom 1

West Brom players celebrate James Morrison's goal

91/110 Tottenham 0 West Brom 1

James Morrison scores for West Brom against Tottenham

GETTY IMAGES

92/110 Partizan 0 Tottenham 0

Tottenham Hotspur's Roberto Soldado, center, receives the ball while being guarded by Partizan Belgrade's Miroslav Vulicevic

AP

93/110 Partizan 0 Tottenham 0

Tottenham Hotspur's Nabil Bentaleb (center) and Partizan Belgrade's Petar Grbic challenge for the ball

AP

94/110 Partizan 0 Tottenham 0

Harry Kane holds off the challenge of Danilo Pantic

GETTY IMAGES

95/110 Sunderland 2 Tottenham 2

Tottenham can't believe it after Harry Kane's own goal gifts Sunderland a point.

Getty

96/110 Sunderland 2 Tottenham 2

Gus Poyet's men have impressed this season but, before the match against Spurs, were yet to get three points.

Getty

97/110 Sunderland 2 Tottenham 2

Adam Johnson drags the Black Cats back into the game with a well taken drive.

Getty

98/110 Sunderland 2 Tottenham 2

Nacer Chadli puts Spurs ahead after just two minutes at the Stadium of Light. This strike was his third of the season.

Getty

99/110 Tottenham 4 QPR 0

Harry Redknapp, the QPR manager, is greeted by Mauricio Pochettino prior to the game at White Hart Lane

GETTY IMAGES

100/110 Tottenham 4 QPR 0

Nacer Chadli celebrates after opening the scoring against QPR

GETTY IMAGES

101/110 Tottenham 4 QPR 0

Tottenham defender Eric Dier (C) celebrates scoring the second goal against QPR with Argentinian midfielder Erik Lamela

GETTY IMAGES

102/110 Tottenham 4 QPR 0

Christian Eriksen takes a free-kick against QPR - hitting the crossbar

GETTY IMAGES

103/110 Tottenham 4 QPR 0

Nacer Chadli of Spurs heads past Robert Green of QPR to score his team's third goal

GETTY IMAGES

104/110 Tottenham 4 QPR 0

Togolese striker Emmanuel Adebayor (L) scores Tottenham's fourth goal against QPR

GETTY IMAGES

105/110 West Ham 0 Tottenham 1

Tottenham players and fans celebrate Eric Dier's late winning goal on his debut to sink West Ham

Getty Images

106/110 West Ham 0 Tottenham 1

James Collins is shown a red card after picking up a second booking to level the teams at 10-men-a-piece

Getty Images

107/110 West Ham 0 Tottenham 1

Sam Allardyce watches on as Mauricio Pochettino gestures following the sending off of Kyle Naughton

Getty Images

108/110 West Ham 0 Tottenham 1

Mark Noble sends his penalty attempt wide of the left post as Hugo Lloris dives the wrong way

Getty Images

109/110 West Ham 0 Tottenham 1

Kyle Naughton walks off the pitch in disappointment after being sent-off for a deliberate handball

Getty Images

110/110 West Ham 0 Tottenham 1

Kyle Naughton is shown a straight red card for a deliberate hand ball

Getty Images
ODDS…
Tottenham to win: 2.5
Liverpool to win: 3.5
Draw: 2.6
TV: Live on Sky Sports 1 at 1:30pm, highlights on BBC1 at 10.25pm
Reuse content