What was most damning about this Manchester City performance – and there was a long list of things – was the speed of their collapse. They were 1-0 up in the last minute of the first half, not playing especially well but hoping to dig in and see out an important win. Five minutes after the restart they were 2-1 down and the game was obviously gone.
City conceded another two in a second half that was reminiscent of the second-half surrenders of last season. This was the day when City slipped from the top of the Premier League. They will need to rediscover their character if they want to get back up there.
At least two of Spurs' goals could  have been disallowed for offside, but that does not explain what happened. City, in fact, did more than enough to deserve this defeat, after a second-half performance that was devoid of the control, authority and strength you would expect from a title-chasing side.
They were without Joe Hart,  Vincent Kompany and David Silva, and  their replacements fell well short of the required standard to win difficult away games, and the standard required to win titles.
Of course, yesterday afternoon was not solely about City. Mauricio Pochettino's Spurs produced their best performance in months to overrun them, with Harry Kane scoring his long-awaited first League goal of the season. This young Tottenham team have a way of conjuring up a physical intensity that even high-calibre opponents cannot live with. They did this to Chelsea and Arsenal here last season, beating them 5-3 and 2-1 respectively. This was a performance as good as either of those outings.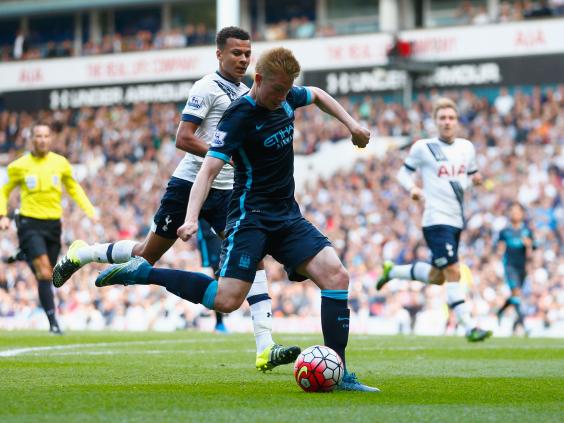 There had been a sense leading up to this game that Spurs were on the brink of clicking, after consecutive 1-0 wins over Sunderland and Crystal Palace. Heung-Min Son's direct running has livened up the team, while Erik Lamela has been in the form of his Tottenham career. Few, however, would have predicted that they could be part of a performance like this, in which Spurs overwhelmed City physically and mentally.
The crucial first goal, just before the break, showed up City's sloppiness and Spurs' opportunism. Kane played in Kyle Walker – three yards offside – down the right, but play continued, he crossed and City keeper Willy Caballero saved from Son. The ball came to Kevin De Bruyne, who, rather than keeping the ball, or putting it in the stands, gave it to Eric Dier, 25 yards out. Sensing Caballero's inattention, Dier drove the ball into the bottom corner.
City manager Manuel Pellegrini insisted that his side should have been ahead at half-time, but they were not, and in protest they barely contested the second half. Spurs did, however, and five minutes after the re-start Kane chased a lost cause until Nicolas Otamendi tripped him and Spurs were awarded a free-kick on the right. Lamela whipped it in, Caballero flapped and Toby Alderweireld jumped above Fernando and headed the ball into the empty net. Caballero's communication with his fellow Argentine centre-backs Otamendi and Martin Demichelis was non-existent. Spurs were ahead and the only question was how many goals they would win by. Touré limped off with a hamstring injury as Spurs continued to tear into them. Lamela charged forward and drew a foul from Demichelis. Eriksen's free-kick hit the bar but Kane converted the rebound. Kane may have flirted with offside, but City's  defence had collapsed anyway.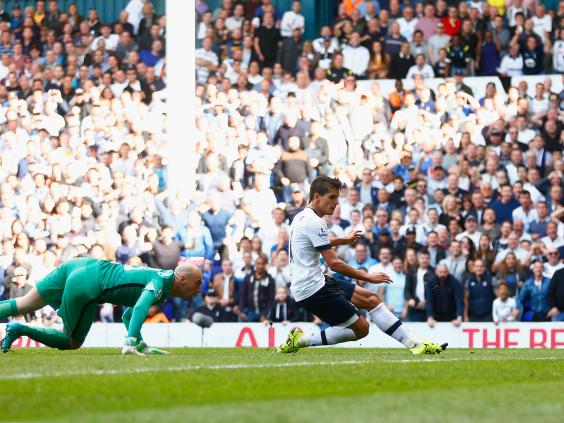 The worst goal of City's awful afternoon was the fourth, 11 minutes before the end. Clinton Njie, on as a substitute, rolled away from Aleksandar Kolarov and burst down the right, crossing for Lamela. Demichelis and Caballero got in each other's way, Lamela took his time and rolled the ball in.
It was only what Lamela, Spurs and City deserved. It all felt a very long way from the moment just after 1pm when Touré broke downfield and played in De Bruyne to put City 1-0 up. De Bruyne has been excellent for City, but their most important players for games like this are Hart, Kompany and Silva. Without them, and with Aguero and Touré not fully fit, City are vulnerable.