"I am not the anti-Guardiola," said a 38-year-old Mauricio Pochettino, desperately trying to manage expectations. It was December 2010 and his Espanyol team were about to host Pep Guardiola's Barcelona. Pochettino had won one, drawn one and lost one in La Liga against Guardiola so far and was expected to get another result this time. "In football the players are the protagonists," he insisted, "not the coaches."
Barcelona proved Pochettino's point for him. Espanyol worked ferociously hard, as any Pochettino team does. They pressed high, defended high and snapped into tackles. And Guardiola's Barcelona dismantled them 5-1.
This was just three weeks after Barcelona beat Jose Mourinho's Real Madrid 5-0. They were playing some of the best football ever played, half-way through a season which ended with the La Liga and Champions League titles. They were so good that they could render almost any opponent irrelevant. But Guardiola called it "the most complicated game" of Barcelona's season so far, and it was.
Some coaches thought that the way to play Guardiola's Barcelona was to park the bus. They saw Mourinho's Internazionale scraping past in that famous Champions League semi-final second leg, six months before. But not Pochettino. He wanted to fight fire with fire. That is how he had got results against Barcelona in the past. So he had his head held high afterwards, despite being humiliated at home by their hated local rivals. "The team was true to our philosophy, and we tried with all our strength," Pochettino said. "But Barcelona are in a state of grace, close to touching perfection."
That was the fifth of nine meetings between Guardiola and Pochettino when they were coaching the two clubs of Barcelona. They had parallel spells in their first senior jobs: Guardiola arrived six months before Pochettino, they both lasted four years, Pochettino was sacked six months after Guardiola's exhausted resignation.
Their last meeting was Guardiola's last home game at the Nou Camp, an emotional 4-0 demolition of Espanyol. More than four years on, they meet again at White Hart Lane on Sunday. Their careers have followed different paths. Pochettino is still aiming for his first major trophy, Guardiola has won 21. But what was true when they started their careers is still true now: they have markedly similar philosophies of football, with shared influences and shared characteristics on the pitch.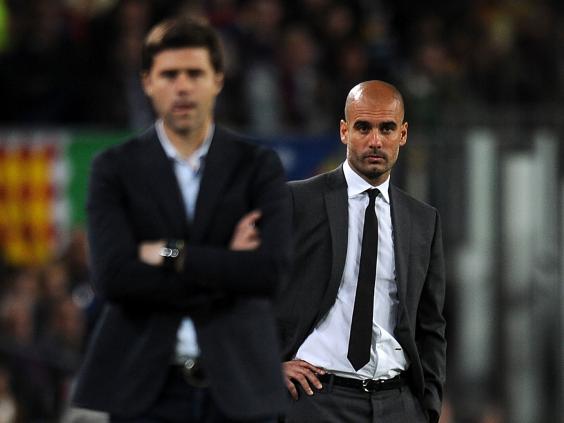 Both managers like their teams to dominate possession, to build up from the back, to take the initiative in the game and to create chances. Both managers like their teams to defend high up the pitch, to press high, winning the ball back within three seconds, protecting against the counter-attack. Both men are obsessive perfectionists and workaholics who demand the same professionalism and application from their players. 
What is so interesting is how Pochettino and Guardiola arrived at the same conception of the game, at the same time, at the same age, in the same city, but from two very different angles. Pochettino owes it all to Marcelo Biesla, the man who discovered him in the dead of night, aged 15, while trying to recruit youngsters for Newell's Old Boys. Pochettino won titles for Bielsa's Newell's, before playing for him again at Espanyol and then for Argentina. Biesla was Pochettino's "father in football" and his protégé simply could not exist without the mentor.
Guardiola never got to play under Bielsa, and it is one of the few regrets of his career. "I would have liked to have played under him," Guardiola reflected. "He is different from everyone else." Back in 2006, a 35-year-old Guardiola had just finished playing for another hero of his, Juan Manuel Lillo, at Dorados Sinaloa in Mexico. So he made the pilgrimage down to Argentina to meet Bielsa and learn from his ideas. Within a year he was in charge of Barcelona B and his coaching journey had begun.
When Guardiola and Pochettino stepped into coaching, they both did so with philosophies and methods that were almost fully-formed. Pochettino took over at Espanyol with the club, where he was a hero as a player, in crisis. He was appointed on the same day in January 2009 that Barack Obama was inaugurated as US president. At Pochettino's first game, a 0-0 draw with Guardiola's Barcelona in the Copa del Rey, Espanyol fans brought "Yes we can" banners. In the second leg, Barcelona won 3-2.
"I am not the anti-Guardiola"
What most struck everyone at Espanyol was how this 36-year-old managerial novice knew exactly what he wanted. "The idea was very clear, from the first moment," Jordi Amat, then a youth-teamer at Espanyol, tells The Independent. "How to play and how to press high. He is doing the same at Tottenham now, he knows clearly the idea, and how to do it."
The Espanyol players instantly learned what Pochettino wanted from them. In February, they travelled to the Nou Camp. Barcelona were 10 points clear at the top of the table. The Spanish press said that they would be "fighting King Kong with a teaspoon". "All the people said 'Espanyol is dead, they have no chance'", Pochettino later recalled. "For 27 years, Espanyol had never won the derby away."
Pochettino's plan was to attack Barcelona with a style close to their own. "Barcelona were top, and the plan was to press high and to surprise them," Pochettino said. "They were surprised how we played. We were a little bit lucky during the game. We won 2-1, a very special victory." Ivan de la Pena scored twice. Barcelona went on to win the treble, but Espanyol stayed up.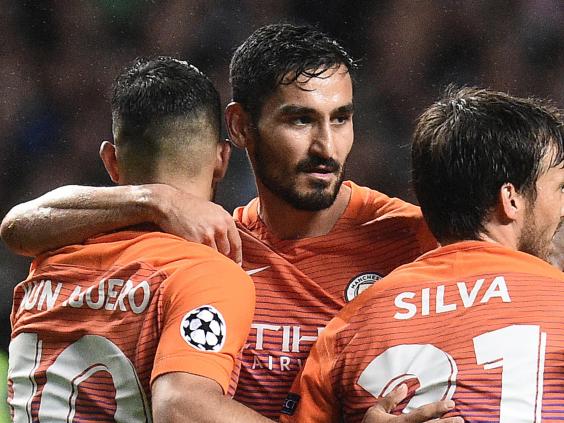 That was a vindication for Pochettino's football, for taking the fight to their celebrated rivals, meeting Barcelona's pressing with some pressing of their own. He never beat them again, but he certainly earned Guardiola's respect. "There are teams that wait for you, and teams that look for you," said Guardiola. "Espanyol look for you."
In December 2009 Barcelona scraped a 1-0 win over Espanyol, thanks to a fortunate penalty. For the return fixture at the Estadi Cornella-El Prat, Espanyol scrapped their way to a famous 0-0 draw, in which Dani Alves was sent off. Pochettino's football was described as "guerrilla warfare", for their energy and aggression, and playing against them "the closest thing to hell" in football.
This was the context for Pochettino having to deny that he was the "anti-Guardiola" before the December 2010 meeting. Despite that heavy defeat, Pochettino's team could still cause Barcelona problems. Espanyol lost 2-0 at the Nou Camp in May 2011, just before the Champions League final triumph at Wembley, and there is no shame in that.
In their final season as rivals, Espanyol earned a famous 1-1 draw at home, just days after Barcelona had won the 2011 Club World Cup. Their last game was that 4-0 farewell to Guardiola. Of course Guardiola has a superior record, with four wins from their seven league meetings. But Pochettino is proud of the fact he coached vastly inferior players towards a similar style of play.
That, ultimately, is why Guardiola has won so much more than Pochettino. Their backgrounds are different but their outlooks are similar. "Both of them press high," said Amat, who played for Pochettino, and against Guardiola, for Espanyol. "Maybe Pochettino is more pragmatic, about how to press. And maybe Guardiola is thinking more about the best way to play football, about perfection." Pochettino cannot aim that high yet, but he is getting closer.
Reuse content