Mauricio Pochettino said there was no secret to beating Manchester City: just hard work and a "near perfect performance".
His Tottenham side demolished City 2-0 – it could have been more – at White Hart Lane to bring City's perfect league start to the season to a juddering halt.
"I am very happy, very pleased," he said. "It was a nearly perfect performance. To play a great team like City, you need to do a fantastic job. So, yes, I'm very proud. We worked very hard and all the players were fantastic.
"It was a real exciting game. Both teams play in an exciting way. We share a similar philosophy. I enjoyed it from the touchline. I think the fans enjoyed it a lot; both teams' mentality was to go forward and play football and try to win.
"That is our challenge. I said after Monaco I was disappointed with the lack of passion. Today you can win or lose but have no regrets. That is the attitude we need to keep. It is important to be consistent. It is too early to talk about aims but today is the way we want to work. Today is a good example to follow for us."
Pochettino admitted his club can challenge the more established clubs at the top of the table but that they have to be clever to compete.
"We are at a different level to other clubs but we work hard to improve and if we play with passion we have quality enough to fight with the big teams." 
The manager also insisted he will continue to let the Tottenham players decide who takes penalties despite Erik Lamela missing a spot-kick during his side's win over City.
It would have been a fairer reflection of the game had Lamela not seen his penalty pushed aside by Claudio Bravo. Lamela and Heung-Min Son had both appeared set on taking the kick. City had a couple of chances after the penalty miss that, if scored, could have led to a tense finish for the home side. But Pochettino was happy with his system.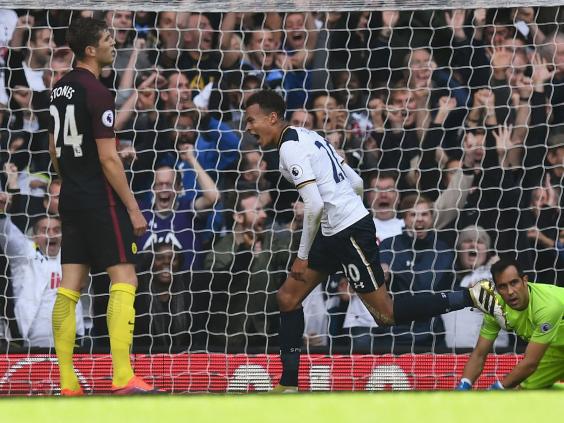 "Lamela, Son, Eriksen. It is whoever feels better to shoot," Pochettino said. "It happened that two players wanted to shoot. But it is better that than no one wanting to take the ball. Maybe the next one, if Son is on the pitch and Lamela too, maybe Son will say 'this is mine, I gave you the one against City.' This is not a problem. Anyone can miss. That is football."
But do they not have a pecking order? "When you prepare the game you have two, three, four players who can take the ball [for a penalty] and then Harry Kane, maybe he is first and then Son and Lamela, one, two, three. But then out on the pitch something different can happen and someone might say 'I am confident to shoot the penalty'. They discuss between them.
"They are allowed to discuss and take the decision. If two players want to shoot it's difficult from the touchline for me to shout 'no, it's you' because they are fighting and it's impossible to see us. And I can't go on to the pitch either!"
Pep Guardiola had no complaints about the result. "They were the better team," the Spaniard admitted. "It happens. Last season they were fighting to win the Premier League. We knew how aggressive they are, especially at home. It was difficult because we wanted to control our game but we lost second balls in positions that were so dangerous. Congratulations to Tottenham. We have to accept it and learn. It is a process. We learn from today and move forward.
"Sometimes it happens – we prepared as well as possible. We tried. From the beginning I didn't feel we could play as we want. We had problems: they won the second ball, the game was difficult to control."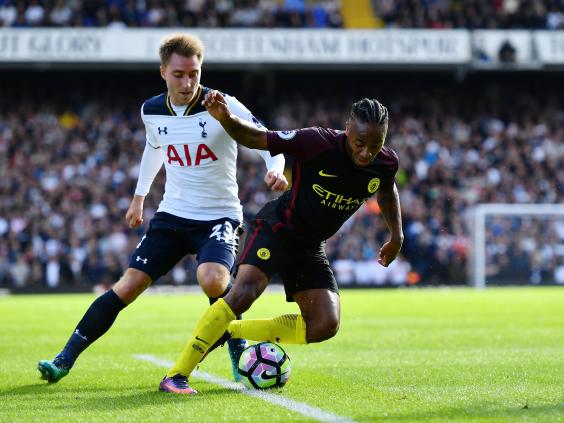 Did he have regrets? "Possibly. But they were better. We will learn. But it will happen [we will lose] again."
Guardiola denied that a tough away game in the Champions League – at Celtic – had contributed to their loss.
"If you want to compete in all the tournaments you have to be used to it," he said. "The schedule is the schedule, I can't control that. I don't think [Celtic was a factor]. Spurs were better, it is as simple as that."
So did Guardiola think Spurs could challenge for the title despite not spending to the same tune as some of the other top clubs? "They were there last season. Why not? They have the same trainer but new players."
Reuse content