Louis Van Gaal said afterwards he had reminded his Manchester United players that if they could not win games such as these, or the one against Aston Villa earlier in the month, there would be no league title this season – a harsh verdict but one with which it was hard to argue.
United had created the chances to score against Tottenham Hotspur in the first half and, finding Hugo Lloris a difficult man to beat, simply faded after the break to the point that they were hanging on a little at the end. Juan Mata had been their chief inspiration before the break but once he had laid down his conductor's baton in the second half, United struggled to find any attacking rhythm.
"When you cannot win such type of matches, when you are better team," Van Gaal said, "like Villa and also now then it is very difficult to be the champions at the end of the season". It will not have been what his players will have wanted to hear in the changing room and some of them might point to the run of fixtures that await and feel they have a very good chance of four wins from four in January.
You get the impression that Van Gaal would like to lambast English football for its Christmas tradition that dictates teams play twice within the space of 48 hours but just about held himself back once again this time. "It is scientifically proven that the body cannot recover in 48 hours. When the FA [sic] allow playing two matches you see what it is like. The second half was much different to the first. Not only for Manchester United but also Tottenham."
He said his players were tired, and you could see it in the chances that Mata and then Robin Van Persie missed in the second half before the light went out for United. Van Gaal had to rejig his defence from three to four, bringing off Paddy McNair and Jonny Evans both of whom, the Dutchman said, were tired. They had certainly started to wobble and given longer might have made more damaging errors.
Tottenham 0 Manchester United 0 player ratings
Tottenham 0 Manchester United 0 player ratings
1/22 Hugo Lloris

The Frenchman excelled in the first half, making five brilliant saves. Magnifique! 9/10

2/22 Vlad Chiriches

Struggled against Young and Falcao all match. Did put in a couple of crucial blocks though. 7

3/22 Fedrico Fazio

Argentinian worked hard as a ball-winner, improved as the game wore on after a shaky first half. 6

4/22 Jan Vertonghen

Was given a torrid time bu Van Persie and Falcao towards the end of the first half, but, like partner Fazio shored up the defence after the break. 6

5/22 Ben Davies

Solid,if unspectacular, but wasteful in possession at times. 6

6/22 Benjamin Stambouli

Found himself lucky to stay on the pitch after foul on Carrick, which only received a booking. 5

7/22 Ryan Mason

Burst throught the United defence late on but blew his big chance, A lively display. 7

8/22 Andros Townsend

Caused United a few problems in the second half before he was replaced by Lamela. 5

9/22 Christian Eriksen

Spurs' recent saviour pinged a couple of troubling free-kicks in, but had a quieter match than usual. 5

10/22 Nacer Chadli

Started lively and ran Jones ragged in the early stages before his impact lessened as the game wore on. 6

11/22 Harry Kane

Tricky forward couldn't continue recent goal rush, but link-up play caused United problems. 6

12/22 David De Gea

When called upon did what was required of him. The Spaniard has seen busier days. 6

GETTY IMAGES

13/22 Phil Jones

Made an important intervention with Fazio looming and enjoyed a generally solid performance. Saw a goal correctly chalked off for being offside. 7

GETTY IMAGES

14/22 Paddy McNair

A decent performance but didn't always look assured. The youngster simply isn't the answer at centre back - at least not yet. Replaced with Luke Shaw after 75 minutes. 5

GETTY IMAGES

15/22 Jonny Evans

Low pass accuracy and had little to do. A forgettable display from Evans. Replaced with Smalling after 72 minutes. 6

GETTY IMAGES

16/22 Michael Carrick

Shielded his defence well against his former side but allowed too much room for Mason late on. Fortunately saw the Spurs player miss from close range. 6

GETTY IMAGES

17/22 Antonio Valencia

Didn't see too much action down the right flank before he was replaced by Rafael at half-time due to an injury. 5

GETTY IMAGES

18/22 Juan Mata

Was heavily involved in United's attacking moves in an impressive first half. Blasted over the bar from eight yards when in space and faded in influence as the match went on. 6

GETTY IMAGES

19/22 Wayne Rooney

Showed his ability to time a run from midfield when he latched on to Young's super cross - unfortunately for Rooney his header was straight at Lloris. Quiet second half. 6

GETTY IMAGES

20/22 Ashley Young

Energetic performance from the winger. Made defensive interventions and played in some dengerous balls, in particular a great cross for Rooney. Nearly curled into the top corner of the net as well only for Lloris to tip it round the post. Booked. 7

GETTY IMAGES

21/22 Robin van Persie

Showed incredible touch to get in on goal but was then unable to find the connection that really mattered and a great chance went begging. Blazed over a volley, which whilst difficult, was scorable by RVP's standards. 5

GETTY IMAGES

22/22 Radamel Falcao

The Colombian still looks a little slow to the ball. Cut in when taking on defender one-on-one but final shot was too weak. Booked. 5

GETTY IMAGES
For the first time since November 2012 there was an identical United line-up in two consecutive games, a consequence, Van Gaal said, of having so few options. Luke Shaw and Chris Smalling were among the late substitutes but neither, he said, were fit enough to start the game. By the end United were struggling and there were two convincing penalty appeals for Spurs that could have been given.
The first was a trip by McNair on Harry Kane, who stayed in his feet. The second a case of Wayne Rooney wrapping his arms around the Englishman at a corner as Kane, full of energy as usual, tried to pull away.
At times in the first half, Spurs had that familiar pall of victimhood about them which you saw so often over the years when they played United. This time, however, they pulled themselves together and took their lead from the marvellous Lloris who did so well in the first half. Jan Vertonghen survived a shaky start to form a strong partnership with Federico Fazio in the centre of defence.
You could sense the relief in Mauricio Pochettino with Chelsea awaiting on Thursday. "The condition was the same for both teams," he said. "We never complain when the opponent has the same condition as you. From the beginning of the season, Spurs have had fewer recovery days in every competition. I never complain about that. I think Manchester [United] had the same hours to recover as us."
By the end it was Pochettino making the more attacking substitutions, bringing on Mousa Dembele and Erik Lamela while all three of Van Gaal's replacements were defenders. In the first half Spurs had to rely on Lloris more than once, the first time when a glorious ping from Michael Carrick was brought to earth by the right foot of Van Persie and the Spurs goalkeeper closed him down quickly enough to block.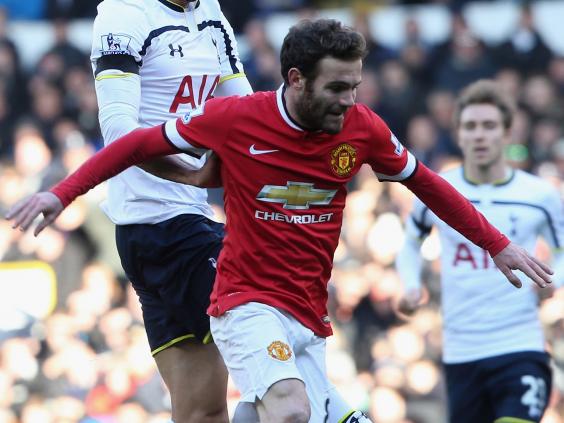 It had not been Spurs' only escape. Mata, a man whom Spurs once had pretensions to sign during his days as an outsider at Chelsea, but currently a crucial part of the Van Gaal machinery had the room to stroke the ball from the right side to Ashley Young out on the left or into the feet of the strikers.
A deflected free-kick from Mata that hit the post, the ball coming back into the six-yard box where Lloris got in the way of Radamel Falcao and Vlad Chiriches, at right-back, cleared from Van Persie's feet. Phil Jones forced a header over the line on 23 minutes but had been flagged offside earlier
After the break, United never recreated the momentum of their best first half moments. In fact they struggled to get anywhere near it, with Mata drifting out the game and an increased vulnerability in the side. "It was not football anymore," Van Gaal proclaimed solemnly. "It was a struggle for life. Tottenham won second balls and that's why they were more dominant than us in the second half."
Van Gaal counted three chances for United but the two that stood out were a Mata shot over and a poor attempt by Van Persie to convert a cross from the right. "You need a little fortune," Van Gaal said. "When you play your best first half of the season as Manchester United at White Hart Lane and create six to eight chances then you have to finish them. If you don't reward yourself normally the opponent wins."
Tottenham (4-2-3-1): Lloris; Chiriches, Fazio, Vertonghen, Davies; Mason, Stambouli; Townsend (Dembele, 78), Eriksen, Chadli (Lamela, 78); Kane.
Substitutes not used: Vorm (gk), Walker, Paulinho, Soldado, Dier.
Manchester United (3-4-1-2): De Gea; McNair (Shaw, 75), Jones, Evans (Smalling, 71); Valencia (Rafael, ht), Rooney, Carrick, Young; Mata; Van Persie, Falcao.
Substitutes not used: Lindegaard (gk), Fletcher, Pereira, Wilson.
Reuse content