Mauricio Pochettino is untroubled by Tottenham's impending stadium move because he believes the soul of White Hart Lane is coming with them.
Spurs have called White Hart Lane their home since 1899 but Sunday's game against Manchester United will be the last at their famous old home before they move to a brand-new 61,000-seater stadium from 2018.​
A farewell ceremony will be put on after the full-time whistle blows, with some of the club's most cherished players and managers set to attend.
White Hart Lane through the years
White Hart Lane through the years
1/12

Part of the crowd at White Hart Lane, London, watching Tottenham Hotspur play the visiting team, Bristol Rovers, January 1921

Getty Images

2/12

Fans waiting at the gates outside Tottenham Hotspur's White Hart Lane ground, London, before Spurs' FA Cup replay against Cardiff City, 9 March 1922

Getty Images

3/12

This terrace of houses is being demolished in Paxton Road Tottenham to make way for a new stand at the football ground in White Hart Lane. A two tier terrace will be erected in its place that will provide accommodation for 5,000 seated fans with 14,000 below it. 2 May 1934

Getty Images

4/12

Girder men working on the roof of the new East Stand development at Tottenham Hotspur's White Hart Lane ground, London, 17 July 1934

Getty Images

5/12

Tottenham Hotspur players training on the pitch at White Hart Lane in front of where the new East Stand is being built, 26 July 1934

Getty Images

6/12

An international football match between England and Germany at White Hart Lane, London, the ground of Tottenham Hotspur 4 December 1935

Getty Images

7/12

Crowds outside the Tottenham Hotspur Football Club at White Hart Lane, London, for the Spurs v Arsenal North London derby match, 3 May 1971

Getty Images

8/12

The old West Stand at Tottenham Hotspur's White Hart Lane ground being demolished, London, December 1980

Getty Images

9/12

A vew of the refurbished East Stand at Tottenham Hotspur's White Hart Lane ground, London, during a division one match between Spurs and Aston Villa, 29 September 1990

Getty Images

10/12

An aerial view of White Hart Lane, home of Tottenham Hotspur Football Club on 26 July 2011

Getty Images

11/12

Aerial Views of the New Tottenham Hotspur Stadium development at White Hart Lane on 6 May 2016

Getty Images

12/12

Aerial Views of Tottenham Hotspur's White Hart Lane redevelopment as work continues at White Hart Lane on 20 April 2017

Getty Images
Fans have also been offered the chance to buy their seats for £50 but Pochettino will not be taking his away with him.
"If I feel there is something to take home to my house I will, but not my manager's seat - if I do I will have a big problem with my wife," he said. "I hope Sunday will be the most special day in the last three seasons. It will be special for our fans, staff, players, people who love Tottenham.
"At the same time I am excited about the new stadium because the soul and the smell of White Hart Lane will keep there. When the new era and stadium arrive there will be different expectations but, most important, always in our memory will be White Hart Lane, the soul and the smell.
"When you move to another area it's so difficult, but now we are changing nothing because the new stadium will be in the same place as White Hart Lane and that is fantastic."
Pochettino knows how it feels to leave a long-established ground as he was playing for Espanyol when they moved away from Sarria Stadium, their home for 74 years, in 1997.
He believes such experiences can bring a club together.
"Why shouldn't we win some trophies in the season at Wembley?" said Pochettino. "After leaving Sarria, we spent 12 years at the Olympic Stadium in Montjuic and won the Copa del Rey twice. It is a moment when the club need your support, your effort, your best.
"In that moment I remember trying to give 200 per cent because I felt the club needed me. We created a very special feeling among ourselves. We were united, very strong."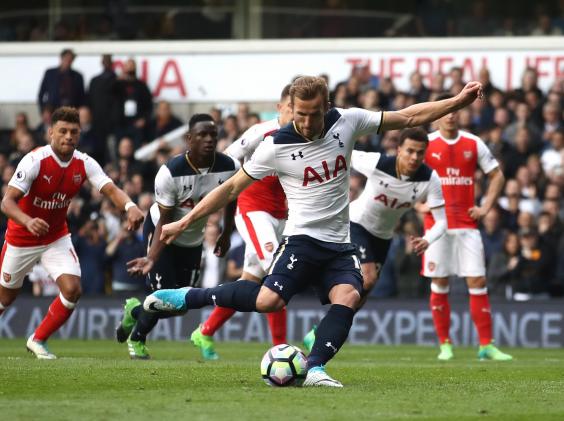 In terms of this season, however, Sunday's game against United could be something of a dead rubber for Spurs, who will concede the Premier League title to Chelsea if the Blues beat West Brom on Friday.
Defeat at West Ham last weekend left Tottenham seven points behind Chelsea with three games to play, and Pochettino admits it has been difficult to lift his players.
"It is a moment to be focused on finishing the season in the best way," Pochettino said. "It was difficult training from Monday to Wednesday, to be happy and start to focus only on United as we missed a big opportunity to put pressure on Chelsea and to win the league.
"Now it's in their hands. It's so difficult now to win at the end but before West Ham we believed it was possible. It was difficult to lift everyone to be ready again for Man United but we are okay now and focused.
"We are looking forward to the last game at White Hart Lane and have many reasons to be happy."
Danny Rose has returned to training but is still not considered match fit while Harry Winks and Erik Lamela remain unavailable with ankle and hip injuries respectively.
PA
Reuse content