As Mauricio Pochettino walked off the old White Hart Lane pitch and into the stadium's tunnel for the final time, he stopped to playfully pat the faces of the Tottenham Hotspur children who were acting as a guard of honour, before agreeing to shake a supporter's 1960s rattle as Ricky Villa and other legends walked by chatting with some of the current squad. It was just another fitting reflection of a day that was about the past and the future, and rich in so much colour and emotion.
"I think it was perfect," Pochettino said of that day, one that brought the last ever game at the old White Hart Lane. His word was pretty much the only way to describe how they bid farewell to the Lane, how they beat Manchester United 2-1, how Harry Kane scored Spurs' last goal there, how they ended their last season there unbeaten at the stadium, how the old mixed with the new and the young. 
Even the potential downsides only ended up adding more images to remember, more memories of the stadium that was exploding with joy.
Tottenham vs Manchester United player ratings
Tottenham vs Manchester United player ratings
1/22 Hugo Lloris – 6 out of 10

The keeper made a handful of crucial saves today to keep his side in the lead. He commanded his box well and was quick off the line.

2/22 Kieran Trippier – 4 out of 10

The defender struggled to keep up with the pace and ability of Martial. Was on the backfoot for much of the game.

3/22 Toby Alderweireld – 6 out of 10

He held the line well at the back and made a number of crucial interceptions and blocks.

4/22 Jan Vertonghen – 6 out of 10

It was a disciplined display at the back, but at times he was dragged out of position in the hunt for possession.

5/22 Ben Davies – 7 out of 10

Davies assisted Wanyama's goal in sublime style and his deliveries into the area throughout were problematic for United.

6/22 Eric Dier – 6 out of 10

Dier used possession well and continued to provide service for the forwards throughout.

7/22 Victor Wanyama – 7 out of 10

He scored the opener, worked relentlessly and his passing was faultless.

8/22 Christian Eriksen – 8 out of 10

As always with Eriksen, his deliveries were remarkable. His ability to pick a player out within a group is simply sublime.

9/22 Dele Alli – 8 out of 10

His movement off the ball upset United and caused chaos within their defence. He tested De Gea on several occasions – top display.

10/22 Son Heung-min – 6 out of 10

An energetic display, but it would have been encouraging to see him shoot more.

11/22 Harry Kane – 7 out of 10

He scored Tottenham's second which capped off a terrific display from Spurs' main man.

12/22 David De Gea – 7 out of 10

De Gea made several saves to prevent Tottenham extending their lead. Very dominant goalkeeping from the 26-year-old.

13/22 Eric Bailly – 7 out of 10

Held his position well at the back and was excellent in the air. A disciplined display from the 23-year-old.

14/22 Chris Smalling – 5 out of 10

He struggled to keep up with the movement of the Spurs forwards and, as a result, he was repeatedly dragged out of position.

15/22 Phil Jones – 6 out of 10

Jones held the line at the back reasonably well and controlled the United defence. A textbook display.

16/22 Daley Blind – 5 out of 10

Blind lunged into challenges, which left the United defence vulnerable at times.

17/22 Michael Carrick – 6 out of 10

As always, his vision when in possession was impressive. He was pumping balls up to the forwards relentlessly.

18/22 Axel Tuanzebe – 7 out of 10

The youngster held his own out there against a quality strike force. Made a number of vital tackles and interceptions.

19/22 Jesse Lingard – 5 out of 10

Lingard looked lost at times and was drifting into the background of the game. Needs to do more when he is in possession.

20/22 Juan Mata – 6 out of 10

He was impressive in possession, but it would have been encouraging to see him with more of the ball.

21/22 Wayne Rooney – 5 out of 10

He scored United's only goal, which went some way to redeeming his poor defensive play.

22/22 Anthony Martial – 7 out of 10

His energy and pace provided a positive prospect for United. He troubled the Spurs defence with his trickery and footwork.
The rain that drenched the 48 club legends invited to grace the occasion eventually cleared to leave a glorious rainbow arched over the stadium in the sun, as well as the new ground taking such impressive shape beside it. The pitch invasion that delayed the closing ceremowatfordny at least put the supporters - as important to the history of the ground and the club as any legend - centre stage, allowing them their own personal memories on that pitch.
Some of them sang, some of them ran, most of them took photographs, and one of them even recreated so many famous celebrations like Robbie Keane's cartwheel.
The former Irish international was one of the 48 brought out and one of those who stood looking around the stadium with a smile on their face, as a presentation played showing its greatest moments and goals, all to the tunes of the era. So much of it was right, like when images from the 1960-61 double season were displayed to the soundtrack of The Crystals' Do Doo Ron Ron, with the line "his name was Bill, my heart stood still" being heard as a picture of the great Bill Nicholson with the league trophy flashed up.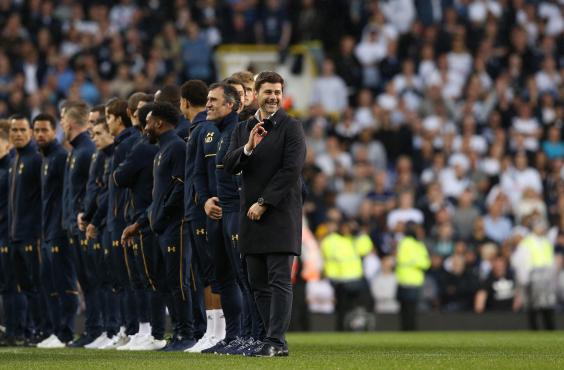 There were so many images to marvel at, from Glenn Hoddle's sit-the-keeper-down finish against Oxford to Harry Kane's sweeping winners against Arsenal.
Once that had finished, and narrator and supporter Sir Kenneth Branagh had delivered a fitting eulogy for the stadium, the London Community Gospel Choir and Spurs-supporting tenor Wynne Evans offered up songs of praise like 'Oh When The Spurs Go Marching In' and 'Glory Glory Hallelujah'.
It was all so elegantly done, all so appropriate, but it was still fittingly the sounds from the stands that stood out. That, after all, is what makes stadiums like this really come alive; what really remains in the memory - not just the goals and the great games, but the atmosphere that accompanies them.
This White Hart Lane's last day might well have been its loudest, and not just afterwards, but right through the 2-1 win over United.
There was even the endearing little game over which legends got the loudest cheer. Keane, David Ginola, Teddy Sheringham, Ossie Ardiles and Ledley King can have a good-natured argument over that one, but the winner would probably be Pochettino himself.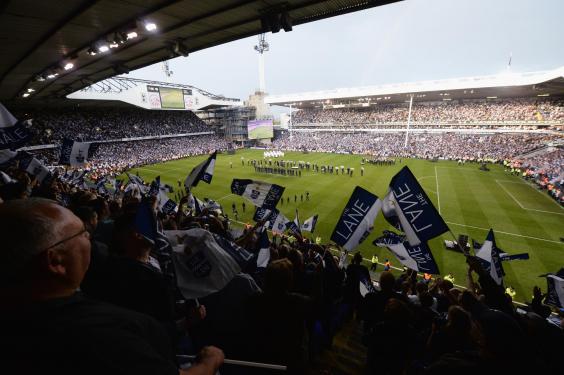 His name was sung loudest and longest, and it so clearly made a deep impression on him.
"I think it was a very emotional game, it was a very emotional ceremony and it is so difficult to explain all and to describe. I think I am very lucky guy, because to share the history of this club, in that special moment, is so lucky to be here, and I am so happy. I want to congratulate all, and to say 'thank you' to all the players, the fans, the staff, my staff, because all together we worked so hard to try to achieve all that we achieved this season.
"It was very, very, very nice for me. I want to say thank you for all the love, that energy that is fantastic, is special, yes it was a very special moment for me. But I think it is for all my staff, all the club staff, the players, I think they all deserve the love that the fans showed today."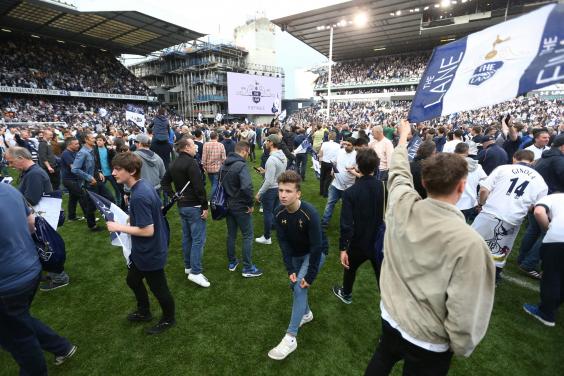 He repeatedly showed how much he loves the stadium and club, stopping to have his photo taken with every member of staff, and insisting that people take photos of him with Villa and Ardiles, or with his staff in the press room.
Pochettino was asked whether he has any souvenirs from the place.
"Still nothing because there was no time to take anything, but we will see what things are still there, because I think the players, all the people, start to take everything!"
He does have his favourite memory, though.
"I think now it will be for always the last day. Anything for me it was a very exciting day, because I think it was perfect. The preparation of the game, the game we played well, and we got three points, and at the end, all the ceremony was fantastic, to share with all the legends, the people, the staff, the fans, with the family, I think it will be always for me the most special day, the last day at White Hart Lane."
Or rather, the last day at the old White Hart Lane.
Because, as the day so emphasised, this wasn't just about the past but the future. How could it not be when the current team is one of their finest ever and remains so young, when their manager is so well regarded.
They aren't just going into a new stadium. This side is going places.
"The people know the club need this push," Pochettino said. "I hope it's going to be a successful season again, that I can make the right decisions to do something, but I think we're on a great journey."
That journey will take them to a new stadium and, they justifiably hope, a new level.
Reuse content