Chelsea manager Jose Mourinho has refused to rule out making any more signings to his Chelsea squad as the club's pursuit of Manchester United striker Wayne Rooney shows no sign of letting up.
The Blues boss will take charge of his first competitive game for the club since his return earlier this summer on Sunday when they face Premier League newcomers Hull, having originally left the club back in 2007 after a hugely successful spell.
But Mourinho has been far more subdued this time around, although he did admit that he will keep his options open till the very end in his attempt to sign the England striker.
"I'm just a Chelsea manager, as every one of us (managers) looking always to try to strengthen your squad," Mourinho said.
"We all say no, but we lie. Until the last day when the market is open, we all are waiting for something to happen.
"Even when we say we're very happy with our squad, we lie, because we want always to make it better.
"We will see what happens, not just with us, with Man United, with everybody else, and see if we can improve our squad, a squad that I like.
"I'm not lying when I say I like (the squad), and I'm not lying when I say I'm enjoying very much to work with these young people, some of them first steps in the Premier League."
Mourinho also sent the latest warning message towards Barcelona as he made it clear the club wish to keep central defender David Luiz, with the Spanish champions admitting their interest in the Brazilian after having a bid rejected for him earlier this week.
"We want to keep him and we understand that a big club like Barcelona wants the best and tried to get one of the best central defenders in the world, but we are being very honest also by saying there is no chance David is leaving," said Mourinho.
The Portuguese manager has admitted it will be an emotional return on Sunday when he walks out at Stamford Bridge, but he has also expressed his intention to bed in his new signings to the atmosphere of the stadium, and will go with the squad to experience the surroundings the day before the game in an effort to make them comfortable with their new home.
Mourinho has never tasted defeat in the Premier League at Chelsea's home ground, having gone an incredible 60 games unbeaten during his time previously with the club.
"I go tomorrow, so I try to feel something tomorrow and some Sunday," Mourinho added
"That's why I want to go there tomorrow, not just for me, also for the boys who don't even know where the dressing room is.
"To be back there (is) a different feeling.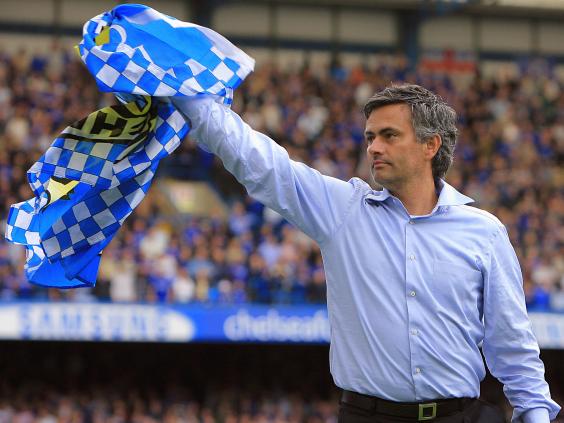 "I had that when I played at Stamford Bridge with Inter, but now I go to my dugout, I go to my stadium, I go to my people, so I have to control (my emotions) a little bit, because I will feel something different, for sure.
"But a couple of minutes and after that I have to be focused on the game.
"I think the fans before the match will focus on me and Roman (Abramovich, the Chelsea owner).
"Me because I'm back and Roman because he celebrates 10 years in the club and the club owes him so much.
"After two minutes they have to forget us and they have to focus on the game and the team and support the players in the team."
Mourinho admits his team are in for a battle if they wish to regain the league crown that they haven't held since their success in the 2009/10 season under Carlo Ancelotti.
"I believe stronger because there is a bigger number of teams that can fight for the title, probably stronger because I think more balance, but I think a few years ago the better teams were better."
Reuse content