Manchester United manager David Moyes has described how a management strategy of brutal honesty with Wayne Rooney – which included telling him he had "gone soft" as a player – triggered the turnaround which has seen the 28-year-old sign a new £300,000-a-week Old Trafford deal.
After a summer in which Rooney had used intermediaries to make clear his deep unhappiness at United, Moyes made the bold – potentially high risk - move of inviting him to his house in Preston, Lancashire, and telling him: "if you ask me what's missing...I think you've gone a bit soft," as the 52-year-old put it on Friday.
"I thought he hadn't been the hard-working, aggressive player he was," Moyes related, hours after final image rights negotiations were concluded to see Rooney's new five-and-a-half year deal signed.
"I think I said: 'I've watched you. I've not been your manager. I just think you had better get back to the old aggressive Wayne Rooney'. And I think he thought 'Yes, maybe that'. What he had to get to was a level of fitness where he was able to produce again. And I think that's what he has done. Now, in games, people are saying 'look at the effort he's putting in'. It's his work-rate, not just for himself but for the team. He's become an all-round team player who is also a technically gifted footballer."
The personal challenge laid down to Rooney has been only one reason for the volte face from a player who was desperate to join Jose Mourinho at Chelsea during the summer. Back then, the £250,000-a-week footballer let it be known that his feelings had been hurt by comments Moyes made in a newspaper briefing on the club's pre-season tour - a claim for which there was minimal, going on for no, justification.
Wayne Rooney: a career in pictures
Wayne Rooney: a career in pictures
1/27 17 August 2002

Makes Premiership debut for boyhood club Everton in their season-opening 2-2 draw against Tottenham

Getty Images

2/27 1 October 2002

Scores first goals at senior level with two in 3-0 Worthington Cup win at Wrexham

Getty Images

3/27 19 October 2002

Nets first Premiership goal with stunning late winner as Everton overcome champions Arsenal at Goodison Park

Getty Images

4/27 12 February 2003

Becomes youngest player to win a full England cap when he appears as a second-half substitute against Australia

Getty Images

5/27 6 September 2003

At 17 years and 317 days, becomes England's youngest goalscorer with equaliser in England's match in Macedonia

Getty Images

6/27 June 2004

Scores four goals at Euro 2004 in his first international tournament, but limps out of the quarter-final against Portugal as England are knocked out

Getty Images

7/27 31 August 2004

Signs for Manchester United for £27 million just over four hours short of the transfer window deadline

Getty Images

8/27 28 September 2004

Scores a stunning hat-trick - his first senior treble - in a 6-2 victory over Fenerbahce in the Champions League, on his United debut

Getty Images

9/27 24 April 2005

Named PFA Young Player of the Year on the day he scores a stunning winner against Newcastle

Getty Images

10/27 26 February 2006

Scores twice as United beat Wigan 4-0 in Carling Cup final at Cardiff's Millennium Stadium, Rooney's first senior trophy

Getty Images

11/27 23 April 2006

Named PFA Young Player of the Year for the second successive year and finishes the season with 19 goals

Getty Images

12/27 1 July 2006

Sent off in the World Cup quarter-final against Portugal after stamping on Ricardo Carvalho and pushing United team-mate Cristiano Ronaldo

Getty Images

13/27 6 May 2007

Wins first Premiership winners medal after the Red Devils are confirmed as champions following Chelsea's draw with Arsenal

Getty Images

14/27 11 May 2008

Contributes 13 assists as United clinch their second league title in as many seasons, with team-mate Cristiano Ronaldo scoring 31 goals

Getty Images

15/27 21 May 2008

Wins his first Champions League title after United beat Chelsea 6-5 on penalties following a 1-1 in Moscow's Luzhniki Stadium

Getty Images

16/27 30 November 2008

Scores 100th club goal of his career in a 1-0 win in the Manchester derby

Getty Images

17/27 April 2009

Named Player of the Year by both the Professional Footballers' Association and the Football Writers' Association

Getty Images

18/27 27 May 2009

Frustrated in his bid for a second successive Champions League title as Barcelona beat United 2-0 in the final in Rome

19/27 22 August 2009

Scores his 100th United goal at just 23 years old in a five-goal drubbing of Wigan

Getty Images

20/27 October 2010

Declines a new deal at United and issues a statement saying he wants to leave the club, only to perform a remarkable U-turn and sign a new five-year contract

Getty Images

21/27 12 February 2011

Scores a spectacular overhead kick as United overcome City 2-1 in the Manchester derby - the goal is later voted the Premier League's best ever strike

22/27 14 May 2011

Collects his fourth Premier League winners medal as his penalty secures a decisive 1-1 draw against Blackburn

Getty Images

23/27 28 May 2011

Nets his first Champions League final goal against Barcelona but finishes on the losing side again as Barca prevail 3-1

24/27 7 October 2011

Sent off for England after kicking Montenegro defender Miodrag Dzudovic and misses first two matches of Euro 2012

Getty Images

25/27 5 March 2013

Left out of United's starting XI for their Champions League last-16 second leg match against Real Madrid

Getty Images

26/27 May 2013

Claims his fifth league title with 16 goals in the season, but tells Ferguson he wants to leave the club for a second time. New boss David Moyes insists Rooney is "not for sale"

Getty Images

27/27 17 September 2013

Scores his 200th goal for United in 4-2 Champions League win over Bayer Leverkusen
But money has talked - just as it did in October 2011 when his last contract was signed - and imbuing Rooney with supreme status – privy to the club's list of transfer targets and earmarked as captain when Nemanja Vidic departs this summer – has been deeply significant. When Juan Mata arrived for £37m, there was no question that the Spaniard would play behind Robin van Persie, in Rooney's preferred role. In effect, the strategy has been to rebuild United around a player who will now command more money than any other Premier League player. The club could scarcely have offered him more enticement to stay.
Moyes insisted on Friday that the question of Rooney's captaincy would be deferred until the close season. "Yes it's possible but I wouldn't want to say until the summertime."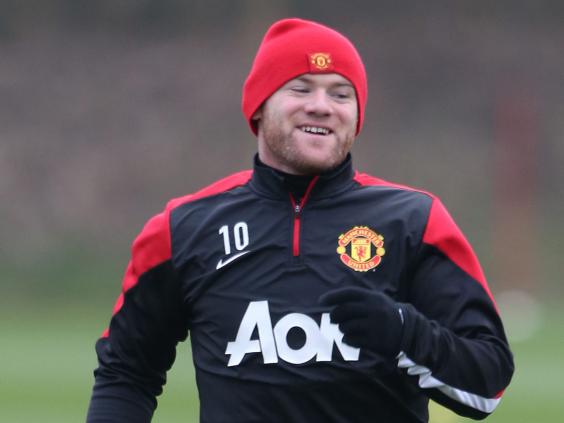 He also said that the line of argument put to Rooney this summer – namely that he could become a part of Old Trafford lore as the club's all-time greatest goalscorer if he stayed – had worked. "I do [believe that helped]," Moyes said. "I think that's behind it. I think that to be a legend at Manchester United is something where you are associated with this club for the rest of your life. I think some of the great players will be legends at this club. We take legends and some of the people with us on the tours, everywhere we go. The one thing I've noticed since I've been here is that no-one wants to leave Manchester United very quickly. Because they know once you leave here it's not the same.
"For Wayne, I think he's recognised - my goodness - people like Bobby Charlton, George Best and the way those big stars are seen here. Wayne's next thing is that we have to keep challenging him to get those goals, make those big targets. Make them the things you want to achieve."
Now comes the acid test of Rooney's loyalty – his willingness to take the probable drop out of Champions League football which lies ahead. United have only 12 games left to make good the 11-point lead established by fourth-placed Liverpool and even Moyes admitted last night that it was a tall order. "Well, at the moment it's still a long way away. We're well off the pace," he said. "We have to hope that teams slip up. That's all we can do. "I'll answer your questions [on the Europa League] when I get that. The one thing about football is you can't guarantee you'll be at the top. You have to earn that right to be there."