Tony Pulis blamed his own tactics for West Bromwich Albion's 3-0 home defeat to Manchester City, admitting that playing both Saido Berahino and Rickie Lambert in attack had gone against his longstanding principles.
The West Brom manager picked a 4-4-2 formation and found his team overrun in the first half with David Silva in particular instrumental in City's midfield. "I have to hold my hands up," Pulis said. "I wanted to play Saido and Rickie tonight but have gone against everything I have ever done against bigger teams. We have always filled the midfield and been strong.
"We allowed Silva too much room and he dominated and controlled the game. I take responsibility. I thought playing the two up front in our first home game of the season in front of a full ground, being positive … Rickie and Saido played really well in training. They have worked well. It was the wrong decision – my responsibility, my fault."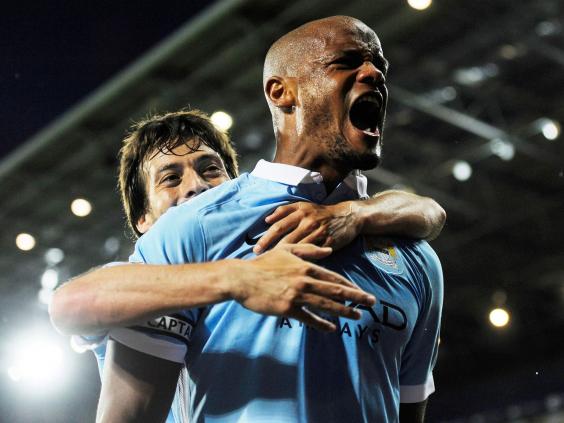 He added later: "David Silva is a wonderful, wonderful talent. I gave him the space and room. They played three against two [in midfield] and played it better than most teams … tonight it was me and I have to take that and move on."
The home side introduced their record £12m signing Salomon Rondon, from Zenit St Petersburg before kick-off, signed on the recommendation, Pulis said, of Zenit coach Andre Villas-Boas. The Venezuelan striker was edged out when the foreign player quotas in domestic Russian football were reduced at the end of the last season. Pulis also sought the recommendation of Manuel Pellegrini who had the player at Malaga.
"I rang Andre halfway through the season to ask him for recommendations," Pulis said. "He mentioned the kid. Without him saying that we wouldn't have been able to get him. We have been working hard and kept it as quiet as we could. People will look at Browny [Ideye] and Victor [Anichebe as potential departures].  They have wanted to play more regular football anyway. Bringing Salaomon, does it hasten their move? We will have to see."
The City captain Vincent Kompany said that the squad was ready for the challenge of Chelsea on Sunday. He said: "We have something to prove. Last season was below what we're used to doing. It was a good way to start the first game. There's a lot of favoured teams [in the title race] and from what I've heard we don't seem to be part of it. So for us this victory was a good way to show our intent.
"It [criticism] gives us extra motivation. We came out knowing we had a point to prove. If you'd seen the faces in training last week, I knew the team was going to be ready for this game."
Reuse content