Liverpool's win over Everton in midweek meant they were always going to end this weekend in fourth place. But where they could have been four points ahead of their Merseyside rivals they have to content themselves with two, after a performance against relegation-threatened West Bromwich Albion that lacked the ruthlessness of the derby victory and for which they paid a heavy price, in the end, when Kolo Touré's dreadful error handed the home side a gift equaliser.
Leading by Daniel Sturridge's goal from the 24th minute, Liverpool had been in such control that they ought never to have left themselves vulnerable. Yet they rarely threatened to build on their advantage and underline their dominance, so that when Touré's misplaced pass across his own back line allowed Victor Anichebe to equalise with 24 minutes remaining, they were suddenly at 1-1 against a side desperate for points after one win in 13 games.
That they could not step up their game and find a winning goal did not concern manager Brendan Rodgers, or so he said afterwards, inclined as he is not to make a drama of such things. Yet after a week in which failures in the transfer market have left Liverpool chasing Champions League qualification with a worryingly thin first-team squad, the squandering of easy points must have been the last thing he wanted.
And it should have been easy. For much of the first half, it had appeared that Liverpool were coasting, with no compelling reason to move out of second gear against opposition low on confidence and offering little threat going forward, weakened as they were by the absence of Nicolas Anelka, injured in the derby defeat at Aston Villa, and with Thievy Bifouma, the France Under-21 striker signed on deadline day, not registered in time to play.
After Sturridge had put them ahead, arriving stealthily at the far post to convert a cleverly dinked cross from Luis Suarez, the feeling was that if Liverpool needed a second goal, they would simply raise the tempo and score one. 
When Jonas Olsson had to go off injured five minutes before half-time, requiring Pepe Mel, the West Bromwich head coach, to send on Diego Lugano, the Uruguayan centre-back he had dropped for his error-strewn part in the Villa defeat, a Liverpool win seemed a formality.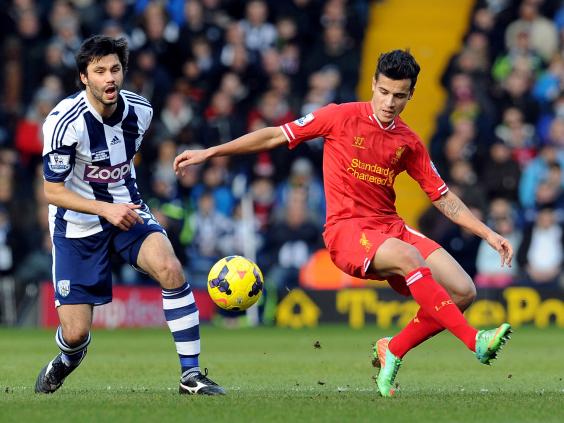 Appearances can be deceptive. Albion reappeared for the second half with new purpose, clearly infused with the belief, by whatever words of English their new head coach was able to summon, that their cause was not hopeless after all.
The signals were clear in the next 10 minutes, during which Chris Brunt was denied only by a superb block by Jon Flanagan as he made powerful contact with Saido Berahino's cross, before Simon Mignolet was required to make a point-blank save when Gareth McAuley met a Brunt corner with a thumping header.
Liverpool now needed to step up.  They created a chance almost immediately to give themselves a cushion. Suarez burst through, chipped the ball past Lugano and easily evaded his lunge before wrong-footing McAuley. Ben Foster, though, was quick to move forward and stuck out a foot to block Suarez's shot.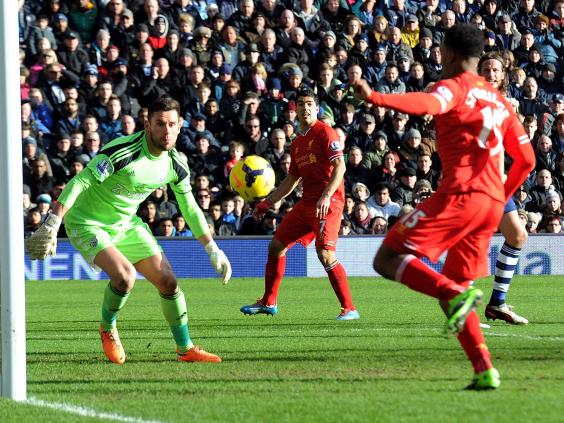 Yet it was the home side who seemed to have the greater hunger and there was not much more in the way of response from Liverpool. Anichebe's entrance in place of Berahino beefed up Albion's potency at the front, where Matej Vydra had been largely well contained, and when Liverpool conceded a free-kick within dangerous range on 66 minutes, Brunt's strike found a way through the wall and had Mignolet stretching to save.
Then came Touré's horror moment, a lapse in concentration to torment any manager.  Rodgers insists that his defenders build the play from the back but when the Ivorian received a ball rolled to him by Mignolet, he seemed momentarily taken by surprise, and rather than propel the ball to some safely distant part of the field he chose the option of greatest risk – at least in the old way of thinking – and passed across his goal, somehow failing to notice  Anichebe's presence.
Given that his scoring record since his £6m summer move to The Hawthorns has been modest, to say the least – one in 12 appearances – Anichebe would have looked foolish had he passed up such a gift. That said, he deserved credit for keeping his composure and not fluffing it.
Once he had stopped making the gestures of a man seemingly wanting to tear his hair out, Touré went in search of the chance to make amends and it almost came, 12 minutes from time, as Steven Gerrard delivered a corner from the right.  Touré leapt and made contact, but the ball sailed harmlessly over Foster's bar.
Rodgers now had Joe Allen on for Philippe Coutinho and Martin Kelly for Flanagan, but there were no more clear openings.  Rodgers took the view that it was a point gained, taking his side a little further ahead of their pursuers.  How much better, though, had it been three.
West Bromwich Albion 1 Liverpool 1 - in pictures