West Bromwich Albion supporters paid homage to a fallen hero, and left early in their droves as dissent overwhelmed sentiment.  Leicester City's defiance in the face of adversity and the spirit of an occasion which was supposed to represent hope and healing was simply too much to bear.
The Premier League's bottom team observed the formalities of honouring the memory of local legend Jeff Astle but had their own agenda to pursue. A breathless victory, sealed in the first minute of added time by Jamie Vardy, suddenly gives them a realistic chance of avoiding relegation.
Five of their last seven matches are at home. The players who frolicked in front of the travelling fans have a sense of togetherness and a shared belief in their destiny. Even their normally taciturn manager, Nigel Pearson, came as close as he will ever be to expressing happy-clappy bliss.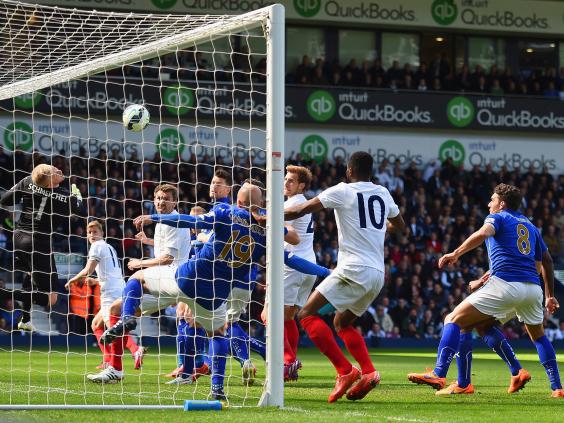 "It would be easy to accept our situation, because we have been bottom since November," he said. "But the longer we keep our fate in our own hands, the better. We have dealt with disappointment well and have to keep turning positive performances into wins."
Leicester, behind twice, have pulled Hull and Sunderland into the quicksand and will gain additional momentum with the timing and nature of their winner.  Vardy bullied Gareth McAuley, a centre-half stranded on the right wing close to halfway, before embarking on a surging run which ended with a low left-foot shot across goalkeeper Boaz Myhill.
Tony Pulis was predictably indignant. Albion's manager muttered darkly about conceding "lower league" goals and surrendering the initiative too easily. His side lacked leadership and cohesion. Any lingering complacency that they are safe from relegation must, surely, have been dispelled.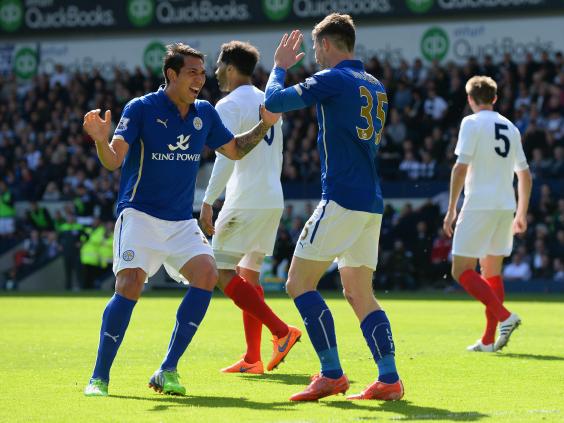 Albion still have an eight-point cushion over Leicester, but Pulis asked with barely concealed scorn: "Are we out of it? We need points. I have said that all along."
In the short term, the crushing sense of anti-climax will hardly help the charitable auction of yesterday's Albion kit, a replica of that worn in the 1968 FA Cup final. A day designed to celebrate a favourite son turned sour without diminishing the importance of the issue.
Albion will continue to respond to their responsibility to a family whose campaign carries daily reminders of the death of a loved one. The presence of FA chairman Greg Dyke redressed the balance of another era, when the Astles were ignored.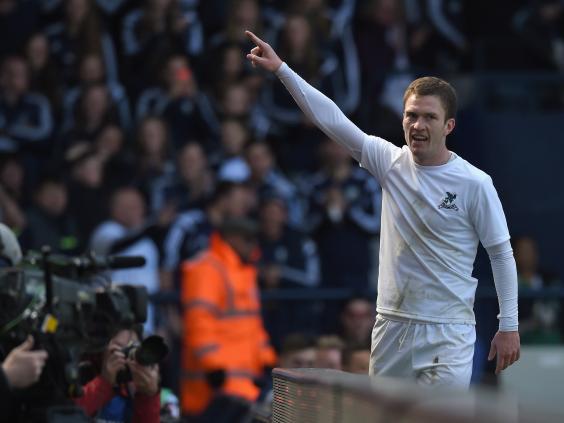 He died, in 2002, on his daughter Dawn's birthday. Yesterday was the fulfilment of a promise made when she visited him in the Chapel of Rest before the funeral. She would honour his name and be a witness to his cause.  He was initially originally diagnosed with early-onset Alzheimer's, but a re-examination of his brain discovered evidence of chronic traumatic encephalopathy a degeneration linked to trauma caused by persistent heading of old-style footballs.  Dawn's stark eloquence was perfectly pitched.
"It's not just because we want to know, or because other families want to know," she said. "It's because football needs to know." Those fighting a disease which ravages brain and body deserve the respect of privacy, but I know of one old centre-half who is facing premature death in a care home, incontinent and incoherent.
Astle (left) was Black Country royalty. He scored 174 goals in 361 games, including the winner in the 1968 FA Cup final against Everton. He was 59 when he died but his widow, Laraine, said he "looked and behaved more like a man of 109".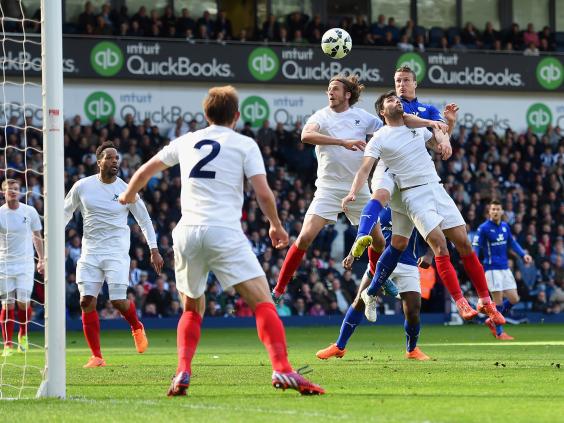 Loudspeakers carried the original commentary of the final, on May 18, 1968. Since the Wembley roar echoed around the Hawthorns, nearly 47 years after it was made, it was an ethereal experience. Fans held up 6,000 cards in the Birmingham Road End to spell out "Astle King". The giant screen projected an image of him looking moodily over his shoulder at the camera.
Thousands of fans wore white tee shirts with Astle's number nine on the back. They looked like spring snowdrops and were exultant when Darren Fletcher's flicked near-post header was judged to have crossed the line.
Leicester equalised when David Nugent converted Leonardo Ulloa's header from a quick free-kick. Craig Gardner's swivelling volley gave Albion a half-time lead, which was neutralised 10 minutes from time by Robert Huth's header.
Albion had entered to the strains of Nat King Cole singing What a Wonderful World. They left, hastily, to a barrage of booing from those who remained. A football match had broken out at a memorial service, and it somehow felt appropriate.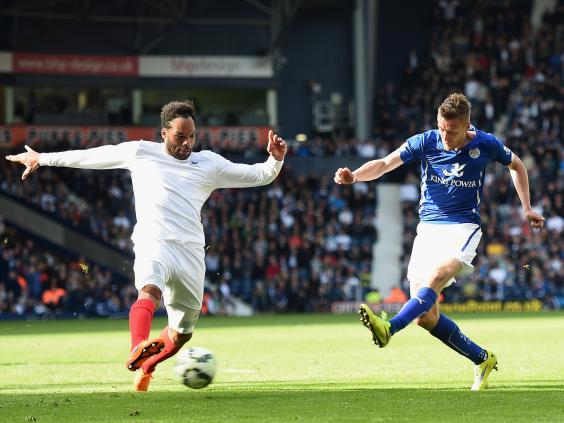 West Bromwich: (4-4-2) Myhill; Dawson, McAuley, Lescott, Brunt; Gardner (Olsson, 73), Yacob, Fletcher, Morrison (Sessegnon, 84); Berahino, Ideye (Anichebe, 60).
Leicester City: (4-3-3) Schmeichel; De Laet (Wasiliewski, 46), Morgan, Huth, Schlupp; Cambiasso, James (King, 60), Albrighton; Nugent, Ulloa (Mahrez, 63), Vardy.
Referee: Martin Atkinson
Man of the match: David Nugent
Match rating: 7/10
Reuse content