The effect on Raheem Sterling's career has been instantaneous: he wakes up this morning top of the Premier League and if the last six months were a war of attrition to get to Manchester City then coasting to victory on a warm August night will have been some recompense.
The £49m man was booed by the West Bromwich Albion fans, just as he was booed by the home support playing for England against Ireland in Dublin, and that new strain of third-party judgement certainly seems like it will be a thing for some time to come in his career. But if it is trophies that Sterling is after, and that is what he says, then the signs were good for his new club.
Manuel Pellegrini's team have started stronger than any of their fellow top four from last season, swatting aside a West Brom side that have them far too much time and space in the first half. City were inspired by a No 10 masterclass from David Silva who moves in dimensions of space on the pitch not accessible to lesser mortals, and scored the first goal with a backheel, via a deflection.
Sterling should have had a goal himself in the first half, cutting in on his right foot from the left side which he was stationed upon and having his shot saved by Boaz Myhill. "You're just a s*** Berahino" was the assessment offered by the West Brom fans but if this was Sterling in his period of adaptation to his new club then the signs look good for that time when he finds his feet.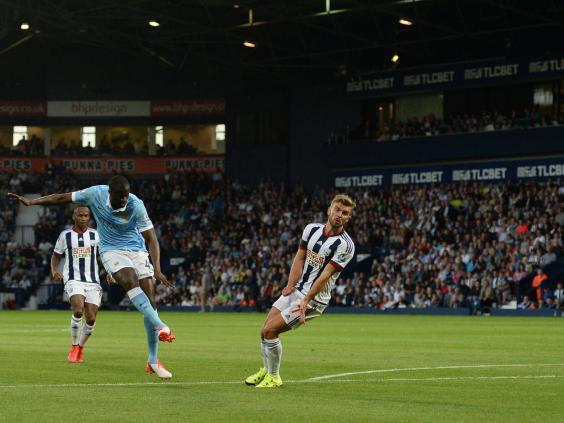 There was a fine second goal from Yaya Toure and a third from Vincent Kompany. Later Sergio Aguero came on from the bench and was only just denied by another Myhill save. This was a bad start from Pulis' side but he may well have expected as much. The West Brom manager took full responsibility afterwards for getting his tactics wrong, playing 4-4-2 and leaving the midfield open had gone against the principles, he said, that has served him well in the past
In the preamble to the game, West Brom paraded two of their new signings, the loanee Serge Gnabry from Arsenal and then record acquisition, Salomon Rondon, the Venezuela international. Rondon in particular has come a long way to play for the Throstles, from Caracas, via St Petersburg to be precise, and you have to wonder what he made of the first half.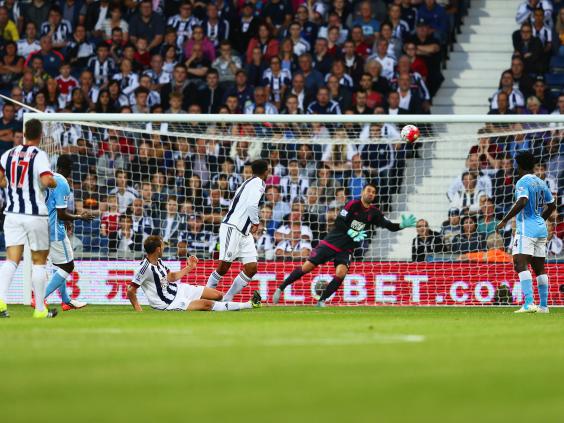 Not so much a culture shock, as just simply a shock. For a team coach by Pulis, there did not seem to be a gameplan from West Brom – they gave the opposition space in defence, they stood off them in attack and the only discernible mood to dispossess City's players was in midfield around the busy Darren Fletcher.
The first goal was a neat summary of everything West Brom did wrong before the break. Silva crossed from the left, Jesus Navas retrieved the ball and cut it back to Toure and his shot went in via a backheel from Silva. The only West Brom intervention was a final deflection off Craig Dawson. It trickled reluctantly over the line with Myhill watching in a state or inert bemusement.
There can be no question that West Brom were prepared for City to have a great deal of possession, with Rickie Lambert and Saido Berahino dropping in to help out but what was confusing was the lack of energy in closing the ball down. The second goal on 24 minutes was no different: a nice exchange of passes between Wilfried Bony and Toure and a leisurely slap of the latter's right foot to guide the ball into the top corner.
If anything, it should have been three goals at half-time but for that uncertain finish from Sterling. A tackle by James Morrison on Fernandinho redirected the ball through for the Englishman and he had much of Myhill's goal, beyond the goalkeeper's left hand, at which to aim. But Sterling never really opened his body enough to get the angle on his shot and it was close enough to Myhill from him to save.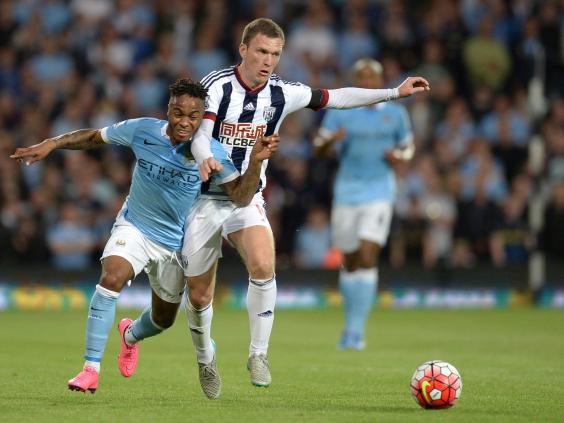 Bony, in place of Aguero, who started on the bench after his Copa America summer, might have had one himself from an Aleksandar Kolarov cross. Even City's players looked surprised at how little pressure was applied to them. Berahino used his strength to bounce Kompany off the ball at one point but otherwise he and Lambert rarely got a sight of Joe Hart's goal.
The closest Berahino got in the first half was an offside goal that he did, nonetheless, take well. It was a close call but the correct one and after half-time, as expected, West Brom came out with a bit more purpose about them. Pulis took off the ineffective James McClean, moved Berahino to the left side and inserted Claudio Yacob into the space in front of his defence.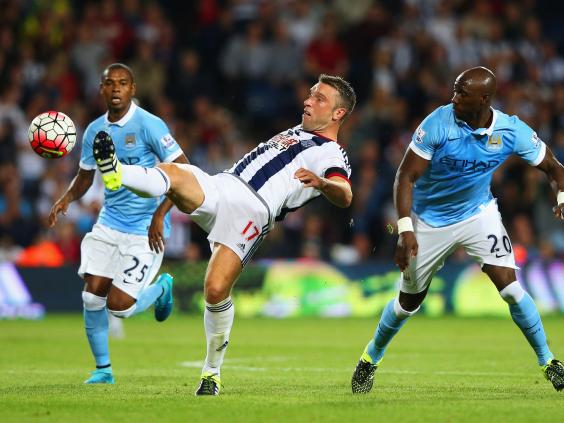 It was this area that Silva had occupied to devastating effect at times in the first half and it was not long before he was doing much the same again, in spite of Yacob's best efforts. There was a Silva touch, a turn and then a ball down the left for Sterling which turned out to be a more difficult chance for the winger than the one in the first half, and was also saved by Myhill.
You could see by the desperation of the fouls West Brom's players took to stop City attacks how much they were struggling at times. Craig Gardner was booked for scything down Jesus Navas. James Chester got the same for a swipe at Sterling. By the time they had rallied they were three goals behind and Aguero was on for Bony.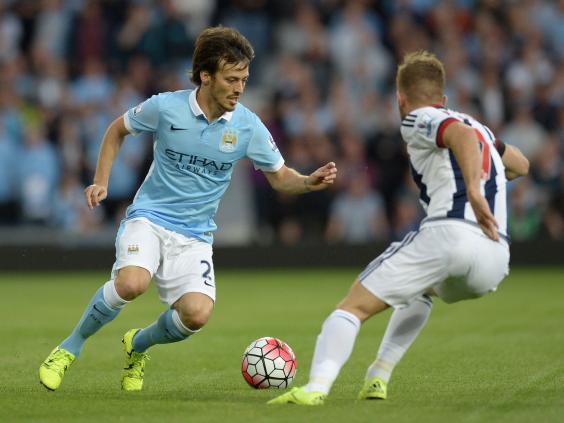 The third goal came off the shoulder of Kompany who attacked Silva's corner from the left before Joleon Lescott could react. At the end of the game, Sterling, substituted by then, walked back across the pitch to hand his shirt to a supporter in the away end. He has been at the centre of one of the most rancorous transfers in recent history but it hardly looks like it is playing on his mind. 
Reuse content