Louis van Gaal declared in July: "Every club where I have been, I've struggled for the first three months." Well Louis, it turns out you haven't done that badly at all.
The Manchester United manager asked for a three month allowance before he was judged, and after a shaky start, the Dutchman has managed to lift United up to fourth in the Premier League table. Three months down the line, we take a look at how his stats match up to his predecessor David Moyes.
Van Gaal got off to the worst possible start, as Swansea inflicted a defeat on his United side in their opening game of the season. The fear that United had slipped beyond the point of no return was ramped up when MK Dons delivered a shock 4-0 thrashing on a United side that was far from first-choice in the League Cup, and meant that the club who had dominated the last two decades of English football would only compete in the Premier League until January due to the absence of European football.
But reinforcements arrived, with Radamel Falcao, Angel Di Maria, Daley Blind and Marcus Rojo adding to the early acquisitions of Luke Shaw and Ander Herrera, and soon enough United began to click. Victories over QPR, West Ham and Everton were briefly interrupted by the stunning 5-3 defeat to Leicester.
Who's back and who remains sidelined for United vs West Brom?
Manchester United injury list
Manchester United injury list
1/5 Wayne Rooney

There is uncertainty over the extent of the Manchester United captain's injury, with fears he may have suffered ligament damage to his knee during the 3-0 defeat to Everton. Unlikely to feature against West Brom and could miss the rest of the season.

GETTY IMAGES

2/5 Michael Carrick

Having limped off in the 4-2 derby victory over Manchester City, it's uncertain if the England midfielder will fit for this weekend. Was unable to even make the bench for the defeat to Everton.

GETTY IMAGES

3/5 Rafael

The right-back's return to action has suffered a set-back. After making a short appearance in the 3-0 win over Tottenham in March, the Brazilian has been pushing for full fitness. However he suffered a blow to the ribs in an Under-21 match against Leicester and could miss the rest of the season.

GETTY IMAGES

4/5 Marcos Rojo

Having missed the games against Chelsea and Everton due to a groin injury, the Argentina international is pushing for a return and could feature this weekend.

GETTY IMAGES

5/5 Phil Jones

Fellow defender Phil Jones also missed the defeats to Chelsea and Evertton but the England international has returned to training after a foot complaint and could play at against West Brom.
In fact, United have one point more now than they did at the same point last season under Moyes, and the stats rule in Van Gaal's favour too.
Under Moyes, United had six wins compared to Van Gaal's three, but they had played 11 matches to Van Gaal's eight and those three extra victories had come in the form of the Community Shield and cup competitions. Moyes had lost three Premier League matches compared to Van Gaal's two, and had only accrued 10 points by the October international break – one less than United currently have. United have also been more prolific under Van Gaal than they were when Moyes was in charge. Their current return of 13 goals in seven Premier League games beats last season's record of 10 goals over the same period, although United have had two red cards this season through Tyler Blackett and Wayne Rooney, whereas Moyes's disciplinary record was unblemished.
Van Gaal added when he took over that the squad would begin to understand his method of football. He said: "After that, they [the players] know what I want – how I am as a human being and also a manager, because I am very direct," and there does appear to be an understanding between the talented attack that the Dutchman has quickly assembled.
One slight concern may be that Robin van Persie has not been as consistent under Van Gaal despite the pair working together with the Netherlands. Van Persie had scored six goals in total under Moyes with three coming in the league, but he has only registered on the scoresheet twice this season. In contrast, Rooney appears to have learnt Van Gaal's way very quickly, as the United captain has scored three goals in the league this season – the same as last season and two shy of his record in all competitions – although the red card against West Ham remains a disappointment given the circumstances of his sending off.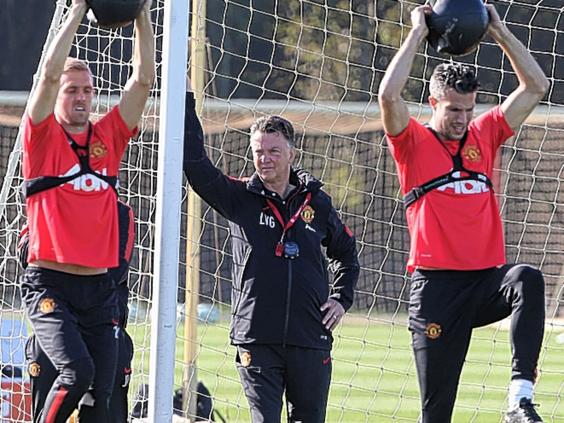 Lastly, it's worth remembering Van Gaal's sign-off when he spoke in that press conference during United's pre-season tour of the United States three months ago. "I'm not a coach who thinks short-term, I'm a coach who thinks always in the long-term." Providing he lives up to his word and continues the rebuilding at Old Trafford, United may not be as far away from a title challenge as many believe. That said, their upcoming matches against Chelsea, Manchester City and Arsenal over the next month will go a long way to showing us how big that gap really is.
Head-to-head: Van Gaal v Moyes
Louis van Gaal   Overall      David Moyes
8                   Played                11
3                    Won                   6
2                   Drawn                  2
3                     Lost                    3
13               Goals scored           18
14             Goals conceded        12
Premier League
7                   Played                  7
3                    Won                    3
2                   Drawn                  1
2                     Lost                    3
11                   Points                  10
13                Goals scored           10
10              Goals conceded          9
Reuse content