Mauricio Pochettino is in his third season at Tottenham Hotspur now and does not want his team to go stale. That is why he has made a tactical change recently, to make sure that Spurs keep causing opponents new problems.
After two seasons playing 4-2-3-1, with one or two exceptions, Tottenham are now lining up 4-1-4-1. It is not a big change for most players but it does mean a midfield more geared for creativity than security.
This is how Spurs are set to line up at the Hawthorns this afternoon against a West Bromwich Albion side certain to sit deep and try and frustrate them. That is how Tony Pulis teams play and if there is one criticism of Pochettino's Spurs it is that they can be predictable, and lacking penetration, against that sort of opposition.
Pochettino hopes that by switching his midfield to 4-1-4-1 he has a front five, rather than a front four, giving him better possession and more chances in the opposition half. This new system should help Spurs to keep asking new questions of sides like West Brom.
"We have players that can play in that [4-1-4-1] way," Pochettino said, "to keep possession and play more in the opposition half when they are very deep. You have more control and capacity to create a chance."
Pochettino could have carried on with the system that nearly won Spurs the title last season but he knew that he had to keep the team fresh. That meant new players over the summer and a new formation. Spurs are not changing direction, and Pochettino would never bend from the philosophy that has defined his career so far. He just recognised that his team needs a Plan B.
"When I was in Espanyol and Southampton and from the beginning here when we didn't get a good result, there was some comment that it was because we didn't have a plan B," Pochettino said. "It is important when we are in a project after two years to try to improve the values and concepts and to try to play in different ways in different games. Always with the same concept and values, but with different positions on the pitch. It is good for us and sometimes very complicated for the opponent."
This makes sure that the Spurs players do not get comfortable but are always taking on new ideas. "It is always a challenge for the team and players to learn about different systems and play in different ways," Pochettino said. "In the end we are not changing our concept to press high, build from the back and play along the grass. Sometimes it is important for the players to learn to play in different positions. Now the team can play in different ways."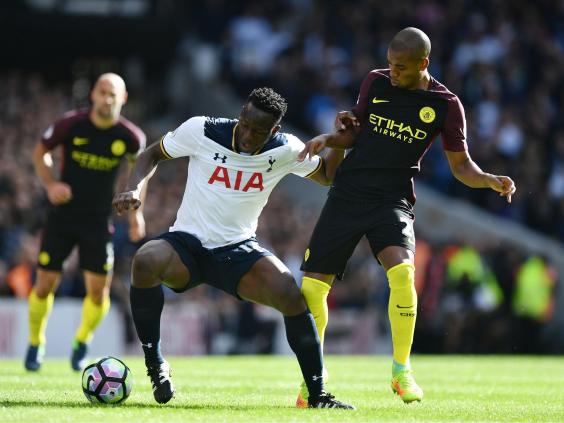 If there is one player facing a particular challenge with the new system it is Eric Dier. Playing one holding midfielder means a simple choice between him and Victor Wanyama. The form of the new Kenyan signing means that Dier is suddenly no longer an automatic selection. Pochettino said that it was important to feel that challenge to keep him on his toes.
"Football is about the 25-man squad," Pochettino said. "Last season there was only Dier, this season we want to improve our squad. It's not a problem. Now the players need to feel the competition. There is Wanyama in his position too. And don't forget Harry Winks too, who is coming and pushing a lot from behind. You have to look forward and carry on working."
Reuse content