For 59 minutes the old firm were back in business. Andy Carroll rose to win every header, setting up his mate Kevin Nolan for two goals before half-time and their adopted southern club West Ham looked set fair for not only a first home victory since November but a successful climb away from relegation trouble.
Then Carroll, clambering to his feet after a challenge with Chico Flores, waved a stray arm gently across the forehead of the theatrical Spaniard, who fell to the floor and kept rolling, successfully persuading Howard Webb to issue a red card.
Despite having seen the incident, Webb appeared to take a message from his assistant on that side, who was Scott Ledger, the man who three days earlier wrongly signalled a penalty against Tottenham that led to Danny Rose being sent off; a decision rescinded on Friday. West Ham will hope for a similar reprieve to prevent the talismanic Carroll missing the next three games, their manager, Sam  Allardyce, having confirmed that the club will appeal.
"Having watched it back, his [Carroll] arm's gone over the top of his head and while his arm's swinging round, coming from a position where both players have tangled and are coming round to correct their balance, there were players running round to obscure his [Webb's] view. So he can't be absolutely certain of what's happened, except that Chico Flores is over-exaggerating, which is generally the norm for him unfortunately.
"To clutch his face and roll around, I think that's had a big influence on Howard's decision, thinking that it's caught him in the face when it hasn't. Andy's absolutely beside himself. All I can hope is that the [disciplinary] panel see it for what it is."
Allardyce's opposite number, Michael Laudrup, initially said: "I really don't think it was a red card." But he later qualified that statement a little by suggesting: "The referee is a very good international so he must have seen an elbow and judged that he did it on purpose."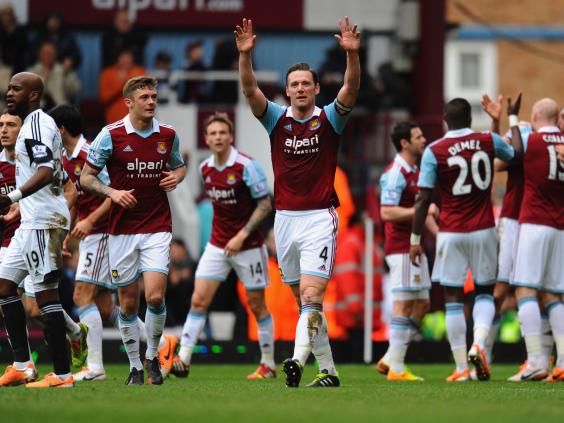 Managers less laidback than Laudrup would have raged against their team's feeble performance after telling them exactly what to expect from their opponents' direct approach and then watching them unable to threaten in 30 minutes of football against 10 men.
Starting the day in 11th position, the Welsh side find themselves now only two points above the relegation places, with the distraction of Cup ties against Napoli and Everton to come between a crop of Premier League matches against fellow strugglers. The lesson has to be that it is possible to play pretty passing football all day but the less attractive stuff has to be done as well. For each goal Carroll was allowed to drift into space and nobody was close enough to pick up Nolan from the knockdown. "The first goal came from exactly the situation we talked about before the game," Laudrup said.
"But I don't let myself get either up or down by one win or defeat. Let's see what happens in the next four or five games." With only two points from his team's last six away games, he needs an improvement.
Carroll's potential ban aside West Ham are buoyant after taking three points to add to the unexpected one gained at Chelsea in midweek.
Six new recruits, including the Italy internationals Antonio Nocerino and Marco Boriello, have bolstered their options for the task ahead and even if Carroll is banned, they have Nolan looking the part again in his role just behind the main striker. He took both goals smartly. The first, after 26 minutes, was driven after Carroll cushioned George McCartney's cross for him; the second right on the interval, was a glanced header after Carroll nodded Stewart Downing's corner back to him from beyond the far post.
Remarkably it was West Ham's first headed goal of the season but is unlikely to be the last now their main striker has returned. There were not many other chances for either side. In between the goals, James Tomkins was required to make a timely tackle on Wilfried Bony when a misplaced one would have brought a penalty and sending off.
Towards the end, Bony, who went into the game having scored six times in as many matches, shot far too high, rounding off an afternoon in which the visitors had 20 shots, of which not a single one was on target. So West Ham were able to continue a strange run in which they either keep a clean sheet – as many now as any other side in the League – or watch any number from three to six goals fly past them.
"They closed us down and it was very difficult," Laudrup said. But not so difficult, surely, as to fail to give the goalkeeper a shot to save.
Line-ups:
West Ham (4-2-3-1): Adrian; Demel, Tomkins, Collins,  McCartney; Noble, Taylor (Reid, 78); Jarvis (C Cole, 65), Nolan (Nocerino, 86), Downing; Carroll.
Swansea City (4-2-3-1): Tremmel: Tiendalli, Chico, Williams,Davies; Amat, De Guzman; Dyer (N'Gog, 76), Shelvey (Hernandez, 70), Routledge; Bony.
Referee: Howard Webb
Man of the match: Nolan (West Ham)
Match rating: 6/10
West Ham 2 Swansea 0 - in pictures
West Ham 2 Swansea 0 - in pictures
1/7 Jonathan de Guzman goes past Stewart Downing

2/7 Kevin Nolan scores the first goal

3/7 Kevin Nolan celebrates his goal

4/7 Kevin Nolan scores the second goal

5/7 Kevin Nolan celebrates his second goal

6/7 Andy Carroll is sent off

7/7 Nathan Dyer challenges Guy Demel for the ball