West Ham were stunned by newly promoted Bournemouth over the weekend, losing 4-3 at home. So what could Slaven Bilic have done differently to avoid this embarrassing defeat in which Callum Wilson scored a hat-trick for the visitors?
THE RE-RUN
With Bournemouth's formation remaining the same, Sports Interactive simulated the game over again with various West Ham line-ups and tactics until it produced an alternative result.
West Ham formation: 4-3-2-1
Line-up: Randolph, Jenkinson, Reid, Ogbonna, Cresswell, Obiang, Kouyate, Noble, Lanzini, Payet, Sakho (CHANGES FROM ACTUAL LINE UP: Lanzini in; Nolan out)
Final Score: West Ham 3-1 Bournemouth (Scorers: Sakho, Kouyate, Payet; Wilson)
West Ham put in a clinical performance with Manuel Lanzini and Dimitri Payet at the centre of proceedings. Lanzini picks up two assists and earns himself the Man of the Match award while Payet's twenty-five yard effort into the top corner is an early goal of the season contender.
Lanzini and Payet are able to regularly infiltrate the space between the Bournemouth midfield and defence. Bournemouth are often slow to close them down effectively and this allows the pair of them to consistently feed in Sakho or threaten the goal themselves. Between them, they make six passes that lead to a clear cut chance for Sakho – including the ball that Lanzini supplies for the opening goal.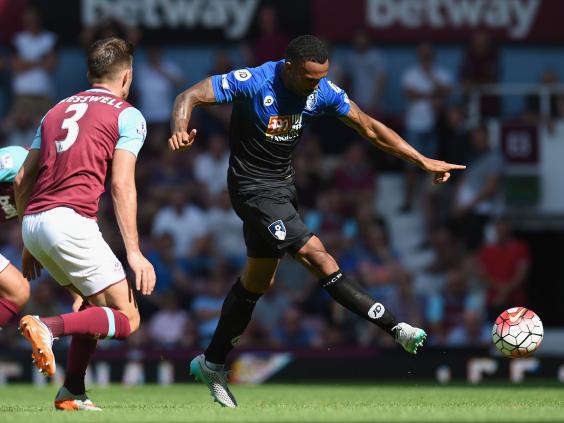 Sakho also impresses with his work rate – he covers 7.6km over the ninety minutes – and the four shots that he gets on target. He causes real problems for Cook and Elphick, who are often forced to abandon their tight marking of Sakho to close down Lanzini and Payet further up the pitch.
West Ham also dominate possession with sixty-three per cent of the play and are two-nil up before half-time courtesy of some elaborate passing play in the centre of the park culminating in Lanzini lofting the ball through to Kouyate who slots home.
For all of their complex passing patterns and excellent attacking movement, it is Payet's magnificent effort that steals the show. The Frenchman seizes on a bobbling loose ball and with his first touch, unleashes a powerful, dipping shot that Boruc can only flap at.
Bournemouth's play is hampered by the fact that they frequently give the ball away, especially in the crucial final third of the pitch. Callum Wilson and Joshua King only manage to get three shots on target between them and the highest pass completion percentage comes courtesy of Andrew Surman with sixty-seven per cent. Wilson's consolation comes in second-half injury time courtesy of a placed effort into the bottom right corner.
Football Manager uses a vast database - compiled by approximately 1,300 researchers across the world (including real-life scouts) - to blend reality and fiction. So impressive is the information that it has become a tool used by real life managers. The painstakingly detailing simulation of club management, which allows players to control every aspect of a manager's role, from scouting new player to tactics and training, has sold millions of copies worldwide.
Reuse content