When Reece Oxford walks into the canteen at West Ham's Rush Green academy in Romford, the welcome from his Under-21s team-mates is natural and instantaneous: the 16-year-old has come from down the road in Chadwell Heath, where he has been training with Slaven Bilic's first team.
From the coaches' table, the academy director Terry Westley looks on approvingly as the latest teen prodigy in English football does the rounds. A man for whom detail is everything, Westley observes his players closely on and off the pitch. "Look at the way he goes round shaking hands," Westley says.  "It is important that he stays connected with his age group."
A day spent at the West Ham academy, deep in its Essex heartland, is an insight into the challenges facing youth development in this country. This is the club that styles itself as "The Academy of Football", where the great coach Tony Carr, who was responsible for the generation of Frank Lampard and Rio Ferdinand, still watches training. This is a club that does not harvest boys from all over the world but is desperate to revive its local production line of talent.
Westley is the man who has been charged with the task of reinvigorating a club that gave English football Bobby Moore, Sir Trevor Brooking and Joe Cole among many others. He is under no illusions about the scale of the task in replicating that in 2015 but he has had some success of his own. Among his former charges are John Hartson and Matt Upson at Luton; Kieron Dyer at Ipswich Town; Paul Konchesky and Scott Parker at Charlton; Tom Huddlestone at Derby County;  and Nathan Redmond, Jack Butland and Jordon Mutch at Birmingham City.
It all seemed so simple back then, but in the modern era, the new West Ham kids – Oxford, Josh Cullen, Lewis Page, Reece Burke and Martin Samuelsen – must make their way in the £5.14bn Premier League which will soon be able to buy just about any player it wants.
Westley, 55, and a former youth-team player at Ipswich Town under Bobby Robson, has already seen a significant number make their debuts since he arrived at the club this year, but he wants much more. In his office he passes me a document drawn up by West Ham's owners, David Gold and David Sullivan, and vice-chairman Karren Brady, who want to be among "Europe's 20 elite clubs". With the benefits their new stadium brings, the club's horizons have widened.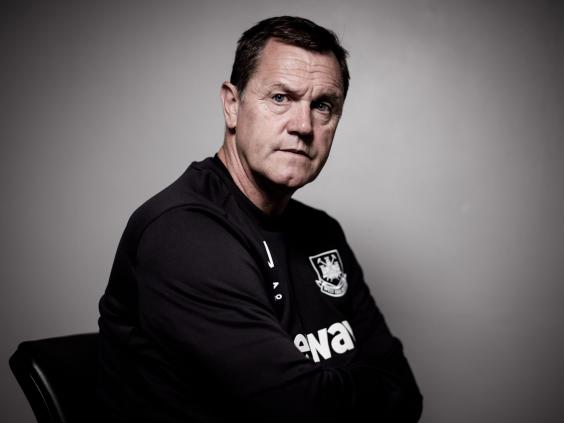 Producing the players is Westley's job and listening to him talk about Oxford's development makes clear the huge demands made of teenage boys who want to become modern Premier League footballers. Westley's ethos is that Oxford should model himself as an Olympic athlete who is training to win gold, and that any young player who wants to establish himself will require similar levels of dedication and sacrifice.
He said: "I look at an athlete like Katarina Johnson-Thompson who was 19 at the London Games and is on a four-year journey to win gold in Rio [next year]. I keep saying this to Oxford. I drive him bonkers. I say: 'She has to get the gold medal. This is you at 16, on your four-year journey. Your gold medal is to be a Premier League player'.
"You speak to her and her coach. Every day in that four-year cycle she knows what she is doing. She knows what she is going to eat, what her weights session is, when she is seeing the psychologist. She isn't taking any risks. Footballers? Come on. Changing that is what I am passionate about – we have more money in football than that girl can ever dream of, more staff, more facilities. Now every single one of our 175 boys from nine years old to 22 has his own plan."
West Ham also have high hopes for Samuelsen, a Norway Under-19 released by Manchester City this year, and Westley regards the generic, one-size-fits-all training as inadequate to producing standout players.  He asks his staff why England has not produced a Ballon d'Or winner.
"I say to Oxford, that he's going to be a Premier League footballer. But do you want to be captain of England? Do you want to be the best in the world in your position? He could be. When he plays in the Euros he stands out – you go to the theatre to see Billy Elliott. The actor is what, 13? He can't make a mistake. He can't trip over or get his words wrong. Footballers aren't like that. We tend to allow it and think it is OK. That's the bit we are missing."
Westley has some strong ideas on changing youth development. The England Under-21s team playing in the Championship, for example, or bringing the best players in the region to train together. When he was at Birmingham City, the club had a private agreement with Aston Villa and West Bromwich Albion to do just that and Westley says the improvement in the sessions was startling.
Every club in English football says it wants to produce young players and some, like Southampton, have achieved it in recent years. Under Bilic, West Ham are committed to giving academy players a chance in the first team. Bilic has told Westley to stretch promising players by promoting them into older age groups, as he once did himself with a 17-year-old Luka Modric in the Croatia Under-21s.
"David Gold has said Reece can become a West Ham legend and that is what this place needs," Westley says. "We need a catalyst to change it. That is why the determination to keep him at 16 was so great. The value of a 16-year-old now is greater than a second-year pro. As a club we already had the player. Manchester City, Chelsea, Arsenal wanted him and the value was ridiculous. We have to give them so much so young just to keep them. You haven't got a choice."
As a kid at Ipswich, Westley once answered an inquiry from Robson as to his performance in the youth team as "not bad". The response stayed with him his whole life. "He [Robson] looked at me and said 'Not bad?' 'Not bad' gets you the sack, son." That  phrase, "Not bad gets you the sack", now adorns a sign in Westley's office. In the Premier League of 2015, Reece Oxford and Co know they are going to have to be a lot better than plain old not bad.
Reuse content