West Ham United is a club with a lot of ambition: the dream of its fans and owners is for the East London team to become a regular fixture in the top half of the table - even the top four - when it moves into the Olympic Stadium next year. Trophies are the future.
Yet West Ham are currently dealing with another problem involving the top half - the upper section of their new away kit.
The Hammers' jerseys for this season are important for it is the last season that the Irons will be playing at the famous Boleyn ground, the club's home since 1904. When the West Ham home kit was released a few weeks back, it was met with near unanimous approval from the Hammers faithful: the enthusiasm for pre-orders briefly crashed the club website. Umbro, taking the reins of the West Ham shirt after Adidas, had done the Irons proud.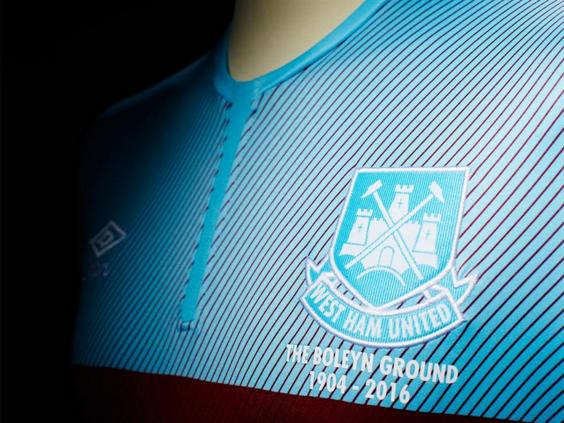 Just like the home shirt, the away kit of a claret stripe on a blue backdrop is inspired by the team's outfit from the 1901 season.
With classy details paying homage to Upton Park, the only noticeable difference is the top half of the strip, which features thin, diagonal pinstripes and has the West Ham badge in blue and white.
This slight detailing has troubled some fans - clearly, West Ham has a top half problem:
Whats with all the mucking about with the badge all about. Doesnt look good! @davidgold #whufc pic.twitter.com/vLjowLb38e

— GEEDEE ⚒ (@GEEDEE35) July 15, 2015
@umbro @whufc_official should have been claret badge

— Tom Donovan (@TomDonno) July 15, 2015
@ArchiAAL @whufc_official @umbro yeah I would have preferred claret logos but to be fair if there wasn't any pinstripes it would be a carbon

— Billy Reardon (@MrTwoHatz) July 15, 2015
@whufc_official @umbro no horizontal pinstripes and claret umbro and claret badge would of been brilliant. Just spoilt it really.

— Adam (@ArchiAAL) July 15, 2015
Overall however, the kit has been given the fan seal of approval, and is another sure fire winner from Umbro during an historic season for the Irons:
Nice and creative move by @whufc_official. They presented the new 15-16 away kit on Instagram. Beautiful. #WHUFC #BPL pic.twitter.com/HNT1VrESRw

— Magomed Gadzhisaidov (@RealMaga22) July 15, 2015
I LOVE the new Away kit! #WHUFC

— John Sbobs (@johnaaront) July 15, 2015
I love both our kits this year #whufc @umbro

— Bubbles Fanzine (@bubbles_fanzine) July 15, 2015
Looks absolutely beautiful. Couldn't ask for a nicer away kit. Brings back memories of my first in 94' #COYI #WHUFC pic.twitter.com/e20dHgQktn

— Danny Attle (@DanfromtheSouth) July 15, 2015
The new away kit is so retro which is what makes it perfect, anyone saying it's horrible has no respect for that #whufc

— Jack Lebeau (@JackLebeau66) July 15, 2015
Reuse content