Sam Allardyce will continue as West Ham United's manager for the final year of his contract, with the club deciding that he remains the best man to ensure that they move into the Olympic Stadium the season after next with their all-important Premier League status intact.
The under pressure manager was yesterday told his position is secure but it came with a number of caveats, including a requirement to produce "more entertainment" on the field. He has been set a target of finishing in the top 10 and a new attacking coach will be recruited to the backroom staff.
The appointment will not be Allardyce's alone with the process being overseen by the board, who will also demand more of a say in any new signings. Allardyce will be handed around £20m for new players.
Allardyce has been at West Ham for three years, taking them back to the Premier League at the first attempt and then finishing 10th in the top flight. This season they came 13th amid growing dissatisfaction among supporters at their style of football, as well as the performances of some of his major signings such as Andy Carroll, Stewart Downing and Matt Jarvis. Supporters even booed the team off after victory at home to Hull in March.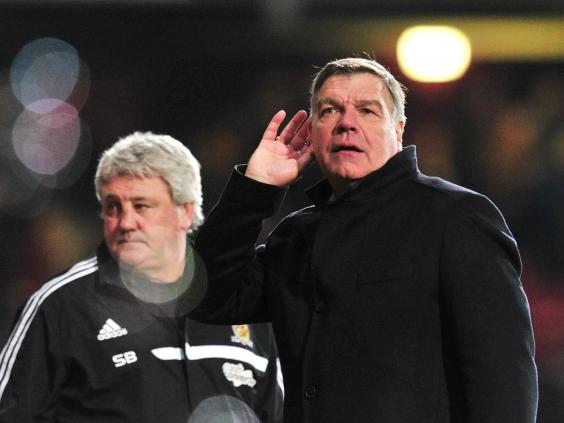 David Sullivan, who met Allardyce on Friday, and his co-owner David Gold, released a statement on the manager and the club's future. It read: "We have a very clear vision of how we want West Ham United to operate under our joint ownership. Although not everybody understands the West Ham way, we do and we respect it as we have been supporters all our lives. We believe this is about a philosophy that is not just about the style of play, but the whole ethos that surrounds the club.
"Sam was asked to give us a detailed presentation on his vision for next season and he assured us that he can deliver that ethos and we have agreed to support him with the resources that he needs. We have mapped out a way forward with him that will ensure our much-deserving fans have more to cheer about next season.
"The truly historic opportunity of a move to the Olympic Stadium in 2016 forms a major part of our five-year strategy to take this club forward and, while we have a duty to make sure we stay in the Premier League, we also want to make sure the performances on the pitch will befit a team playing in such a world-renowned stadium."
Gold's and Sullivan's plans for the club would be badly damaged by having to play Championship football in the 54,000-capacity Olympic Stadium. The club's board will meet on Friday when a list of potential transfer targets is expected to be considered, with a striker to support Carroll the priority.
A statement by the club said: "After listening to feedback from supporters, the board have insisted on improvements to the set-up of the playing and backroom staff to ensure the team provides more entertainment next season."
Reuse content