West Ham United manager Sam Allardyce's future at Upton Park is looking increasingly uncertain after the Hammers co-owner David Gold was forced to apologise after 'favouriting' a derogatory tweet about his manager.
The former Bolton Wanderers boss is under considerable scrutiny at the East London club after the Hammers hierarchy publicly criticised him for his transfer policy in recent weeks.
With David Sullivan labelling the £15m signing of Andy Carroll a 'mistake' while openly disagreeing with him on Ravel Morrison's future at the club, the parties appear to be on a collision course.
Gold, who has over 90,000 followers on Twitter, appears to have been caught out after a supporter made contact with the message: "Is today the day we get rid of BFS ?? @davidgold fingers crossed."
The message has since been removed from the 77-year-old's profile.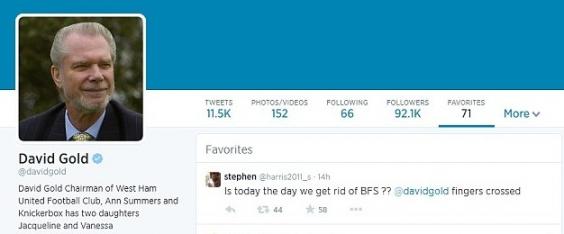 'BFS' is in reference to a banner displayed by West Ham supporters during the tail end of last season as the club comfortably avoided relegation despite being in the bottom three at Christmas.
Upon noticing his error, Gold addressed the issue this afternoon while notably not revealing his position on Allardyce's future.
"After a 33 hour flight from New Zealand, I was in my car scanning through my tweets and it seems I accidently (sic) favourited one," he wrote on the social media site.
"It has made some of the papers today so I should clarify that I did not and would never deliberately or intentionally endorse a tweet that questions our manager's position. Lesson: don't use twitter when you're jet lagged!"
While Allardyce continues to get results at Upton Park, it is the team's style of play which causes most friction with the fanbase, while Gold's fellow co-owner Sullivan has admitted he harbours regrets about 'putting all his eggs in one basket' by signing Andy Carroll for £15m last summer.
The England striker has since been plagued by injuries and looks set to be out until December at the earliest.
The signing of Enner Valencia, one of the star performers of the World Cup in Brazil, had started a process which Allardyce hopes will eventually appease his critics.
Sullivan, however, also raised eyebrows last week by using an interview with talkSPORT to openly criticise his manager's intention to sell Morrison - stating that the board had other ideas.
"Sam has said Ravel is not part of his plans but we do - as a board - see him as part of our plans," he said.
"I think he said in a press conference, if I read it correctly, he's not part of his plans for this season. I think he said that in New Zealand but we don't agree with that. We would like to sit down and give him a longer contract.
"We do like him. We do see him as part of the long-term future of the club but we have to agree it with the manager because there's no point signing a player he's not going to play."
Reuse content