What if Arsene Wenger was right? The gulf between West Ham United's last two performances, overpowering Tottenham Hotspur then rolling over for Liverpool, was so vast that it must have left Wenger exasperated as he watched on Sunday afternoon. Hence Wenger's Monday morning snark about teams "releasing their focus". He did not need to mention West Ham but he did not need to.
No team shows a bigger gulf between their good and bad days than Slaven Bilic's side. The defeat of Spurs was the West Ham of last season, who nearly finished fourth and registered seven wins in their 10 games against what we now call the 'big six'. But Liverpool, nine days later, was this year's Hammers: sloppy, slow, dismally easy to play against and with no obvious plan.
There is a view that beating the big teams is enough, that it shows that West Ham and Bilic can do it when it really matters. West Ham have delivered some unforgettable games over the last two years, the argument runs, and that surely matters more than silently accumulating Premier League points.
That view is wrong. Being able to beat the good teams but not the bad ones is the sign of a bad team, not a good one. It shows that they can only function when maximally motivated. Which is fine in international football, as Bilic showed with Croatia at Euro 2008 and Euro 2012, but not exactly the best approach over a 38-game season.
The sign of a proper team is that they have an identity, a clear way of playing, that is apparent from the start of every match. Every good team bears the clear imprint of their manager, as Arrigo Sacchi always used to see. But what is West Ham's identity? What is their structure? Except against the very biggest teams, there never seems to be a cohesive plan.
West Ham vs Liverpool player ratings
West Ham vs Liverpool player ratings
1/22 Adrian – 4 out of 10

Adrian made a handful of important saves, but this is outweighed by the four strikes that ended up in the net.

2/22 Jose Fonte – 6 out of 10

Held his position well at the back and made a number of vital challenges. A very reliable element to the West Ham defence.

3/22 Winston Reid – 6 out of 10

The defender was strong in the air and managed to clear the danger from several set pieces. However, his lack of pace let him down today.

4/22 James Collins – 5 out of 10

Collins failed to keep up with the energetic and skilful Liverpool forwards at times. Completely switched off for Liverpool's third. Poor defensive display.

5/22 Sam Byram – 6 out of 10

Was encouraging to see Byram press up the field – had a golden opportunity in the opening stages.

6/22 Edimilson Fernades – 4 out of 10

Showed very little going forward and made a number of clumsy challenges.

7/22 Havard Nordtveit – 5 out of 10

His lofted long balls proved problematic today for Liverpool – but he needs to see more of the ball.

8/22 Aaron Cresswell – 6 out of 10

Cresswell looked dangerous when running at the Liverpool defenders on the left – at times he made Clyne look substandard.

9/22 Andre Ayew – 3 out of 10

Missed an opportunity to level the scoring from two-yards out, in front of an open goal. Dreadful stuff.

10/22 Manuel Lanzini – 7 out of 10

Lanzini was the Hammer's best player today. He was confident, clever in possession and caused problems when he was moving forward with the ball.

11/22 Jonathan Calleri – 4 out of 10

It was a very quiet display by Calleri – he failed to provide the attacking outlet that the Hammers desired.

12/22 Simon Mignolet – 6 out of 10

It was a relatively easy day at the office for Mignolet, due to the lack of West Ham's attacking moves.

13/22 Nathaniel Clyne – 5 out of 10

Was diving into challenges relentlessly – needs to stay on his feet more. Nonetheless, he looked solid pressing forward.

14/22 Joel Matip – 6 out of 10

Showed his aptitude in the air – he rattled the crossbar with a tremendous headed effort. Defended well throughout.

15/22 Dejan Lovren – 6 out of 10

A textbook display from Lovren today – he defended well, held the line well at the back and made a number of key interceptions.

16/22 James Milner – 4 out of 10

Aside from a few shots that flew way wide, Milner made a very little impact on today's fixture.

17/22 Emre Can – 5 out of 10

A quiet display by Can today – his main input was giving away a number of unnecessary fouls.

18/22 Georginio Wijnaldum – 6 out of 10

His effort that rattled the woodwork created Coutinho's goal. Aside from that, an impressive display.

19/22 Philippe Coutinho – 9 out of 10

He scored two and assisted the opener with a sublime through ball. An all-round remarkable performance in his new, deeper position.

20/22 Adam Lallana – 6 out of 10

Lallana looked the most threatening when he was picking up the ball and charging into the final third.

21/22 Daniel Sturridge – 7 out of 10

Sturridge opened the scoring today with a clinical finish after skipping past Adrian.

22/22 Divock Origi – 7 out of 10

Scored the fourth for Liverpool, which capped off a positive display. Would be encouraging to see him shoot more, because he certainly has the ability.
That is why West Ham cannot win the games they are expected to, when modest opposition comes to the London Stadium and it is their job to unpick them. This year they have lost at home to Watford, Southampton, Leicester City and Astra Giurgiu. Even the home wins that have kept them up, scraping past Sunderland, Burnely, Hull and Swansea all by 1-0, have been desperately unconvincing.
Too often this year West Ham have looked like a team that has run out of ideas, and when their only idea is to play like their lives depend on it, that is no real idea at all.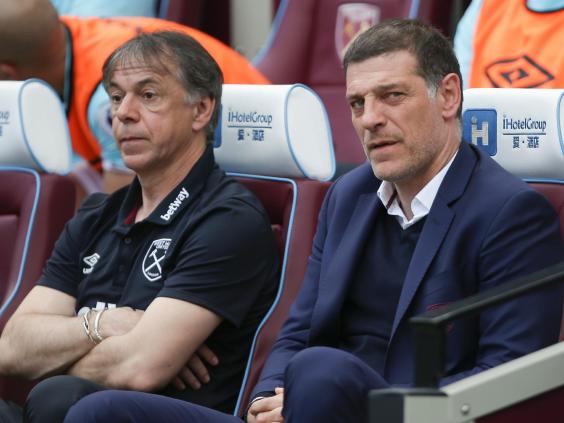 Of course there are factors beyond Bilic's control here.
The move to the new stadium has cost West Ham one third of their haul of home points from last season. There have been many more bad days than good ones there this season and some of the defeats, to Manchester City and Arsenal, have been embarrassingly bad. When Arsenal left the pitch after winning 5-1 there last December, one first teamer thought West Ham were one of the worst opponents he had ever faced.
West Ham lost their best player Dimitri Payet in January, and their purchases last year were nowhere near good enough to make up the gap. Jonathan Calleri, Simone Zaza, Alvaro Arbeloa, Edimilson Fernandes and Ashley Fletcher all struggled to make an impact. That might not be Bilic's fault but the failure of Gokhan Tore, his player from Besiktas, more likely is.
So not everything is Bilic's fault, as his team limp towards the end of a disappointing season. But the West Ham board have two options this summer, to give him a new deal or to get rid of him. With the team drifting in the wrong direction, and with Bilic's motivational burst only likely to wear thinner, what is the case for keeping him on?
Reuse content