It is fortunate for Manchester United that they have not lost their capacity to pinch late goals when the pressure is on, because if they continue to play this way under Louis van Gaal they will find themselves chasing games against more opposing teams whom they once blew away with ease.
Yes, there was something to be admired in the usual straining of every sinew to salvage something from a game in which United had very nearly thrown away and one could not quite buy Sam Allardyce's protestations that his team were robbed. It was always on the cards that United would snatch the goal that Daley Blind supplied in the 92nd minute, but a more pressing concern for their Dutch coach was how they found themselves in such a situation. In a team in which attacking talent abounds, Van Gaal's tactical creations occasionally have the effect of making expensive footballers look utterly bewildered as to what it is they should be doing. Perhaps the Dutchman is about to make fools of us all with his sophisticated vision for Manchester United, or perhaps he is just getting it wrong.
It felt like the latter as Robin van Persie, Radamel Falcao, Adnan Januzaj and Angel Di Maria all disappeared at times into the black hole of a United formation that they struggled to make work. Van Gaal's contention that a dismal first half performance was a consequence of his team winning too few "second balls" felt like a gross over-simplification of a much deeper problem.
He also argued that Luke Shaw should not have been dismissed for the second of two late yellow cards, yet the foul in question on Stewart Downing might have been a red card in its own right.  Van Gaal did at least acknowledge that the challenge by the young Englishman was "tactically not so smart" which was putting it lightly.
They missed the chance to make two points up on Manchester City and stay in fourth place behind Southampton. In the end it was upon the likes of Wayne Rooney that Van Gaal's team depended for the impetus as he was switched, from defensive to attacking midfield duties more than once. The introduction of Marouane Fellaini made a difference too.
Allardyce joked later that Van Gaal would never get the criticism for switching to a more direct game around the Belgian that the West Ham manager has received for doing the same in the past. The home team were much better in attack in the first half and once again it was David De Gea who came to the rescue of his side, especially after the break when he saved from Mark Noble.
West Ham 1 Manchester United 1 player ratings
West Ham 1 Manchester United 1 player ratings
1/22 West Ham: Adrian

Impressive performance from the Spanish goalkeeper. He wasn't tested too many times but when he was, in particular from Robin van Persie in the second half, he stood firm. 7

2/22 Carl Jenkinson

Not as effective as he has been recently. He struggled to cope with Radamel Falcao and allowed Adnan Januzaj to get the wrong side of him too often. Came close to scoring when his cross-cum-effort when inches past David de Gea's goal. 6

3/22 Cheikhou Kouyate

What a goal. He did excellently to turn and shoot past David de Gea. Alongside the composed figure of James Tomkins he was able to express himself. He was also the most effective at stifling Angel di Maria. 8

4/22 James Tomkins

Back into the team and he did not disappoint. He kept composed when his defence was under threat and did brilliantly to block a Robin van Persie effort that looked destined for the back of the West Ham net in the second half. 7

5/22 Aaron Cresswell

Consistently he has been one of West Ham's best players this season. Defensively not much gets past him and he's no slouch at getting forward. His delivery from the left is superb. 6

6/22 Alex Song

Made a few sloppy errors in the first half. Lucky not to have been punished when his pass across his own box was intercepted by Robin van Persie. 6

7/22 Kevin Nolan

Still not a fans' favourite as the fans near the press box in the west stand made clear. He was constantly overrun in midfield and wasn't able to deal with Wayne Rooney running at him. 6

8/22 Mark Noble

Dependable performance from Mr West Ham. Tireless work marking Adnan Januzaj, who can break quickly, but Noble dealt with him well. 7

9/22 Stewart Downing

Behind Diafra Sakho and Enner Valencia, the English midfielder seemed to run into trouble a little too often and didn't press forward as much as he has been able to before. 6

10/22 Enner Valencia

A constant threat to the Manchester United defence. Used his pace effectively to move into areas where the ball could be fed to him. 7

11/22 Diafra Sakho

No sign of his recent back injury causing him any bother. He didn't use his physicality as well as he should have and was too slow to react in the final third. No doubt he'll get his sharpness back with a few more matches. 6

12/22 Manchester United: David De Gea

Sharp to react to the penetrating runs of Enner Valencia and Diafra Sakho. Did brilliantly to deny Valencia in the first half. Beaten by a strong Cheikhou Kouyate volley. 6

13/22 Phil Jones

Handled the physicality of Diafra Sakho well. He won the majority of 50/50 balls in the air against the Senegal international. A composed performance. Could possibly have done better to stop Cheikhou Kouyate getting his shot away. 5

14/22 Luke Shaw

Caught out of possession a few times by Enner Valencia who never allowed him out of his sights. Pressed forward well. Sent off for a horror tackle on Stewart Downing. 5

15/22 Antonio Valencia

One of Manchester United's best players against West Ham. Highly effective on the right. Worked particularly hard to support the attack but made sure to track back when required. 6

16/22 Marcos Rojo

He never stopped grafting. Very quick out of defence but covered for Luke Shaw when the English defender pushed up. He did pick up an unnecessary yellow card for a reckless tackle on Mark Noble. 6

17/22 Angel di Maria

In behind Robin van Persie and Radamel Falcao, the Argentinian playmaker struggled to make an impact. His delivery from set pieces were particularly poor as they failed to beat the first defender. 5

18/22 Adnan Januzaj

50th game for Manchester United three days after he turned 20. Early on his was relatively effective on the left side but as Carl Jenkinson started to read where he was going the Belgian ran out of options. Replaced by Marouane Fellaini after 72 minutes. 5

19/22 Wayne Rooney

A little out position but his ability to link up the midfield and attack is always required. A threat to West Ham after the Hammers took the lead. Very creative from a fairly deep role. 7

20/22 Daley Blind

Not as strong as he has been. Playing in front of the defence you expected him to stay calm and tidy up loose balls. Bypassed a little too easily by Stewart Downing. Scored a beautiful goal to bring his side level. 7

21/22 Radamel Falcao

Too often he appears a little too casual. His movement created space but when he got the ball he didn't progress play often enough. Missed a sitter to level the scores when one-on-one with Adrian. 5

22/22 Robin Van Persie

Failed to punish Alex Song's mistake in the first half when the midfielder played across his own box. Didn't link up with Radamel Falcao as much as he has done previously. Should have levelled the match with minutes remaining. Good movement, though. 6
West Ham had taken the lead early in the second half through Cheikhou Kouyate, the Senegal international converted to play in defence to cover for injuries, and they had their chances to put themselves out of sight before Blind rescued a point for his team.
The first half was desperate from United's point of view with Blind often isolated and passed around in midfield. Alex Song was consistently the most influential man in the middle of the park in the first 45 minutes and even he could be careless in possession.
Out in the right channel, Van Persie looked more dispirited than usual. He swept a leg away from Noble early in the game and then swung an arm backwards into the face of James Tomkins as they both waited to head a ball forward. The referee Mark Clattenburg gave them both a talking-to and there was no mistaking the irritation in the Dutch striker's demeanour.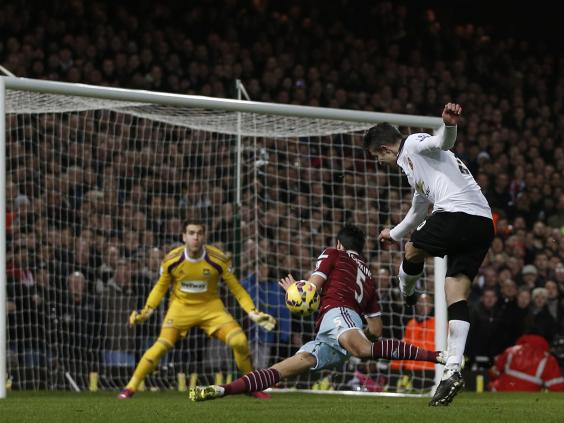 The least impressive of the lot was Falcao whose miss with 14 minutes of the game told you everything you needed to know about his confidence. Monaco still want £43m for this man, and his agent Jorge Mendes has been telling the BBC all week what a good player he will turn out to be. On current evidence he is one economy Van Gaal can easily make come June.
De Gea tipped an early effort from Enner Valencia over the bar and then saved with his feet from Tomkins on 32 minutes. Valencia was the liveliest for the home team, in spite of a dreadful dive on 33 minutes that referee Clattenburg saw through.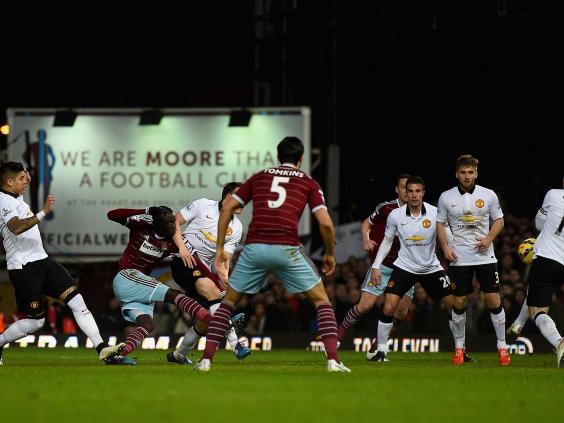 On one of their best counter-attacks there was a good argument that Marcos Rojo, booked at the subsequent break in play, might have earned double the punishment in the space of a few seconds. Losing the ball he crashed into Valencia and then Noble in an unsuccessful attempt to stop the break.
It was an unusual and clever goal from Kouyate that took a deflection off Blind on its way in. Kouyate was up for a free-kick and controlled the ball with his back to goal when it broke to him, taking two touches to turn and, without letting it touch the turf once, volleyed the third past De Gea.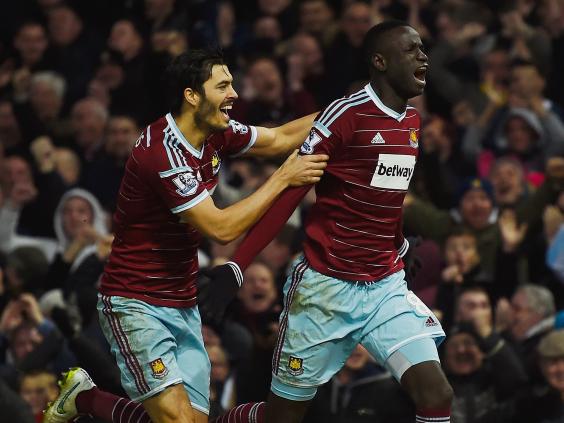 West Ham's goal was deserved and it prompted the best period of play that the away team had managed all game. Rooney was pushed further forward and there were a couple of chances for Van Persie. He took neither of them. That pin-sharp finishing of old was missing, especially the second chance when Tomkins recovered to tackle him.
And then, as things became ever more desperate for Van Gaal, on came Fellaini and Van Gaal's team were more direct. Falcao's worst moment came not long afterwards when he brought down a long clearance from Rojo, exchanged passed with Van Persie and was through on goal. He decided to hit his shot with the outside of his right foot when the left would have been better and did not even hit the target.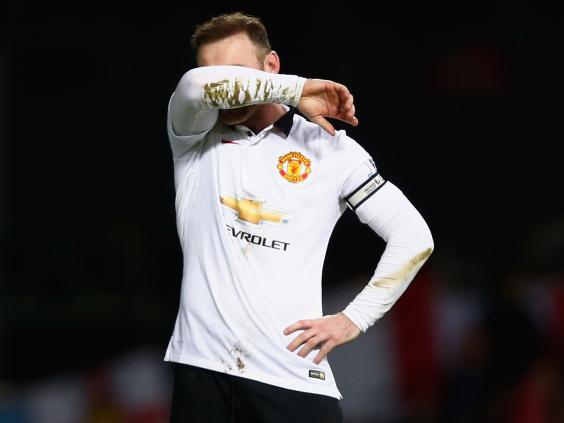 The away team continued to force the issue and the chances kept coming. De Gea had to make a double save from Noble and then Kevin Nolan before they scored their equaliser. Carl Jenkinson's header from a free-kick dropped the ball into the area and Blind finished nicely. This club can still do the late goals that have made their modern era so successful, Van Gaal will have been relieved to learn. It is the rest that needs work.
West Ham (4-5-1): Adrian; Jenkinson, Kouyate, Tomkins, Cresswell; Noble, Nolan, Song, Downing; Valencia (Jarvis, 82), Sakho.
Substitutes not used: Jaaskelainen (gk), O'Brien, Amalfitano, Cole, Oxford, Lee.
Manchester United (4-1-2-3): De Gea; Valencia, Jones, Rojo, Shaw; Blind; Rooney, Januzaj (Fellaini, 72); Van Persie, Di Maria, Falcao (Smalling, 90).
Substitutes not used: Valdes (gk), Mata, Herrera, McNair, Wilson.
Attendance: 34,499
Booked: West Ham Song, Adrian Manchester United Rojo, Shaw, Rooney
Sent off: Shaw
Referee: M Clattenburg
Reuse content