A state of nirvana suffused the trams heading up to the Etihad from Manchester Piccadilly on Saturday morning. Thousands of dreamy-eyed men, women and children had come together in sky-blue communion for the first time since the announcement that the great Pep Guardiola was coming their way. The fans of Manchester City, for so long a marginalised cult subjugated by the big red machine across the metropolis, are football lottery winners, handed ownership of a winning storyline that takes them ever further from the days of impoverishment when Fergie's mob ruled the earth.
Yes, they would lose 3-1 to Leicester in a disappointing display, but the direction of travel is only one way. So what if they miss out on a third Premier League title in five seasons? The unfeasible riches of Abu Dhabi ownership has brought them the most sought after coach in the world, a symbol of a rise to power that they believe has one, inexorable end: domination of the European club game. 
The Guardiola development might be seen as the final play in the Mancunian power shift from red to blue, heightening the post-Ferguson chaos characterising the end of empire at United. For those of a certain vintage there is a poignant sense of déjà vu about City's ascendancy, which mirrors the blue rising orchestrated by Joe Mercer and Malcolm Allison, who sent out Colin Bell, Francis Lee, and the Mikes Summerbee and Doyle to smash what was left of Sir Matt Busby's creation. 
In the same year Law, Charlton and Best finally lifted the European Cup, 1968, United were no longer the best team in Manchester, never mind England, with City parading the First Division title around Maine Road. The FA Cup would follow a year later as United continued a decline that would eventually lead to a relegation in 1974 confirmed during an Old Trafford derby defeat courtesy of the heel of Denis Law, by then with City. 
Just as first David Moyes and now Louis van Gaal struggled to manage or contain the downward spiral in the face of aggressive empire building to the east, so Wilf McGuinness and Frank O'Farrell failed to sweep up behind Sir Matt. The forces of history proved too big for both and it took a maverick called Tommy Docherty to recognise the scale of the changes needed and ultimately, via the trauma of second-tier football, restore the club to something like the swagger of old. 
Manchester City vs Leicester City ratings
Manchester City vs Leicester City ratings
1/22 Joe Hart, Manchester City

Couldn't do much about any of the goals, and made some fine saves to prevent an even greater rout. 6/10

Getty

2/22 Pablo Zabaleta, Manchester City

Could have won a penalty in the first half, but was exposed by Mahrez for his goal. 5

Getty

3/22 Nicolas Otamendi, Manchester City

Never worked out how to deal with Vardy, but produced some timely last-ditch challenges. 5

Getty

4/22 Martin Demichelis, Manchester City

At fault for all three goals - beaten easily twice by Huth, and embarrassed by Mahrez's trickery. 3

Getty

5/22 Aleksandar Kolarov, Manchester City

Poor defensively, giving away the free kick for the first goal, and uncharacteristically wasteful in attack. 4

Getty

6/22 Fernandinho, Manchester City

Had a penalty shout turned down in the first half, but struggled to cope with Leicester's counter-attacks. 5

Getty

7/22 Fabian Delph, Manchester City

Made scarcely any more impact than Toure in the City midfield, and came off at the same time. 5

Getty

8/22 David Silva, Manchester City

Was at the centre of City's brightest moments in the first half, but faded after the break and was substitued late. 6

Getty

9/22 Yaya Toure, Manchester City

Was utterly anonymous in the first half, substituted early in the second. 4

Getty

10/22 Raheem Sterling, Manchester City

An early chance was denied well by Schmeichel and he had half-chances in the second half, but a frustrating afternoon. 5

Getty

11/22 Sergio Aguero, Manchester City

Struggled in the first half after an early knock, but came into the game, worked hard, and took his goal well. 7

Getty

12/22 Kasper Schmeichel, Leicester City

Was solid throughout, making one superb, crucial second-half save from Fernando. 7

Getty

13/22 Danny Simpson, Leicester City

Booked for a foul on Sterling, but kept the ex-Liverpool man quiet. Sloppy backpass almost gave City a second. 6

Getty

14/22 Wes Morgan, Leicester City

Was booked for a foul on Aguero, but formed a heroic partnership with Huth in central defence. 8

Getty

15/22 Robert Huth, Leicester City

Got the better of Demichelis twice to score two precious goals, and was a rock defensively. Will never have a better game. 10

Getty

16/22 Christian Fuchs, Leicester City

Had a heart in mouth moment after bundling down Zabaleta on the edge of the box, but delivered the corner for the third goal. 7

Getty

17/22 Riyad Mahrez, Leicester City

Brilliant - won and delivered the free-kick for the first goal, and scored the second with a moment of brilliance. A constant threat. 9

Getty

18/22 Danny Drinkwater, Leicester City

An effective shield in front of the defence, got forward well and set up Vardy for a late chance with a superb ball. 8

Getty

19/22 N'Golo Kante, Leicester City

A dominant performance from the midfielder in defence and attack, summed up by his storming run to set up the Mahrez goal. 9

Getty

20/22 Marc Albrighton, Leicester City

Set the tone for the game with a fine early cross, worked hard and caused problems with his consistent delivery. 7

Getty

21/22 Shinjo Okazaki, Leicester City

Worked tirelessly for the team, ran well off the ball and was only denied a goal by some last-ditch defending. 7

Getty

22/22 Jamie Vardy, Leicester City

Did everything but score, twice forcing fine saves from Hart and giving Otamendi and Demichelis a torrid time. The real deal. 8

Getty
The word is that United are seeking a figure who shares many of Docherty's cavalier qualities. With Guardiola taken, the feeling is that United cannot allow the drift under Van Gaal to continue. Though the atmosphere around Old Trafford has lifted lately under the Dutchman, United slipped six points outside the Champions League places with the 1-1 draw at Chelsea on Sunday. 
Unlike the position over 40 years ago, United are wrestling global forces, not just domestic. Circumstances no longer allow for a period of adjustment. The idea that Moyes would have six years to return United to a position of hegemony seems ridiculous now. Similarly, the three-year project identified by Van Gaal is equally untenable in the absence of significant green shoots sprouting early in his regime.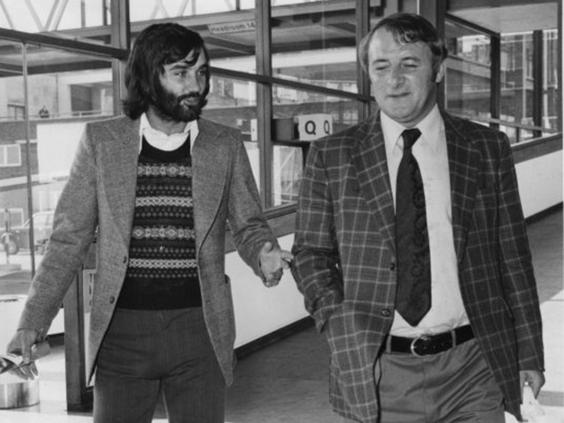 The rise of Leicester from relegation habitués to Premier League hauteur in the space of a season ridicules Van Gaal's vision and understanding of the demand. The age of immediacy is upon us. There is no room to indulge the outmoded schema of a footballing coach obviously off the pace at an institution measured among the three richest commercial entities in world football. 
United would have had to respond no matter who was threatening their station, just as Ferguson did when Chelsea, rescued from the brink of oblivion in 2003, set the template for monied private ownership of an English football bauble and changed the rules of the game. The vast wealth of Roman Abramovich introduced the cult of the super-coach to the Premier League, in 2004 bringing in the freshly minted European Cup winner from Porto, one Jose Mourinho, the very figure who, 12 years on, is being proposed as the antidote to Guardiola at United. 
Such an appointment requires United to set aside any reservations about the style of guerrilla football Mourinho has deployed hitherto, however successfully. Relegation bought Docherty time. In came wingers Gordon Hill and Steve Coppell, a sharpshooter at centre-forward call Stuart "Pancho" Pearson, while Docherty built his defence around Martin Buchan and Brian Greenhoff, sweeping United back into the top flight at the first attempt. And in those distant days the noisy neighbours did not have the cash accelerator today's adversaries boast. 
Indeed, chairman Peter Swales, a trashy Manc millionaire who made his money in the radio and hi-fi business, sought to keep the City ball rolling post-Bell, Lee and Summerbee with the deranged purchase in 1979 of Steve Daley from Wolves for a British record £1.43m. There was a broad equivalence then among the big city clubs boasting 50,000 gates that permitted that kind of spending. 
While there is something of that disposable income today, with the broadcast fees pumped into the Premier League allowing the likes of Stoke to drop £18.3m on a little known French midfielder in the January transfer window, Giannelli Imbula, and Watford to sign five recruits, farming two off to the club's Spanish babysitters, Granada, there is no longer the time to cultivate success. 
It has to be now, and in United's case  that means identifying a special one capable of taking it to Guardiola and changing the mood music on Manchester's trams.