The Manchester City chief executive, Ferran Soriano, might have allowed himself a knowing smile, when he heard what Louis van Gaal had to say about Chris Smalling surrendering Sunday's derby with a moment of madness.
"He is very tough," Soriano said of Van Gaal at a business conference earlier this year. "People don't like him, but he wins. And one day you don't win. And when you don't win, everybody that is angry with you will come back to you and try to kill you. In the movies this works, in real life it doesn't."
No one seems to have the slightest inclination to kill Van Gaal, though. There was one limp public complaint about the training regime early in the season but the language and the mood around Manchester United is that this man has the club back on track. For an individual who has just achieved the lowest opening 10-games points tally for a United manager since Ron Atkinson, in the autumn of his Old Trafford dismissal 28 years ago, Van Gaal does not look as if he is skating on thin ice.
Part of this is because of the impressions he is picking up from the United chief executive, Ed Woodward, and – by extension – owners the Glazer family. Van Gaal is understood to feel that there is far more support and belief in him from the top of Old Trafford than he felt at the equivalent stage of his Bayern Munich career, though by this point in the 2009-10 season in Germany he had begun to turn things around. Van Gaal feels that the club believe in his capacity and philosophy. In Munich, there were plenty of wise heads who felt that they – not he – had the answers. Quite frankly, the alternatives to Van Gaal do not bear thinking about for United. Having invested in him and for him, they have set their course. It would take a catastrophe – freefall in the Premier League – to alter it now. Woodward has set no targets for the Dutchman. His discussion of a third-place finish in a conference call with investors in September was a reference to the anticipated finishing position United are working around for financial planning purposes: the same position they planned for last season. Woodward and Van Gaal have not discussed a Premier League finishing position. Seventh again this season does not mean the sack.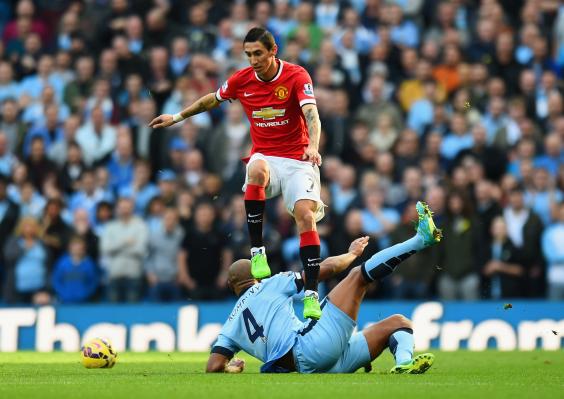 But it is not merely the lack of alternatives which insulates Van Gaal. Though he has garnered four points fewer and one goal less than his predecesor David Moyes did in his first 10 games last season, the side do now possess an identity: an ability to attack with pace and intent and, as Van Gaal put it when Angel Di Maria was signed, to instil fear. There was no greater encapsulation of United's ponderous state under Moyes than a comment Gary Neville delivered during the defeat at Goodison Park in April which finished off Moyes. Commentator Martin Tyler said United, at 2-0 down to Everton, might as well throw everything at it. "They are throwing everything at it," Neville replied.
Now, with that famous £150.1m of investment, the position has changed. They have full-backs bombing on, wingers coming inside to link up with Wayne Rooney and pace throughout the team. "It was difficult to watch last season," says The Independent and MUTV analyst Danny Higginbotham. "You would see Liverpool, Chelsea and Manchester City, all with identities. United didn't have one. They do, now."
Van Gaal's decision-making has been integral to that. The appointment of Rooney as captain has worked when Robin van Persie, still struggling to make an impact, felt like the default option.
And though the central defensive ills cost United again in the 1-0 defeat to City at the Etihad Stadium on Sunday, the solution to that problem – the purchase or development of a leader at the heart of that rearguard unit – seems a more defined one than Moyes' vague search for an identity.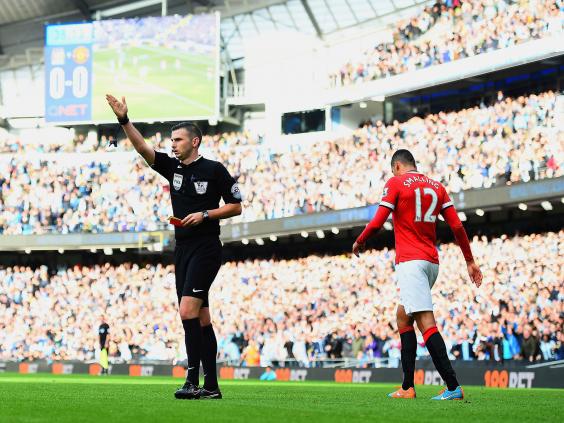 The consequences of lacking defensive authority should not be underestimated. "The difference between Manchester United and Chelsea at the moment is that if Chelsea play badly they win," says Higginbotham. "If United play badly they lose. Chelsea can grind out a win and that's what separates the good teams from the great ones. With this defence, United are having to score two or three to win a game. They need the individual that Chelsea and City have, in John Terry and Vincent Kompany." Phil Jones could be that man, but his struggle for an extended run of fitness creates the question mark.
Michael Carrick was reticent about suggesting there are green shoots with 13 points from 10 games. "For me to say that at this minute with the points total… I know it's not a good start," the midfielder said. But there was conviction in his eyes when he said that "we are still building to be successful and I think we will be".
--
Pressure on Van Gaal?
United's struggles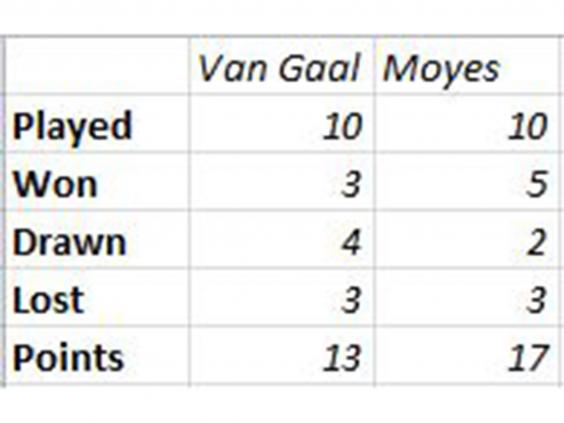 Manchester United have made their worst start to a season since 1986, four points worse than David Moyes' side after 10 games last season.
Reuse content