How do you stop a team like Tottenham Hotspur? That is what most of the Premier League has wondered all season, and the question Arsène Wenger will need to answer this afternoon.
Tottenham are a very good side, but they are not unbeatable. No one is. West Ham United gave a tactical masterclass on Wednesday night, shutting Spurs down with their 3-5-2 formation. It was a brilliant move from Slaven Bilic, out-thinking Mauricio Pochettino. It remains to be seen whether Wenger will follow suit.
It is no secret now how Tottenham play. I have explained in this column before how Eric Dier drops between the centre-backs, who are both so comfortable in wide areas. This allows the full-backs to push all the way up and provide the width. The three attacking midfielders behind Harry Kane play very narrow, interchanging and trying to drag the opposition full-backs inside, in turn creating the space for Spurs' full-backs to exploit. 
Just look on our graphic (below) supplied by our friends at Opta at Spurs' average positions when they beat Swansea last Sunday: how narrow Dele Alli, Erik Lamela and Heung-Min Son were, and how high and wide Danny Rose and Kyle Walker were.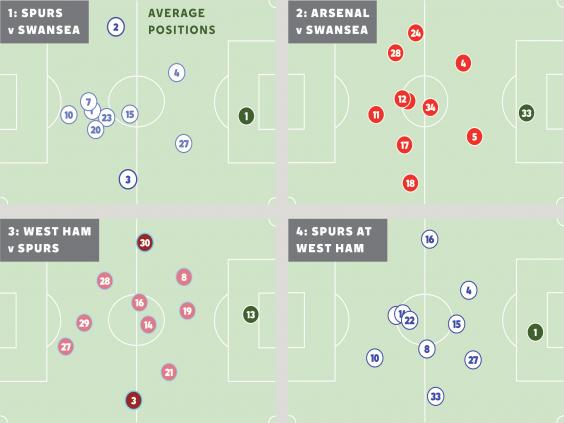 Bilic knows how important Spurs' full-backs are, after seeing West Ham battered 4-1 at White Hart Lane in November. On Wednesday he produced the perfect system to shackle the full-backs, smother the attacks and worry the defenders.
West Ham played with three centre-backs, Angelo Ogbonna, James Collins and Cheikhou Kouyaté. With the help of the two holding midfielders, Mark Noble and Pedro Obiang, that narrow defensive five could shut down Spurs' narrow attacking four of Christian Eriksen, Lamela, Nacer Chadli and Kane.
Crucially, with Spurs' band of three occupied, West Ham's two wing-backs – Michail Antonio and Aaron Cresswell – could focus on Spurs' full-backs, Ben Davies and Kieran Trippier. They had their minds made up for them and did not have to worry about anyone else. As you can see from the graphic, Antonio and Cresswell played with chalk on their boots, staying wide all evening.
At the top of the pitch, Dimitri Payet played very close to Emmanuel Emenike, with Manuel Lanzini joining in when required. Those forwards did not give Spurs' defenders a second of rest. Toby Alderweireld was booked for a foul on Payet while Kevin Wimmer was booked, and could have seen red, for fouling Emenike.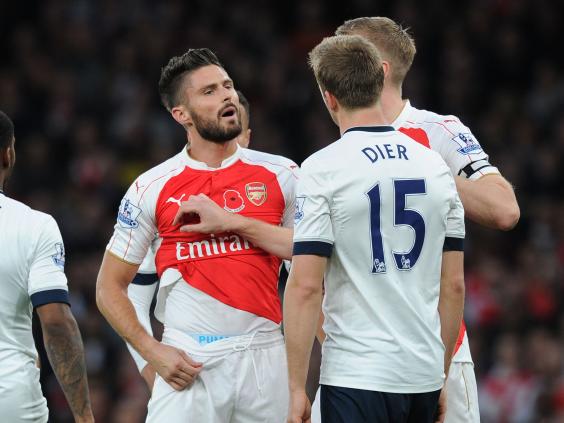 It was a clever plan which the West Ham players executed perfectly. Trippier and Davies were occupied and pinned back, as you can see from the average positions. The front four were smothered and barely created a single good chance. Dier had to drop into defence to help too often, costing Spurs a body in midfield. Hugo Lloris had to keep kicking long, gifting possession back to West Ham. The 1-0 scoreline flattered Spurs.
Opponents do not have to play 3-5-2 to beat Spurs, but they do have to stop their full-backs. Leicester City won 1-0 at White Hart Lane in January by playing a compact, narrow 4-4-2, the full-backs tucked in on Spurs' band of three. Riyad Mahrez and Marc Albrighton on the wings stuck to Spurs' full-backs, almost playing as full-backs themselves in what was effectively a back six. That is another way of doing it.
The big question then is whether Wenger has a plan to stop Spurs' full-backs. He is often reluctant to change his style of play to suit the opponent, and no one expects him to go 3-5-2. But if he does not have a plan then his team are in trouble.Hector Bellerin and Nacho Monreal both like to get forward, and played high and wide against Swansea on Wednesday. They will both know that they have to tuck in more, to defend against Spurs' band of three behind Kane, whoever Pochettino plays there.
But this leaves the question of who comes back to defend against Rose and Walker. Arsenal will need the wide players in their own attacking band of three to come back and defend, or else Rose and Walker will be free every time to provide width and get the ball into the box. 
With David Ospina in goal for Arsenal, Spurs should be especially keen to get crosses into the box early on. If you see how Arsenal played against Swansea, though, both Alexis Sanchez on the left and Joel Campbell on the right stayed high up and narrow. 
Those two – or Theo Walcott if he plays instead – will have to do far more defending. Campbell can do it, as he showed when Arsenal won 3-0 at Olympiakos in December. But Sanchez will have to curb his own instincts too.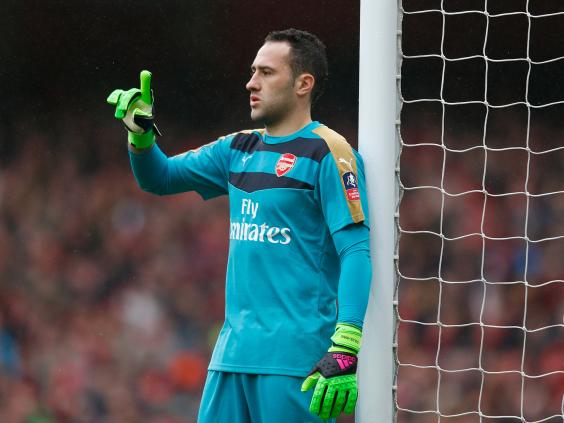 There is another option for Arsenal though, to flip this question on its head and put the pressure back on Pochettino. Wenger could tell Sanchez and Campbell or Walcott to follow Walker and Rose only so far, maybe to a point just inside Arsenal's half. Then he would trust Arsenal's defensive six – the back four, Francis Coquelin and Aaron Ramsey – to cope with Spurs' front six. But with Sanchez and Campbell loitering on the half-way line, along with Mesut Özil and their striker, Arsenal would have a real threat on the break if they won the ball back.
It would be very brave for Wenger to play this cat-and-mouse game, and I'm not sure he can afford to do it. But it would certainly give Spurs something to think about. Then the question for Pochettino would be whether he continued to push Walker and Rose up, far beyond Sanchez and Campbell, or whether they would stay back to keep an eye on the Arsenal players who weren't tracking them back.
At this point it would become a test of Pochettino's nerve as much as Wenger's, and one of the most intriguing tactical battles of the season. 
But I believe that Spurs would stay on the front foot and keep attacking, because this Tottenham team is built to defend against the counter-attack. That is why they press so relentlessly as soon as they lose the ball, with Pochettino telling his players to win the ball back within three seconds. It's the same thinking that Pep Guardiola uses. By swarming over the opposition, Spurs stop them from having good possession, from playing precise passes, cute one-twos or building anything from the back, preventing the counter. The only option is to go long, which Spurs can always defend against with their height in defence.
This very well-drilled team deserve all the praise they get. But West Ham and Leicester have found ways to beat them. Can Arsenal?
Reuse content