As the Premier League season draws to a conclusion, analysis of what worked for some and where things went wrong for others has begun.
Among the accusations thrown at some teams is that they are 'one-man' teams and over-reliant on a specific individual.
After Sergio Aguero's hat-trick for Manchester City against QPR at the weekend it was pointed out just how important he has been this term to Manuel Pellegrini's side. The Argentinian striker has scored 24 goals and has eight assists - meaning he's had a hand in 33 of City's 77 Premier League goals. A stat made all the more remarkable considering he missed some of the season through injury.
So how would Manchester City fare without Aguero?
The Independent teamed up with Sports Interactive, the brains behind football simulation game Football Manager, to find that had Manchester City been without their talisman for the entire campaign they would be six points worse off than they currently are. With five fewer goals, rather than having secured their place in the top four they would still be battling for Champions League qualification with two games to go.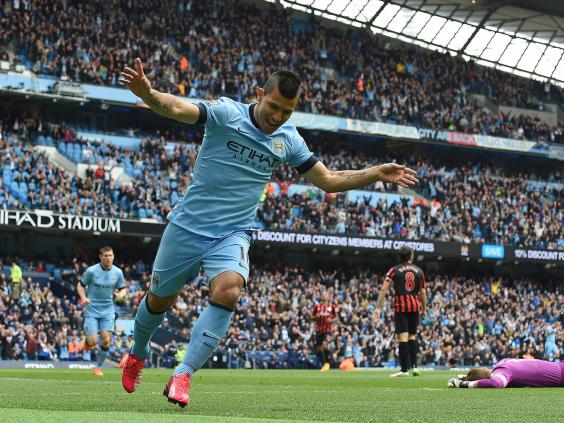 The research also shows other clubs struggling badly without their superstar. Burnley would be eight points worse off without Danny Ings, Chelsea would be seven points off their current total without Eden Hazard and Crystal Palace would have picked up four fewer without Mile Jedinak.
Of the 20 Premier League teams, Stoke would suffer the most. If they lost goalkeeper Asmir Begovic they would have 12 points fewer and currently be battling for survival. The cause of the dramatic drop in points owes much to the lack of a quality back-up option for their No 1 at the Britannia.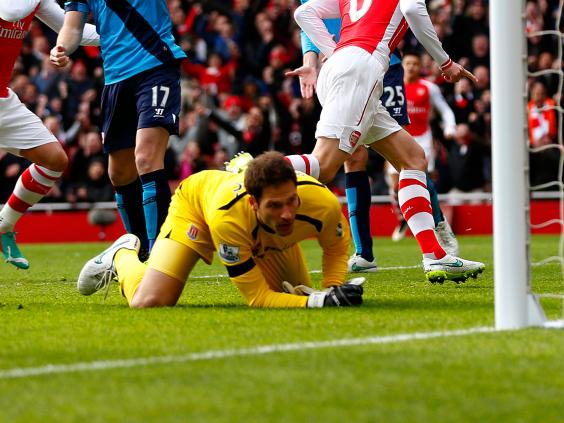 The simulation also points to a much more exciting end to the season. Seven teams would still be involved in the relegation battle whilst Chelsea would be yet to secure the title (see table below).
SOME TEAMS ARE BETTER WITHOUT THEIR BEST PLAYER
Whilst the research suggests many of the sides would struggle if they lost their best player, in a league format in which all clubs have suffered the same fate, others prosper. The most dramatic improvement is seen at Sunderland.
Adam Johnson has been identified as the club's best player and the research suggests that without the winger the Black Cats would be free of any relegation concerns with 12 more points than they have mustered this season.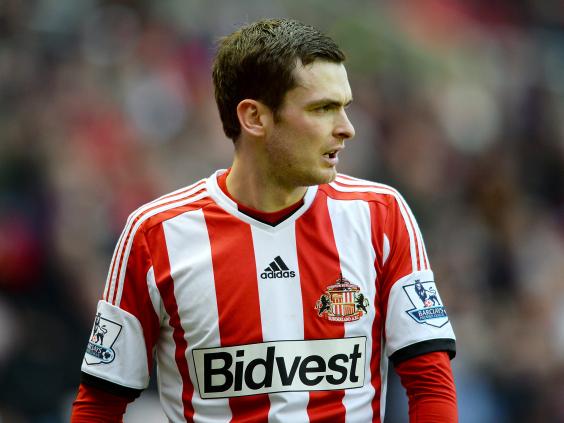 West Ham are another side to benefit. Without Enner Valencia in their side in a league shorn of every side's best player, the Hammers would be 10 points better off and with it in the hunt for a Europa League place (without the need for fair play).
The absence of two of the biggest names in the Premier League, Romelu Lukaku of Everton and Hugo Lloris of Tottenham, would have made their respective teams eight points better off. In contrast to the situation at Stoke where there is a lack of alternate options, Spurs and the Toffees have adequate back-up to stop them going into free-fall without their best players. In the case of Spurs, the dropping of their goalkeeper allows them to keep their two best attacking talents, meaning that while they conceded five more, they scored 11 more goals.
At Anfield, Liverpool would be one point better off without Raheem Sterling whilst at Old Trafford, David De Gea could be dropped and nothing would change. Despite the huge impact Alexis Sanchez has made at Arsenal, the Gunners would have two more points at this stage of the season in this simulated league.
How the table would look...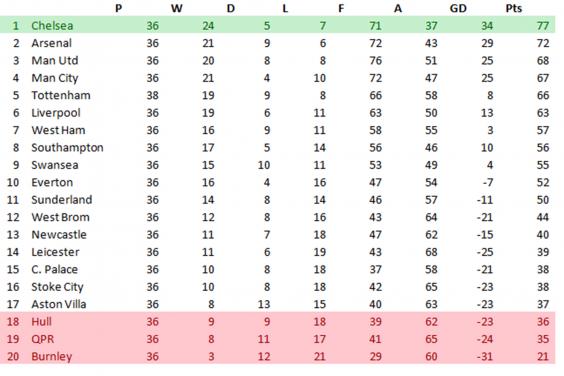 Arsenal: Alexis Sanchez; -3 GD (6 more scored, 9 more conceded) +2 points
Aston Villa: Brad Guzan; -3 GD (10 more scored, 13 more conceded)  -1 point
Burnley: Danny Ings; -5 GD (2 more scored, 7 more conceded)  -8 points
Chelsea: Eden Hazard -8 GD (1 more scored, 9 more conceded) -7 points
C. Palace: Mile Jedinak -14 GD (6 fewer scored, 8 more conceded) -4 points
Everton: Romelu Lukaku -5 GD (1 more scored, 6 more conceded) +8 points
Hull: Dame N'Doye -7 GD (6 more scored, 13 more conceded) +2 points
Leicester: Andrej Kramaric -12 GD (2 more scored, 14 more conceded) +2 points
Liverpool: Raheem Sterling +2 GD (13 more scored, 11 more conceded) +1 point
Man City: Sergio Aguero  -16 GD (5 fewer scored, 11 more conceded) -6 points
Man Utd: David De Gea =GD (15 more scored, 15 more conceded) =points
Newcastle: Moussa Sissoko +9 GD (10 more scored, 1 fewer conceded) +4 points
QPR: Steven Caulker +4 GD (2 more scored, 2 fewer conceded) +8 points
Southampton: Morgan Schneiderlin -8 GD (8 more scored, 16 more conceded) -1 point
Stoke City: Asmir Begovic -21 GD (=scored, 21 more conceded) -12 points
Sunderland: Adam Johnson +9 GD (16 more scored, 7 more conceded) +14 points
Swansea: Gylfi Sigurdsson +4 GD (9 more scored, 5 more conceded) -1 point
Tottenham: Hugo Lloris +6 GD (11 more scored, 5 more conceded) +8 points
West Brom: Youssouf Mulumbu -8 GD (9 more scored, 17 more conceded) +3 points
West Ham: Enner Valencia +3 GD (15 more scored, 15 more conceded) +10 points
*After 36 games
Football Manager uses a vast database - compiled by approximately 1,000 researchers across the world (including real-life scouts) - to blend reality and fiction. So impressive is the information that it has become a tool used by real life managers. The painstakingly detailing simulation of club management, which allows players to control every aspect of a manager's role, from scouting new player to tactics and training, has sold millions of copies worldwide.
Reuse content