There will be no medals, no backpage headlines and no audiences with royalty for England's women footballers this summer. With opposition from other home nations preventing England taking up the Olympic place they earned by winning bronze at last year's World Cup the focus is entirely domestic as the FA Women's Super League returns tonight.
This is a mixed blessing. The WSL is competitive enough to stand on its own merits but faces a challenge to maintain last year's momentum without the attention that a successful national team brings. This problem is exacerbated by the fact Euro 2016 will dominate football this summer. Even when the landscape is clear, scheduling difficulties undermine WSL's coherence.
The competition starts with seven games in five days, then a three-week break to accommodate internationals and FA Cup ties. There is a further month-long gap to allow groundsmen to repair pitches (most teams use men's club grounds). As a result the 16-match WSL1 season runs to November. Due in part to these issues and TV demands, a significant number of matches are on midweek or Sunday evenings, which is hardly conducive to the family audience WSL is trying to attract, especially in November. "How are we going to grow the game like that?" says Emma Hayes, manager of 2015 Double-winners Chelsea. "I'm tearing my hair out."
Hayes will benefit from the November finish as that is designed to help English clubs compete in the Uefa Women's Champions League, but her preferred solution is for the league to feature more games, more often. The Football Association, having seen women's leagues go bust in the US, is cautious about attempting to grow too quickly. A salary cap remains in force and expansion is gradual. This year there will be 19 clubs in two divisions, creating a lop-sided nine-team WSL1. A 20th will be promoted from the Women's Premier League in 2017.
"We are in a transition," says Kelly Simmons, the FA participation and development director. "We want to find the optimum number of fixtures for elite players. Around 12 will be it, I think."
In terms of promoting the league Simmons agrees "it could be a difficult year", but adds: "We knew there would be the odd summer when we would not have a tournament, but we have a lot to promote domestically: WSL, the Women's FA Cup final at Wembley [in May], an England team doing well."
We train at the same facility as the men, we talk to them. There's good banter with Sam Allardyce
While this season may be one of slow growth there have been significant long-term developments this winter. Chelsea will follow Manchester City in having their own ground with the parent club's planned acquisition of AFC Wimbledon's Kingston home, Arsenal moved into a new training hub and Doncaster Rovers Belles announced ambitious off-field development plans. There is continued integration with male parent clubs and more players going full-time.
Beth Mead, who burst on to the scene last summer to become WSL top scorer with Sunderland, said: "It makes a huge difference training every day. I think all teams will have to go that way. We train at the same facility as the men, have lunch and breakfast there. We speak to them quite a bit – there's good banter with Sam Allardyce. We also get involved with their Under-21s and Under-18s sometimes. They are physically more powerful and that helps our game."
Mead was speaking at the WSL launch at St George's Park. Most players there picked out Chelsea, Manchester City and Arsenal, last season's top three, as the main contenders, but all stressed how competitive the league will be. Natasha Dowie, one of a clutch of players to leave Liverpool for Doncaster, said: "Everyone has strengthened and I can't tell who will win it. At Liverpool we were back-to-back champions, then we finished seventh out of eight last year." 
Rovers are hoping to emulate Sunderland, who came up last season and finished fourth. "It is a short season," said Dowie. "If you start with a good run anything is possible. Look at Leicester City."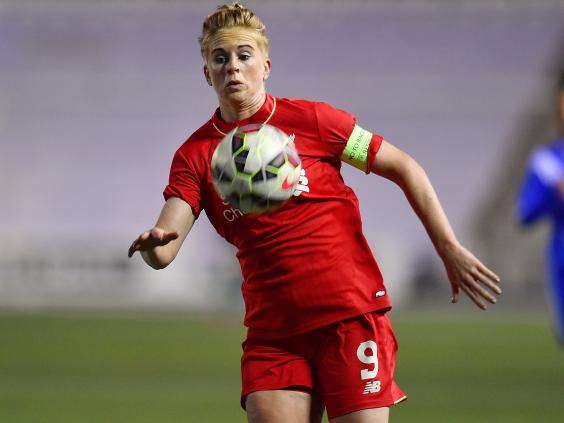 Dowie is one of several England internationals to move during the winter with Fara Williams' transfer from Liverpool to Arsenal and Karen Carney's from Birmingham to Chelsea the most eye-catching. Arsenal have also signed Dutch midfielder Daniëlle van de Donk and German defender Josephine Henning, who both played in the World Cup. Equally significantly they have retained their key players after losing several in previous winters.
Among those who have signed a new deal is Jordan Nobbs, England's vice-captain. "Everyone expects Arsenal to win trophies – so do we," she said. "Signings like Fara can help us do that. We have got quite a young team and she brings experience and balance in the midfield." 
Arsenal are among those clubs considering their own stadium. Nobbs added: "When I started I never thought women's teams would ever have their own stadium, now clubs are developing that. The women's game is getting more popular, money is being invested, the World Cup proved girls want to play. We can't step off the pedal and let women's football die down until the next tournament."