The signing of Petr Cech will see Arsenal improve on the points tally they achieved last season, but it still won't be enough to beat Chelsea to the title, research shows.
The Czech Republic goalkeeper is on the verge of a move across London in what many are touting as the potential deal of the summer.
Snatching arguably the greatest goalkeeper in the history of the Premier League from a title rival will be a huge coup for Arsenal. Chelsea captain John Terry suggested that the presence of Cech in goal could improve a side by 12 to 15 points over the course of the season.
But is Terry right? And should Chelsea fans fear Arsenal stealing their Premier League crown come May next year?
The Independent teamed up with the makers of Football Manager to run simulations of the upcoming season to try and find out. The 2015/16 Premier League was played through three times, with the only variable the Arsenal goalkeeper.
It found that the presence of Cech between the sticks rather than current options David Ospina or Wojciech Szczesny saw Arsenal perform the best.
However, rather than the improvement of 12 to 15 points that Terry suggested, the Gunners finished the campaign on 79 points - four more than last term. According to the simulation, it was enough for Arsenal to rise up a position, but not to the top. Arsene Wenger's side instead ended the campaign in second place, six points behind Jose Mourinho's Chelsea.
Petr Cech's Chelsea career in pictures
Petr Cech's Chelsea career in pictures
1/15 August 2004

Petr Cech was signed from Rennes for £7m in January 2004 while Claudio Ranieri was still in charge, but he never played under the Italian. He was unveiled along with Jose Mourinho and others ahead of the 2004/05 season

Getty Images

2/15 August 2004

Cech made his Chelsea debut against Manchester United on 15 August, 2004. Eidur Gudjohnsen scored in a 1-0 win for the Blues

Getty Images

3/15 2004-05

Cech celebrated winning the title - Chelsea's first in 50 years - after a stunning first term. He went 1,025 minutes without conceding at one stage, allowed just 15 goals past him and ended up with 21 clean sheets, all Premier League records. Chelsea added the League Cup and he was also named in the PFA Team of the Year

Getty Images

4/15 2005-06

Cech was again outstanding as Chelsea won another title, conceding just 22 goals in the 34 matches he played

Getty Images

5/15 2006-07

On 14 October Cech suffered a depressed skull fracture after colliding with Reading's Stephen Hunt. He would eventually miss three months of the season

Getty Images

6/15 January 2007

Cech made his return at Anfield on 20 January, wearing a rugby style headguard. Chelsea lost 2-0 but Cech ended the season with an 810 minute streak without conceding and being named Player of the Month for March. Chelsea eventually finished behind Manchester United although they won the FA Cup and the League Cup

Getty Images

7/15 2007-08

Jose Mourinho left Chelsea in September and Cech endured an injury-hit season that included calf and ankle injuries and a collision with Tal Ben Haim that left him needing 50 stitches; he missed 22 games in total. He returned for the end of the season and saved Cristiano Ronaldo's penalty in the Champions League final, but John Terry slipped when he could have won the Blues the trophy

Getty Images

8/15 2008-09

Under Luiz Felipe Scolari Chelsea started well but soon began to falter - the Brazilian accused Cech, as well as Didier Drogba and Michael, of causing his sacking. Chelsea finished strongly under Guus Hiddink, narrowly losing a Champions League semi-final to Barcelona and then winning the FA Cup against Everton

Getty Images

9/15 2009-10

Under Carlo Ancelotti Chelsea stormed their way to a Premier League and FA Cup double, with Cech saving a penalty in the final against Portsmouth and keeping 17 clean sheets in the Premier League

Getty Images

10/15 2010-11

Chelsea had the first trophyless season of the Roman Abramovich era as Carlo Ancelotti was eventually removed as manager at the end of the season. Cech, however, was impeccable, playing every Premier League game and being named the Chelsea's Player of the Year

Getty Images

11/15 2011-12

Although Didier Drogba got the headlines for scoring with his final (at the time) shot for Chelsea, Cech was the real hero as the Blues finally won the European Cup. The goalkeeper saved an Arjen Robben penalty in extra-time and then two more penalties in the shoot-out to be named the man of the match

Getty Images

12/15 2012-13

Chelsea enjoyed winning another European Cup as Rafa Benitez led the team to a Europa League win over Benfica

Getty Images

13/15 2013-14

Cech had another brilliant season, keeping 17 Premier League clean sheets and being named in the PFA Team of the Year for the second time. Unfortunately, he suffered a shoulder injury in the first leg of the Champions League semi-final against Atletico Madrid - he missed the rest of the season and it would turn out to be his last game as Chelsea No 1

Getty Images

14/15 2014-15

Chelsea opted to bring 22-year-old Thibaut Courtois back from Atletico Madrid, where he had been on loan for three years. With an eye firmly on the future, Jose Mourinho decided to make Courtois his No 1 for the season over the veteran

Getty Images

15/15 24 May

Cech appears to play his final game for Chelsea, at home to Sunderland at Stamford Bridge in a 3-1 win. The goalkeeper had a vital role last season, playing 15 games in total when Thibaut Courtois suffered a couple of injuries and a mid-season loss of form. He has played 485 games for Chelsea, winning four titles, four FA Cups, three League Cups, the Europa League and the Champions League

Getty Images
In comparison, when Ospina was in goal for the entire campaign, Arsenal finished in fourth on 70 points. Szczesny did marginally better, helping Arsenal to third place on 73 points.
The research by Sports Interactive, the makers of Football Manager, uses a vast database compiled by approximately 1,000 researchers across the world (including real-life scouts) to blend reality and fiction. It shows Cech out-performing the current Arsenal stoppers in every respect.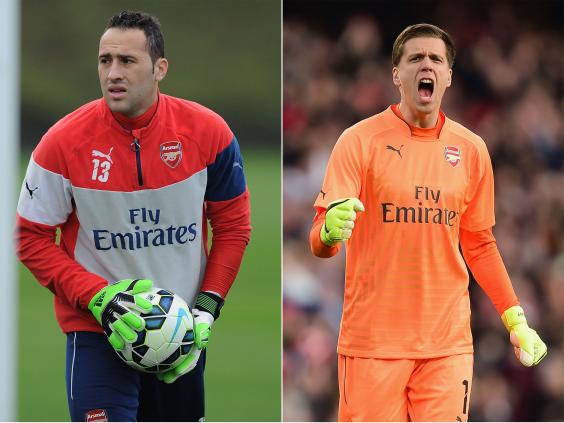 Across the season, Cech conceded 31 times - five less than the Gunners conceded last season. In comparison, Ospina conceded 48 times and Szczesny 43. When it came to clean sheets, Cech collected eleven over the season, better than the six from Ospina and seven from Szczesny.
The simulation, based on painstaking detail and used by real life managers, suggests Cech will also make less mistakes than his rivals as well. Over the 38 game campaign he made three, causing the loss of one goal. Ospina made four mistakes, leading to two goals. Meanwhile Szczesny made nine defined mistakes across the course of the campaign although it only led to two goals being conceded.
Cech is expected to make the move to the Emirates imminently and whilst research suggests his acquisition alone won't deliver a first title since 2004, it does get them much closer.
For more follow @IndyFootball on Twitter
Football Manager allows players to control every aspect of a manager's role, from scouting new player to tactics and training, has sold millions of copies worldwide.
Reuse content