Arsenal manager Arsene Wenger does not know the exact reason Alexis Sanchez chose the Emirates Stadium over Anfield - but he is glad the Chile forward will be lining up for his side rather than against them for Liverpool on Saturday.
Sanchez had his selection of clubs once Barcelona decided to let him leave and following the World Cup, the 26-year-old was convinced to continue his career under Wenger's expert guidance, going on to make an instant impression in English football.
The French coach, however, admits the possibility Liverpool could use their interest in Sanchez as leverage during negotiations over Luis Suarez's move to the Nou Camp last summer was always on the cards.
Arsenal's best XI of the season so far
Arsenal's best XI of the season so far
1/11 David Ospina - 7.40/10

Liverpool owner John W Henry once asked 'What are they smoking at Emirates?'. When it came to having a puff the focus landed on Wojciech Szczesny who was dropped from the team having been caught having a crafty cigarette in the changing rooms after Arsenal's game with Southampton. It was enough for Wenger to give Ospina his chance and the Colombian has easily been more impressive than Szczesny (6.46) was.

GETTY IMAGES

2/11 Nacho Monreal - 7.35

There is real competition at left-back with England international Kieran Gibbs (7.04) an option, but it's Monreal who scores higher.

GETTY IMAGES

3/11 Gabriel Paulista - 7.46

Only signed in January, the Brazilian defender ranks as the best centre-back at the Emirates based on his performances so far.

GETTY IMAGES

4/11 Laurent Koscielny - 7.37

Paulista is joined by Laurent Koscielny, meaning Per Mertesacker (7.07) is the one to miss out. Calum Chambers, who made such an impressive start to the season, is on 7.05.

GETTY IMAGES

5/11 Mathieu Debuchy - 7.25

The Frenchman has been out since January but in the 14 appearances before then he made more of an impression than youngster Hector Bellerin (7.21) - if only just. Debuchy is nearing his return from injury just in time for the season run-in.

GETTY IMAGES

6/11 Mesut Ozil - 7.56

Has been much derided following his £42.5m switch from Real Madrid, but Ozil has begun to show why Arsenal were willing to pay so much money. The World Cup winner recently spoke about aspiring to be crowned the best player on the planet. He'll have to start by being the best player at Arsenal but as it stands he's the third best based on these ratings.

Getty Images

7/11 Francis Coquelin - 7.53

In his 12 starts since returning from a loan spell at Charlton, Coquelin has seemingly solved the desperate need for a defensive midfielder. Alternate options Mathieu Flamini (6.78) and Mikel Arteta (6.73) don't get close.

GETTY IMAGES

8/11 Santi Cazorla - 7.65

Unsurprisingly based on his brilliant season, Cazorla completes the midfield in this 4-3-3 line up, with the Spaniard considered the second best player of Arsenal's season so far. That means there is no place for the Alex Oxlade-Chamberlain (7.20) had he been fit, Tomas Rosicky (6.73) or Jack Wilshere (6.69). But perhaps the most unexpected player to miss out if based on pre-season prediction is Aaron Ramsey, who's inconsistent performances see him score 7.02 and miss out on a place.

GETTY IMAGES

9/11 Danny Welbeck - 7.30

He might have scored just four Premier League goals since joining from Manchester United, but Welbeck's overall contribution sees him score enough to keep Theo Walcott (6.42) out of the attacking trio.

PA

10/11 Olivier Giroud - 7.46

Never any doubt the French striker would be the best central striker thanks to his 13 Premier League goals and three assists.

GETTY IMAGES

11/11 Alexis Sanchez - 7.84

And completing the XI is of course Alexis Sanchez. The summer signing from Barcelona has been brilliant, scoring 13 goals and collecting seven assists. It makes him Arsenal's best player of the season so far.

GETTY IMAGES
"At the end of the day, only Sanchez can explain to you why he has chosen us. I don't know why he did that, but we are happy that he made that decision," said Wenger of the £32million Chile forward, who has netted 19 goals so far.
"I was (aware of Liverpool's interest), but you never know if it is really true, but I thought it could be because of the interest in Suarez.
"In the negotiations, yes, it is a strength - and it makes sense, an exchange and some money for Liverpool."
Wenger believes the way Sanchez has adapted so quickly to a change in environment proves he is one of the best around.
"If you look at the qualities, efficiency, work-rate, fighting spirit - (he is at the) top," the Arsenal boss added.
"When (the game) becomes flat, he can revitalise the strengths and dynamics of the team and the supporters."
Ahead of the key Barclays Premier League clash, Wenger was keen to play down any talk of a potential summer transfer move for Liverpool forward Raheem Sterling, who has so far rejected a new contract offer.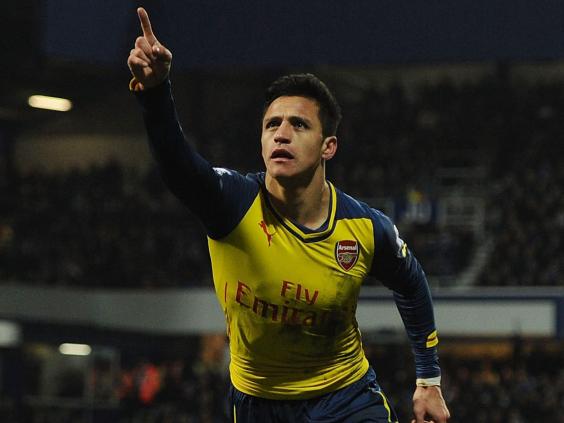 Despite the Reds having lost to Manchester United before the international break to dent hopes of another top-four finish, Wenger has been impressed by the way Brendan Rodgers has developed his team following the sale of Suarez and injury to striker Daniel Sturridge.
"He has done very well. I think he found a solution at the right time," the Arsenal manager said.
"They did well last season too, they scored over 100 goals in the Premier League, which is absolutely fantastic."
PA
Reuse content