Blackpool have endured a pre-season worthy of the most ghoulishly garish Hammer horror film – but at least they can finally field a team.
Well, almost. The Tangerines agreed deals to sign three players on Monday, bringing the number of registered footballers at the club up to a neat 11 – but there is still no goalkeeper on the books.
Blackpool were in the Premier League as recently as 2011. Since then they have experienced a precipitous nosedive in fortunes – yet this summer has seen the Fylde Coast club reach new lows.
Last Friday, manager Jose Riga found himself left with just eight senior players after Chairman Karl Oyston's cost-cutting measures came into drastic effect.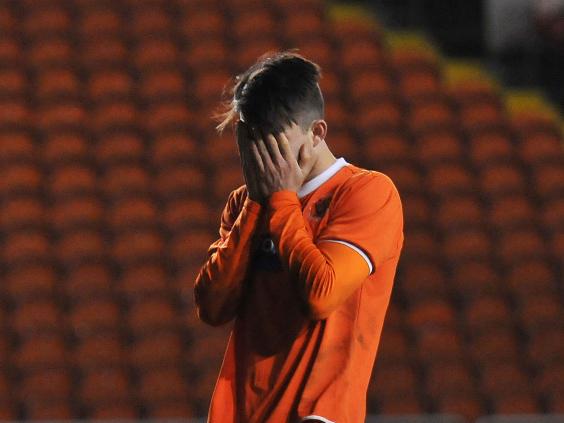 This trio of signings then represents an unimaginably bountiful windfall in light of the squad's desperate thinness just four days ago.
Midfielders Jacob Mellis and Tomasz Cywka and defender Peter Clarke will join the club on free transfers. Clarke is returning for his second spell at Blackpool, having spent two years there from 2004 to 2006.
Mellis is a former Chelsea academy graduate sacked in March 2012 for setting off a smoke bomb in the reserve team dressing room. He and Cywka both left Barnsley at the end of last season following the expiry of their contracts.
The question of a goalkeeper remains unanswered. Ben Alnwick had been on trial but chose to join Peterborough instead.
Riga is also said to be mulling over a move for Nathan Delfouneso, who has been released by Aston Villa.
Delfouneso has had two previous loan spells with Blackpool, in 2012 and 2013, scoring just six goals in a total of 52 appearances for the club.
Given Blackpool's parlous financial situation and the paucity of their squad, the man who operates the theme park on the pleasure beach could probably do a job for them right now – as long as he brings his goalkeeping gloves.