Chelsea's recruitment of young talent is under scrutiny after it emerged Burkina Faso international Bertrand Traore played for their under-18s side when aged 16, in an apparent breach of Fifa regulations.
Chelsea could even face the prospect of being placed under a transfer embargo if found guilty of wrongdoing; the west London club believe Traore was the subject of an option agreement which allowed him to play in friendly games.
Fifa rules prohibit the international transfer of a minor (an under-18), with Real Madrid and Atletico Madrid earlier this month handed transfer embargoes for the next two complete windows after breaching the regulations. Both clubs plan to contest the sanctions.
Barcelona were placed under a transfer embargo for infringing the same rules in 2014 and have only this month been allowed to register players again.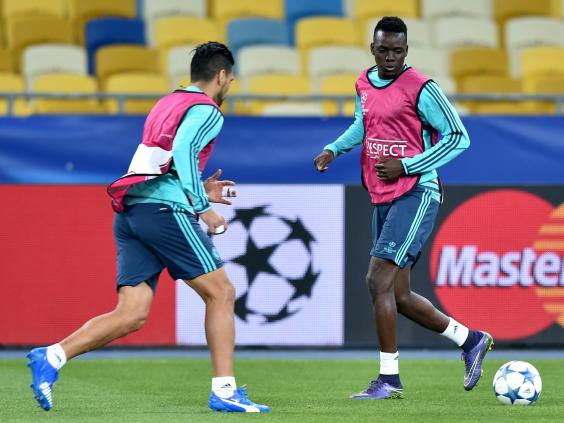 A Fifa spokesperson told Press Association Sport: "We are not in a position to comment on any investigations that are ongoing so as not to compromise the process, nor do we provide any comments as to whether or not any investigations are under way."
Press Association Sport supplied a number of questions to Chelsea in an attempt to clarify their position regarding Traore's involvement in games when he was under 18.
However they would only say: "Bertrand Traore was registered by Chelsea FC in January 2014 in compliance with FA and Premier League Rules.
"Prior to that date, he was party to an option agreement which enabled the club to acquire his registration in January 2014.
"The option agreement was registered with, and approved by, both The FA and the Premier League."
The Premier League champions successfully appealed against a transfer ban at the Court of Arbitration for Sport in 2010 over the signing of Gael Kakuta from Lens.
The Premier League said all rules were followed in Chelsea's signing of Traore on January 1, 2014, the first day of the transfer window opening following his 18th birthday, on September 6, 2013.
What prompts questions is the earlier recruitment of Traore and his participation in a Chelsea under-18s match at Arsenal on October 23, 2011, when he was 16.
The Press Association has a photograph of Traore taking part in the game at the Emirates Stadium (top).
Arsenal 0 Chelsea 1 player ratings
Arsenal 0 Chelsea 1 player ratings
1/22 Petr Cech - 6 out of 10

Playing once more against his former side, the goalkeeper made several good saves to keep Arsenal in the game throughout, including a reflex stop to deny Willian but he couldn't do too much about Costa's goal after being let down by his teammates.

2016 Getty Images

2/22 Nacho Monreal - 4 out of 10

Put in a disappointing showing as he failed to stop Willian from running riot early on, and then did not stop Ivanovic from sending in the cross from which Costa scored from. However, he should get praise for denying the Chelsea right-back with a goal-line headed clearance.

Getty Images

3/22 Per Mertesacker - 4 out of 10

Looked solid early on, but the towering defender let himself down in the 18th minute when he received a straight red card for his last-man challenge on Costa, which handed Chelsea the advantage they needed to go in front minutes later.

Getty Images

4/22 Laurent Koscielny - 6 out of 10

Made one early misplaced pass that allowed Oscar to get a shot at goal, but was solid otherwise. Booked for a foul on Willian in the first half and was then fortunate not to give away a penalty for his body block on Fabregas in the second.

2016 Getty Images

5/22 Hector Bellerin - 6 out of 10

Struggled, at times, to deal with the pace of Azpilicueta, but was largely solid defensively although his impact going forward was limited due to Chelsea's good defensive work.

2016 Getty Images

6/22 Mathieu Flamini - 4 out of 10

Disappointed with his defending in the build-up to Costa's goal and wasted two good chances to get Arsenal back into the game when he first fell over while attempting to take a shot before driving another high before the break. A day to forget for the midfielder.

Getty Images

7/22 Aaron Ramsey - 6 out of 10

Both he and Flamini couldn't control play in the middle of the park, and indeed it was Ramsey who failed to prevent Willian from sending in the ball that led to Chelsea scoring. However, he did have some good moments when building up Arsenal's attacks, but saw his teammates make little use of his hard work.

2016 The Arsenal Football Club Plc

8/22 Joel Campbell - 5 out of 10

Could have done more defensively in build-up to Chelsea's opener and disappointed when going forward. Was replaced by Sanchez in the second half.

Getty Images

9/22 Mesut Özil - 5 out of 10

Had a few good moments when going on the attack, but ultimately saw his impact limited by some good marking from the likes of Matic and Mikel.

2016 Getty Images

10/22 Theo Walcott - 5 out of 10

Captained the side despite Mertesacker starting the game, but couldn't make the difference up front; being flagged offside twice in the first half and then blocking Sanchez's shot that seemed to be heading towards goal.

Getty Images

11/22 Olivier Giroud - 5 out of 10

The striker had some positive moments early on although he did blast a speculative shot high, but was sacrificed for Gabriel after Mertesacker had been sent off. Had never scored a career goal against Chelsea, and that remains the case after seeing his game cut short.

2016 Getty Images

12/22 Thibaut Courtois - 6 out of 10

Was rarely tested in the first half, but looked comfortable when called into action.

2016 Getty Images

13/22 Branislav Ivanovic - 7 out of 10

Just days after signing a new one-year deal and Hiddink stresssing the right-back is back to his best, Chelsea's vice captain looked like a rejuvenated player. He helped get involved in the visitors' attacks regularly and was rewarded when he delivered the cross from which Costa scored from. Saw a header just before the break cleared off the line by Monreal.

2016 Getty Images

14/22 John Terry - 6 out of 10

Had one nervy moment when Giroud ran past him to create an Arsenal attack, but he made up for it by blocking the Frenchman's later shot. Impressive otherwise.

2016 Getty Images

15/22 Kurt Zouma - 7 out of 10

Was as solid as ever at the heart of Chelsea's defence, and demonstrated once again why he is a mainstay in this team.

2016 Getty Images

16/22 César Azpilicueta - 7 out of 10

On his 150th start for Chelsea and his 100th Premier League start, the left-back enjoyed a good showing as his forrays forwards helped Chelsea overrun Arsenal while he used his pace to get back and defend.

Getty Images

17/22 John Obi Mikel - 6 out of 10

Alongside Matic, Mikel had no real problems in dominating play in the midfield positions and protected his back line superbly. Booked for challenge on Sanchez.

Getty Images

18/22 Nemanja Matić - 7 out of 10

Making his 100th Chelsea appearance, the Serb showed purpose in attack for the Blues as he got into good positions several times - for example when he was involved in the build-up to Costa's goal - while impressing when defending. His run back to his own box to stop Bellerin from launching an optimistic counter-attack was one such moment. Booked for foul on Sanchez.

2016 Getty Images

19/22 Willian - 7 out of 10

Won the battle with Monreal time and time again and was involved in many of Chelsea's best chances including one of his own that Cech saved. The Brazilian was also instrumental as it was his ball to Costa that led to Mertesacker's red card. Did not neglect his defensive work either.

20/22 Cesc Fàbregas - 7 out of 10

Started the game further forward against his former side and helped dominate play in the middle of the park - pulling the strings throughout the game and being rewarded when he helped carve out Costa's goal. Unlucky not to have been given a penalty for Koscielny's foul on him.

2016 Getty Images

21/22 Oscar - 6 out f 10

Began the game in the unfamiliar position on the left flank with Eden Hazard not risked and, despite a yellow for a wild challenge on Campbell, the Brazilian impressed with good attacking and defensive play particularly in the first half. Was replaced by Hazard with 15 minutes to go.

Getty Images

22/22 Diego Costa - 8 out of 10

The striker was the centre of headlines the last time these two sides met in the season and he proved so again today. It was his run forwards that forced Mertesacker into his last-ditch tackle, for which he was sent off for, before Costa helped create and then finish off Chelsea's opening goal. Costa was impressive considering he hardly trained this week following his bruised tibia against Everton but he paid for it when he came off with an injury in the second period.

Getty Images
The report on Arsenal's official website mentions Traore brushing the top of the crossbar with a 30-yard shot in the friendly fixture where his Chelsea team-mates included goalkeeper Jamal Blackman and midfielder Ruben Loftus-Cheek, both now also members of Chelsea's first-team squad.
International transfers are only permitted for players over the age of 18 - unless the player in question meets one of three qualifying criteria.
Under-18s can move to a club in a different country if their parents move there for non-footballing reasons, if they are from another nation within the European Union or European Economic Area and aged between 16 and 18, or if they live within 100km of the club.
Traore emerged when he travelled from his home in Bobo-Dioulasso to Ouagadougou and immediately impressed coach Rainer Willfeld, according to FIFA.com.
He was included in the Burkina Faso squad for the 2009 FIFA Under-17s World Cup where he was the tournament's youngest player at the age of 14. Despite this, his ability shone.
There were a number of clubs interested in signing the teenager but Burkina Faso sports minister Jean-Pierre Palm announced in August 2010 that Traore - one month prior to his 15th birthday - would sign for Chelsea.
He attended the fee-paying Whitgift School in Croydon, south London, but did not play in school competitions. The school's head of football is former Chelsea player Colin Pates, who was presented to the Stamford Bridge crowd at half-time of the November 21 win over Norwich, when Traore was an unused substitute.
Traore became Whitgift's first full football international, with Victor Moses following when he represented Nigeria.
It was as a trialist on Chelsea's pre-season tour to Asia in 2013 - the first of Jose Mourinho's second spell as manager - when there was even more interest in his ability and he scored against a Malaysia XI in Kuala Lumpur.
Mourinho said then: "Now we want to keep him. We have to wait until he becomes 18 to try to get a permit for him to stay in England.
"It's the rules and we have to accept them. He plays for his national team. Sooner or later the committee has to give him a permit to play in England."
Chelsea defender Gary Cahill said later on the same tour: "He's certainly not looked out of place in training alongside some top international players. I'm sure he's got a bright future at Chelsea."
After officially signing for Chelsea at the first opportunity, he was swiftly loaned to Vitesse Arnhem, with whom the Blues have close links, and spent 18 months with the Dutch side in the Eredivisie.
Vitesse boss at the time Peter Bosz said Mourinho was "crazy about him" and wanted Traore to be part of his first-team squad.
Chelsea acted decisively before a change in Football Association regulations to obtain a work permit for Traore, who travelled on the July 2015 tour to North America and has been incorporated in the squad since.
Guus Hiddink, Mourinho's interim successor, has spoken of Traore, who is now 20, as an option at striker.
PA