Jose Mourinho has refused to comment on reports that Chelsea could renew their interest in Manchester United striker Wayne Rooney, although he did confirm that the club have had two offers for want-away midfielder Kevin De Bruyne.
The Blues mounted an unsuccessful pursuit of the England international in the summer, and their lack of goals from the trio of strikers available to Mourinho has highlighted why he felt the need to land Rooney.
Rooney has 18 months left to run on his contract, but Mourinho stressed the need to respect that agreement and refused to speak about any interest coming from Stamford Bridge.
"I don't want to speak about it," Mourinho said.
"We play Man United in a few days. I don't think it's nice to speak about a Man United player.
"You have to ask him (Rooney). You have to ask the player. And Man United because Man United has a contract with the player that doesn't end at the end of the season."
Mourinho was speaking in a pre-match press conference at the same time as David Moyes confirmed that he had sent Rooney for "warm weather recuperation" to aid is recovery from a groin injury.
He will head off on the trip with his family and fitness coach Tony Strudwick, which puts his participation in next weekend's match against the Blues in serious doubt.
With United looking to avoid their first four-game losing streak since 1961 in Saturday's visit of Swansea, the absence of both Rooney and his partner in crime Robin van Persie could be hugely felt by the reigning Premier League champions.
Despite their troubles though, Mourinho predicts they will have no problem in finishing in the top four, and maintains that you cannot rule them out of the title race this early in the season.
"I don't think they have a problem," claimed Mourinho.
"In this moment they are not top four in the Premier League, but they can be at the end of the season.
"A new manager, but a club with a fantastic culture of supporting the manager.
"I don't feel any problem for David. He works. Better results will arrive and he will be for many years in the club and will reach good results."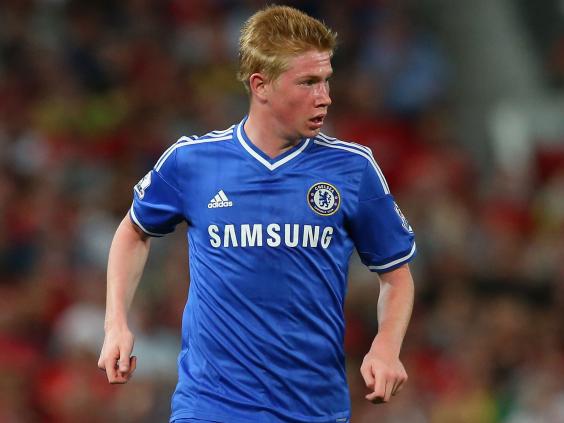 Mourinho then turned to transfer matters closer to home, with the confirmation that they have received two offers for De Bruyne as he nears a transfer away from the club in search of first team football.
"We've had a few proposals for Kevin De Bruyne, we will keep analysing them," the Blues manager confirmed.
"He has a chance to go," Mourinho added. "(A fee is) not agreed, but I believe that between our club and the other club we will reach an agreement. The interest is big from the club, even bigger from the player.
"He is a player that Chelsea Football Club had a couple of proposals (for). We keep analysing these proposals.
"One of them is coming into a level where we believe can be a good situation for the player and also for the club."
Despite De Bruyne's desire to leave in order to increase his chances of featuring in Belgium's World Cup plans, Mourinho admits that he would like to keep him at the club, but clearly will not stand in his way.
"We know he's a fantastic young player with lots of potential. I still say I would be happy to keep him and develop him," Mourinho elaborated.
"We also have to analyse the player's profile, the player's personality and probably he wants so much to go that maybe it's a good option to let him go in a very good deal for the club, by a financial point of view.
"The club bought him a couple of years ago for a small fee and now we have a possibility to sell him for a positive amount."
"We don't need a direct replacement," Mourinho said.
"The reason why we are open the door to negotiate is because it's a position where we have options.
"We have options, so it's not the case of a options where you sell somebody."
Mourinho's confirmation came after Wolfsburg, who are leading the race for the Belgium international, claimed that the 22-year-old had already made up his mind of his preferred destination.
"Before Christmas, it was still up in the air as to which Bundesliga club Kevin would switch to, now there's no longer any doubt," Wolfsburg's general manager Klaus Allofs proclaimed.
"The readiness to tell Chelsea that he definitely wants to leave doesn't quite seem to be there yet."
Chelsea are believed to be looking for £18m in order to let club's speak to De Bruyne, which would represent an £11m profit on the £7m they paid for him in 2012 despite making just two starts for the club. The Independent understands that another German club is rivalling Wolfsburg for his signature, but Allofs comments suggest that De Bruyne has made his mind up where his future lies.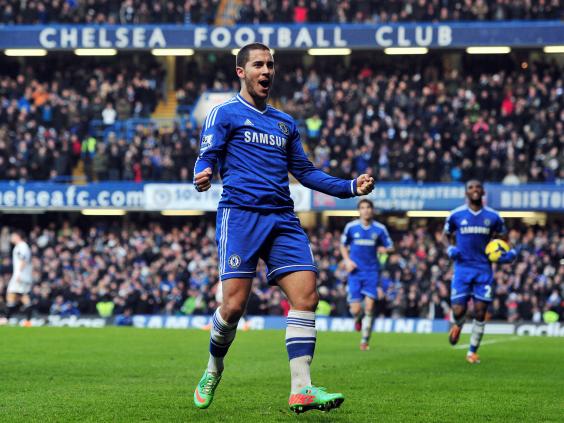 Mourinho also dismissed the rumours from France that Eden Hazard could be heading to PSG at the end of the season, claiming that there had been "no offers" for any other players other than De Bruyne and that Hazard is not a player they want to lose.
"I am not worried because if his value was around £40million when Chelsea bought him, if two years later he is twice or three times better than he was when we bought him, I think his value in the market is a crazy value.
"On top of that, he's not a player Chelsea are interested in selling anyway.
"Between our tag of 'not to sell', plus the crazy amount that he can be valued at in this moment, I think there's no chance that Eden is going to leave."
Chelsea - January transfer targets
Chelsea - January transfer targets
1/18 Luke Shaw - Another potential long term successor to Ashley Cole, the Southampton youngster has impressed everyone and would surely command a fairly hefty fee given his side's recent success.

2/18 Sami Khedira - Currently out with a long term injury so a January signing looks unlikely but Jose Mourinho is said to be keen to link up with his former charge and the German is just the sort of player Chelsea need in midfield.

3/18 Fredy Guarin - At one point very close to signing with the club, the £15m Colombian, cooled for a while. However, with the move to Juventus, stalling - Chelsea may with the use the funds from Mata's transfer to Man Utd and make another bid.

4/18 Andrea Ranocchia - Chelsea are one of a few Premier League clubs chasing the Inter defender and you can see why, the tall centre-back is a handy player.

5/18 Claudio Marchisio - Juventus' early Champions League exit may leave them a little strapped for cash with Marchisio being mooted as a player to be sold in order to cover the shortfall. Chelsea would no doubt be interested in his midfield class should he become available.

6/18 Eliaquim Mangala - Another defender Mourinho is reportedly very keen on, the Porto centre-back would not come cheap although his club have admitted they would be willing to sell him for the right price. Manchester City have since shown an interest however.

7/18 Luis Suarez - Chelsea need a goal-scoring striker, so who better than the league's top scorer? A very unlikely move for a lot of obvious reasons.

8/18 Diego Costa - The Atletico Madrid man is another striker in red hot form and consequently he has attracted the attention of several Premier League clubs. Mourinho would no doubt enjoy swiping him from under Arsene Wenger's nose.

9/18 Xabi Alonso - Another of Mourinho's former players who would add experience and quality to Chelsea's midfield. Given his age shouldn't prove too expensive.

10/18 Radamel Falcao - Linked with Chelsea for some time, the free-scoring Colombian would cost a fortune to prize away from mega-wealthy Monaco, but the promise of Champions League football would surely be enticing.

Radamel Falcao

Getty Images

11/18 Edinson Cavani - Another big name striker who would cost a lot to sign, this time from PSG, Cavani has again consistently been linked with a move to Stamford Bridge.

12/18 Hulk - Apparently fairly disenchanted at Zenit and another long time Chelsea target, nevertheless would seem an odd purchase given his usual berth is out wide - a position Chelsea have a ludicrous amount of depth in.

13/18 Jackson Martinez - Another Colombian reportedly on Chelsea's radar, the Porto forward has an excellent recent goal record but might represent more of a risk given he would still command a large transfer fee. With Juan Mata now in Chelsea's past, a new midfielder is needed.

14/18 Gonzalo Higuain - Seems unlikely given he only moved to Napoli in the summer, but Italian media are reporting that Chelsea are interested in the Argentine forward. Another of Mourinho's former men.

15/18 Wayne Rooney - Chelsea's main target over the summer and despite apparently being happier at Old Trafford has yet to sign a new contract. Failure to qualify for the Champions League would surely see Rooney depart. Will selling Mata to the champions make them loosen their tough stance on the England man?

16/18 Fabio Coentrao - With questions over Ashley Cole's place in the side, Chelsea are reportedly having a look at another Mourinho old boy, Real Madrid's Coentrao.

17/18 Mario Balotelli - Is a Premier League reunion with Super Mario back on the cards? That's what sections of the Italian press think. It seems unlikely given his previously very poor working relationship with Mourinho but you just never know.

18/18 Alberto Moreno - The young left back is another being touted as Ashley Cole's successor - with a buy out clause of £25m he wouldn't be cheap but then aged 21 he has a long future ahead of him.
Reuse content