Chelsea have confirmed the signing of Didier Drogba on a one-year contract in a move which reunites the Ivorian with Jose Mourinho just two seasons after the striker left Stamford Bridge.
The Blues have already recruited Diego Costa from Atletico Madrid for £33m but Mourinho will undoubtedly go out of his way to accommodate Drogba into his plans.
The official announcement came this afternoon at 5pm after mounting speculation.
The 36-year-old's last touch in a Chelsea shirt was the penalty which gave the Londoners their first and only taste of Champions League glory in 2012.
He scored over 150 goals during an eight-year stay in London before leaving for Chinese side Shanghai Shenhua in the summer of 2012.
Mourinho, who also couldn't resist the temptation of returning to Stamford Bridge last year, admitted earlier this week that he would be interested in re-signing the player he brought to English football in 2004.
"We want to win matches and win titles and Didier is one of the best strikers in Europe," he said.
"He is still very adapted to the needs of the Premier League and we are thinking about it in a  non-emotional way."
While the former Inter Milan and Real Madrid manager may insist the move isn't a nostalgic one, Mourinho couldn't deny the sentiment felt towards Drogba.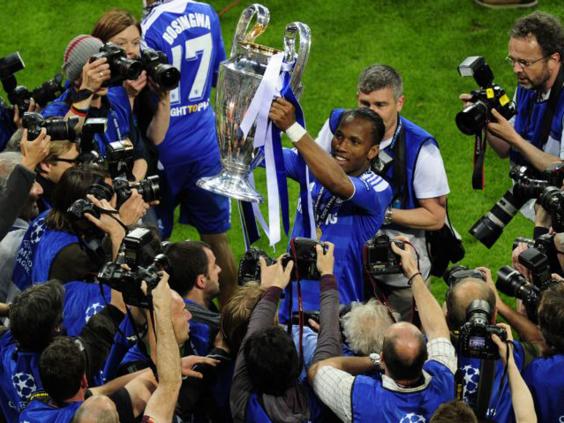 "With Didier's profile, being a squad player I think could be important for any team,'" he said.
"And because we know his heart is pushing him to where he feels he belongs, and because our boss (owner Roman Abramovich) has this big feeling towards him, we are thinking about the possibility.
"Mr Abramovich is very intelligent and he feels that people belong to the club. We feel that Didier belongs to us. Is he coming back as a player one more year or a couple more years? Let's see."
Recently a free-agent after a short spell with Galatasaray, the former Marseille forward has been linked with a host of top European clubs over the last few weeks.
While some suggested a reunion with his former employers may have been possible, it didn't initially appear to be a realistic option considering Chelsea's investment already this summer.
Drogba, however, always kept the door open on a return and now looks set to grace the Stamford Bridge turf for one final bow.
Reuse content