Mohamed Salah will not remain with Italian side Fiorentina next season despite spending this year with the Serie A club, but he is still set to leave Chelsea this summer.
23-year-old Salah left Chelsea on a short-term deal in January having struggled to make an impact at Stamford Bridge since his arrival from FC Basle a year earlier, and he immediately found his feet in Italy as he inspired Fiorentina to a semi-final appearance, knocking out Tottehnam and Roma on the way.
With the expectation that he will leave the Blues permanently this summer, Fiorentina worked a clause into his loan deal that meant they could take him on for another season for an additional fee, but his solicitor Ramy Abbas has confirmed that he looks set to join one of the club's Italian rivals instead.
The potential biggest transfers of the summer
The potential biggest transfers of the summer
1/9 Theo Walcott

There is real uncertainty around the future of Theo Walcott with prolonged contract talks looking likely. Arsene Wenger told the press that the winger was a tough customer to negotiate with and when the player tweeted in March that talks were yet to begin (something that contradicted the club) it signalled what could be the beginning of the end of Walcott's Arsenal career. The England international will have a year to run on his contract this summer and if no new deal can be found he will probably be sold. Liverpool have emerged as the leading contenders for his signature, whilst Chelsea are also rumoured to be keeping tabs on the situation aware that there could be a bargain to be had due to his dwindling contract.

Getty Images

2/9 Raheem Sterling

Another England international seemingly destined to change his environment is Raheem Sterling. Liverpool are ready to pay the 20-year-old huge wages but it seems the Jamaican born player has said money is not the problem. It seems he wants to be winning trophies and playing in the Champions League - something that is far from guaranteed at Anfield. Arsenal, Manchester City and Chelsea are all monitoring the situation whilst moving abroad could be an option, with both Bayern Munich and Real Madrid linked. If Liverpool are unable to reach a compromise over a new deal, it's thought they'd rather sell this summer than give the player the initiative by letting him run his contract down to just one year to go in 2016.

GETTY IMAGES

3/9 Paul Pogba

Having left Manchester United for Juventus in 2012, France international Pogba has gone on to become arguably the best young player in Europe and now United want him back. But they're not the only ones interested in the 22-year-old. His contract in Turin runs until the summer of 2019 which means any move would be among most expensive in history, but that's not stopped the liked of Real Madrid, Manchester City, PSG, Arsenal and Chelsea being linked. Juventus have said if the player wants to go, he can, but they're confident he will remain.

GETTY IMAGES

4/9 Marco Reus

Speculation has surrounded the pacey Germany international for the past few windows but when he signed a new contract at Borussia Dortmund earlier this year, it looked to be the end of it. But with Jurgen Klopp's side struggling this season and European football out of the question next term, rumours have begun to resurface. With Theo Walcott possibly leaving Arsenal, the Gunners have reportedly made the 25-year-old their No 1 target to replace him. If it becomes apparent Dortmund are ready to do business, many other clubs will be making their interest known.

GETTY IMAGES

5/9 Gareth Bale

Bale wants to stay at Real Madrid, but his second season at the Bernabeu hasn't been easy. The former Spurs player has been picked out as the chief culprit for all the club's problems at the start of 2015, with his selfish style of play and habit of going missing being picked on for criticism. The mood in Madrid changes like a flag in the wind according to his team-mate Toni Kroos and it's quite possible he'll be the darling of the Spanish capital again, but Real Madrid aren't afraid to let big name players depart and would be able to command a huge fee for Bale to help balance the books. Manchester United will lead the pursuit.

GETTY IMAGES

6/9 Petr Cech

Despite a near faultless 10 years between the sticks at Stamford Bridge, in his eleventh season as a Chelsea player he found himself demoted behind the prodigious talent that is Thibaut Courtois. The Czech international has proved willing to put up with the situation this season but has already said he won't stand for sitting on the bench next term. Arsenal are among the clubs most regularly linked, however Chelsea would be reluctant to let the keeper, who will be 33 in the summer, leave for a rival. Roma, Napoli and Real Madrid have been mentioned as alternative destinations.

GETTY IMAGES

7/9 Angel Di Maria

He might have only arrived at Old Trafford last summer and have cost a British record £59.7m, but Angel Di Maria has been woeful in his debut season. With few of his passes finding their desired target it's thought Louis van Gaal could cut his losses and use whatever fee can be commanded to reinvest in players who fit more seamlessly into the Dutchman's system. Paris St Germain would be the first in line of a long queue keen to sign the Argentina international.

Getty Images

8/9 David De Gea

Real Madrid could bid for David De Gea in the next week in the hope of completing a transfer before they embark on their pre-season tour of Australia, with Manchester United already sounding out possible replacements.

Getty Images

9/9 Sergio Ramos

Sergio Ramos is wanted by Manchester United, who have already seen one bid rejected by Real Madrid. However, with the Spaniard believed to be keen on a move this summer, United appear to be the favourites to sign the World Cup winner.

GETTY IMAGES
"We have decided, he's not staying at Fiorentina," Abbas is quoted as saying by Italian newspaper Gazzetta dello Sport. "Salah is going to move to another Italian club."
That club is believed to be one of Inter Milan and Roma, while the Evening Standard revealed that Juventus are also monitoring his situation.
However, a legal dispute could prove to scupper the deal after Fiorentina sought action over the clause that, they claim, means Salah must stay with them next season. The club offered the winger improved terms to stay next season, and due to the agreement between club and player, he is obliged to stay until the end of the 2015/16 season.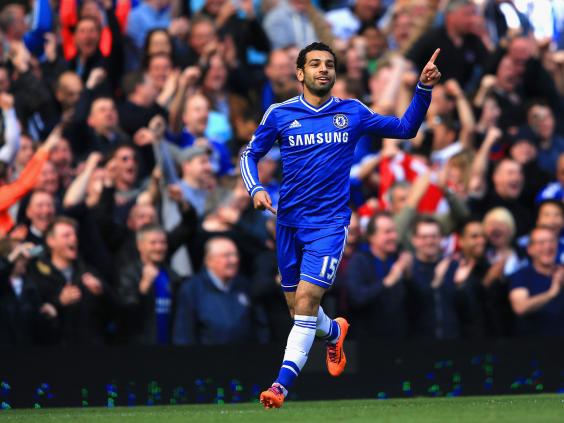 Abbas countered the claim by providing documentation, which was published by Gazetta dello Sport, which showed a different agreement was in place allowing Salah to refuse the option before the end of June. Given that date has now passed, Fiorentina expect Salah to return to the club for pre-season training later this month and are prepared to take legal action if required.
Reuse content