Cristiano Ronaldo has left the door open to a dramatic return to Manchester United in the future ahead of facing his former side in a pre-season friendly tonight in the United States.
Ronaldo is currently recovering from injury, but has asked Real Madrid manager Carlo Ancelotti if he can play against United, who he spent six successful years with between 2003 and 2009 before completing an £80m switch to Real in what was then a world record transfer.
Ancelotti has confirmed that Ronaldo is not fit to play in front of an expected capacity crowd of 109,000 at the Michigan Stadium, but Ronaldo still harbours some hope of taking part against Louis van Gaal's side.
Speaking to United's club channel MUTV – where he was interviewed by club legend Paddy Crerand – Ronaldo said: "Well we have discussed today to put me on, but let's see.
"I want to play a little bit because it's my ex-club so I want to play so let's see."
Top 10 most expensive players ever
Top 10 most expensive players ever
1/10 Gareth Bale - £86million

Tottenham to Real Madrid (2013) - Bale became the world's most expensive player ever when he made the switch from Spurs to Spain.

GETTY IMAGES

2/10 Cristiano Ronaldo - £80m

Manchester United to Real Madrid (2009) - Ronaldo smashed the record transfer fee when he left Old Trafford.

GETTY IMAGES

3/10 Luis Suarez - £75m

Liverpool to Barcelona (2014) - The Reds cut ties with Suarez after the 2014 World Cup making a £50m profit.

Barcelona FC

4/10 Neymar - £71.5m

Santos to Barcelona (2013) - The Brazilian finally completed his long awaited move to Europe after a complex deal.

Getty Images

5/10 James Rodriguez - £63m

Monaco to Real Madrid (2014) - After a superb World Cup showing, the Colombian became Real's latest big money signing.

6/10 Zlatan Ibrahimovic - £59m

Inter Milan to Barcelona (2009) - The Swed only spent two seasons at the Nou Camp despite his mammoth price-tag.

GETTY IMAGES

7/10 Kaka - £56m

AC Milan to Real Madrid (2009) - The Brazilian joined in the same summer as Ronaldo but failed to make a real impact at the Bernabeu.

GETTY IMAGES

8/10 Edinson Cavani - £55m

Napoli to PSG (2013) - The Uruguayan's deal made him the most expensive player ever purchased by a French team.

Getty Images

9/10 Zinedine Zidane - £53m

Juventus to Real Madrid (2001) - Became the world's most expensive player when he moved to the Bernabeu and more than paid it back, particularly with his spectacular goal in the 2002 Champions League final against Bayer Leverkusen.

10/10 Radamel Falcao - £51m

Atletico Madrid to Monaco (2013) - The newly funded Monaco signalled their intent by signing the Colombian.

Getty Images
The Ballon d'Or winner then teased Red Devil supporters by hinting he could yet return to Old Trafford to pull on the famous red shirt before calling time on his career.
When quizzed if he could re-join United, Ronaldo said: "Well of course, it was one of my favourite clubs."
"Everyone knows that every time when I speak about Real Madrid I should speak about Manchester United."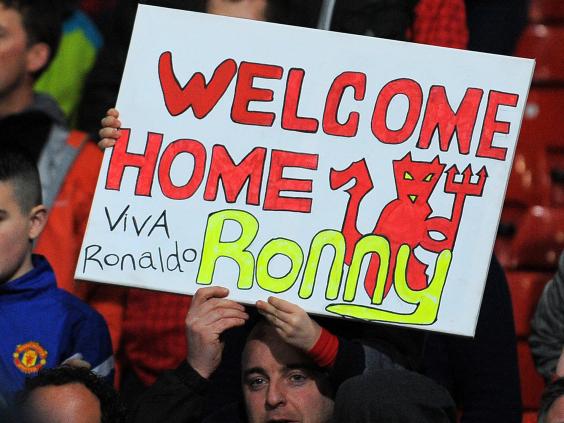 The 29-year-old recalled playing at Old Trafford in 2013 when Real faced Sir Alex Ferguson's side in the Champions League, and admitted that the reception from the home fans he received "killed him".
"I loved it there, I was 18 years old, I win everything there, the people treat me like a god there so I appreciate and the future nobody know. It's crazy that they still sing my name," Ronaldo added.
"I remember when we played there against Manchester in the Champions League, they killed me, my heart was so happy, and fantastic moments and I appreciate this club, for me it's one of the best clubs in the world and I have passion for this club.
"Some players I am still in contact with because when I was there I create a good relationship with everybody, not just the players, all the staff around and it was like my second family there too so I'll not forget that the people treat me good.
"I'll not forget it so I appreciate it a lot. I love Manchester, to be back, I never know, you never know, football you never know.
"Of course I'm happy at Real Madrid. It's my home, it's my club but Manchester treat me unbelievable so we never know."
The Real superstar also believes that under new manager Van Gaal, the club will enjoy a much more successful campaign than they did last season under David Moyes.
"It will be a better season for sure," said Ronaldo.
"My feeling is he is a fantastic coach, he showed them all the time for Holland, the team play unbelievable, good football and I hope to be honest that Manchester come back like the people knows.
"Always Manchester United are so strong, playing nice football, with a lot of goals and I'm looking forward.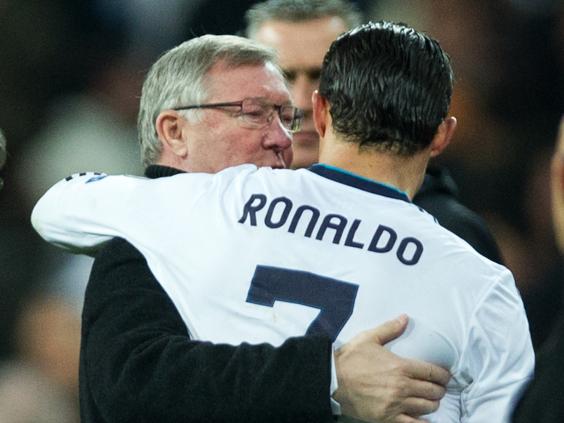 "I was with Sir Alex when we won the Champions League, I was in doping control and he came in there to see me and to speak with me.
"Manchester United still need him because he's been there for 20 years at the club and he wins everything.
"He is a Sir there in England but I think Van Gaal is going to do a fantastic job. "He's an experienced manager and I think he's going to do well for Manchester."
Reuse content