Manchester United are ready to make David De Gea suffer for the rest of the transfer window before making a decision on whether to let him join Real Madrid, according to reports.
De Gea has not made a single appearance for United since their pre-season tour of the United States, and the 24-year-old goalkeeper is angling for a move back to his homeland with Real determined to sign him.
With just a year remaining on his contract, De Gea could leave for Madrid next summer on a free transfer, but that could leave himself open to a year on the sidelines and with the European Championships at the end of the season, opens the door to losing his Spanish first-team shirt.
Manchester United's alternative 23-man squad of transfer targets
Manchester United's alternative 23-man squad of transfer targets
1/23 GOALKEEPERS: Hugo Lloris (Tottenham)

Still a possibility depending on what happens with David De Gea. He is a top player and it's a move that would make a lot of sense.

PA

2/23 Jasper Cillessen (Ajax)

See Lloris - except he's not quite as good. But he is Dutch.

GETTY IMAGES

3/23 DEFENDERS: Sergio Ramos (Real Madrid)

Played United like a kipper, earning himself a whopping new contract to stay in Madrid.

Getty Images

4/23 Nicolas Otamendi (Manchester City)

This one will hurt. The former Valencia centre-back should prove to be excellent for City - United were said to be leading the charge.

GETTY IMAGES

5/23 Mats Hummels (Borussia Dortmund)

A rumour that went on and on and on before dying away - maybe he just wanted better terms all along. Probably the exact player United need.

Getty Images

6/23 Raphael Varane (Real Madrid)

United were supposed to be battling Chelsea for the hottest defensive prospect in football. Why would Real Madrid sell?

7/23 Nathaniel Clyne (Liverpool)

One of numerous right-backs linked with the club before they moved for Matteo Darmian. The England man chose the Reds over United and Chelsea, impressed by Brendan Rodgers.

Getty Images

8/23 Seamus Coleman (Everton)

Rafael Da Silva completely fell out of Van Gaal's plans last season - United were linked with numerous right-backs.

9/23 Gregory van der Wiel (PSG)

He's Dutch, he's a right-back - there didn't seem to be much else to it.

Getty Images

10/23 MIDFIELDERS: Lucas Biglia (Lazio)

Arguably the oddest rumour of the entire widow. An unheralded layer on the verge of turning 30 who plays in a position in which United are arguably strongest.

GETTY IMAGES

11/23 Arturo Vidal (Bayern Munich)

Manchester United were concerned about a lingering knee injury. Bayern Munich were clearly not.

twitter.com/fcbayern

12/23 Arda Turan (Atletico Madrid)

The versatile Turk was said to be happy to move to the club but his £29m release clause was too high.

Getty Images

13/23 Roberto Firmino (Liverpool)

Were leading the race for the Brazilian but only wanted to pay around £15m - Liverpool came in with a £30m bid to blow them out of the water.

PA

14/23 FORWARDS: Pedro (Barcelona)

Was in United's hands but dithering over a price allowed Chelsea to steal him.

GETTY IMAGES

15/23 Antoine Griezmann (Atletico Madrid)

A new rumour, seems unlikely for a multitude of reasons.

Getty Images

16/23 Harry Kane (Tottenham)

A budding young English star, he'd be a fit at Old Trafford - but he's not worth £50m.

GETTY IMAGES

17/23 Karim Benzema (Real Madrid)

Has long been linked with a move to Old Trafford but Arsenal's interest is pushing up the price.

Getty

18/23 Edinson Cavani (PSG)

Seemed realistic for a time with Cavani unhappy in Paris - but the French club appear to have picked him over ageing star Zlatan Ibrahimovic.

GETTY IMAGES

19/23 Cristiano Ronaldo (Real Madrid)

Dream on...

GETTY IMAGES

20/23 Gareth Bale (Real Madrid)

Until he lives up to his world record price tag a move back to the Premier League will always be on the cards.

GETTY MAGES

21/23 Thomas Muller (Bayern Munich)

Van Gaal's 'star pupil', United have appearently lodged a £60m bid. Bayern unlikely to sell one of their biggest assets, who has been at the club since he was 11.

Getty Images

22/23 Sadio Mane (Southampton)

A legitimate, if odd, bit of gossip. Southampton don't want to sell the 23-year-old but he may have had his head turned.

Getty Images

23/23 Zlatan Ibrahimovic (PSG)

Has been put up for sale by the French champions and was linked with Man United, because why not?

Getty images
According to Spanish newspaper Marca, United's executive vice-chairman Ed Woodward will have the final say on De Gea's immediate future.
Real are willing to pay up to €40m (£29.3m) for the goalkeeper, but United have been angered by the way they were played in Sergio Ramos securing a new contract with the Spanish club last season and could decide to stand in the way of a move for De Gea as a result.
It's added that if United manager Louis van Gaal had his way, De Gea would remain at Old Trafford for the rest of the season and face the possibility of being left out of the squad completely, but the belief is that Woodward could choose to take a more compassioned view of the move and choose, from a business point of view, to cash in on De Gea before losing him for nothing.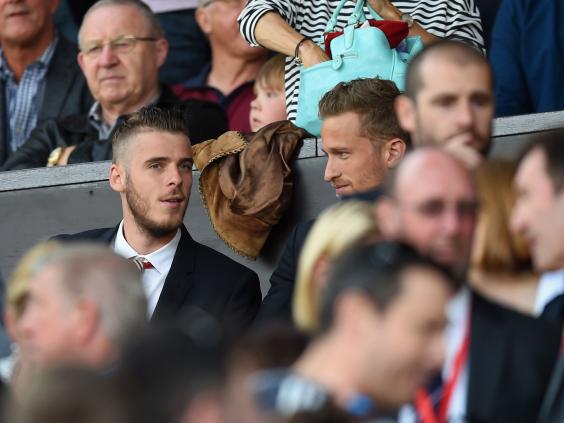 De Gea is determined to leave after growing disillusioned under Van Gaal, who declared in one of his many fiery press conferences that he cannot select De Gea due to a "loss of focus", and he has left the deal to his agent – so-called 'super-agent' Jorge Mendes – to secure him a move to the Santiago Bernabeu and takeover from the recently departed Iker Casillas.
As has previously been reported, Mendes could yet be given the boot by De Gea should he fail to complete the transfer, which must go through by 11.59pm on Monday night. Despite the English transfer window remaining open until 6pm on Tuesday due to Bank Holiday Monday, the Spanish window closes at the end of August and means that Real have one day less to complete their business than those on the Premier League.
De Gea took Mendes on specifically to formulate a future move to Real, and should he fail in that respect, the goalkeeper is said to be considering a split from the man who is also responsible for the likes of Jose Mourinho, Radamel Falcao and Cristiano Ronaldo.