David De Gea is set to return to Manchester United training on Monday as the squad report back for pre-season, despite his possible move to Real Madrid remaining in the balance.
According to The Guardian, that move may hinge on one condition – Real's willingness to let Sergio Ramos move in the opposite direction – and if the Spanish club fail to meet it then they will force to goalkeeper to see out the final year on his contract.
With United set to depart on their pre-season tour of the United States on 13 July, De Gea looks like he will still be a United player when Louis van Gaal's squad play their four friendlies across the pond.
Real Madrid: Possible transfer arrivals and exits
Real Madrid: Possible transfer arrivals and exits
1/11 POSSIBLE ARRIVAL: David De Gea

The Manchester United goalkeeper is torn between his current club and a switch to Real Madrid. The Spanish side are understood to be increasingly confident he will join them.

Getty Images

2/11 POSSIBLE ARRIVAL: Raheem Sterling

The Liverpool forward wants to leave Anfield this summer in search of trophies and there are few better places to find them than at the Bernabeu. Reports suggest Liverpool and Real Madrid will discuss a possible £45m deal later this month. Any aggressive move by Benitez could sour his relationship with Liverpool fans.

Getty Images

3/11 POSSIBLE ARRIVAL: Paul Pogba

The most in-demand midfielder in Europe has helped take Juventus to the Champions League final, but if Real Madrid get their way, it could be the Frenchman's last game for the Italian giants. Real recently denied reports that they have already made a bid, but rumours continue.

GETTY IMAGES

4/11 POSSIBLE ARRIVAL: Radamel Falcao

The Colombian endured a terrible season at Manchester United, but his record prior to Old Trafford can't be ignored. With Javier Hernandez's loan coming to an end, Real Madrid need a new striker and Falcao has the necessary reputation and something to prove.

Reuters

5/11 POSSIBLE ARRIVAL: Sergio Aguero

Real Madrid's top target would be Aguero, but it is nearly impossible to conceive Manchester City selling him. The Argentina international only signed a five-year contract last summer.

GETTY IMAGES

6/11 POSSIBLE EXIT: Cristiano Ronaldo

It's suggested that Benitez could look to build his team around Gareth Bale, an approach that would put Ronaldo's nose out of joint and potentially have him seeking a new club. There wouldn't be any shortage of suitors, with Manchester United arguably the likeliest destination.

GETTY IMAGES

7/11 POSSIBLE EXIT: Gareth Bale

The Wales international endured a difficult second season at Real Madrid and has persistently been linked with a return to the Premier League. How Benitez rates the world's most expensive player will be key to determining if he has a future at the Bernabeu.

Getty Images

8/11 POSSIBLE EXIT: Isco

The Spanish playmaker was impressive at Real Madrid last season, but due to the wealth of talent at the club found himself played out of position or needing to make an impact from the bench. The player is reportedly frustrated at the situation and a new club could be the way forward. Manchester City reportedly keen.

9/11 POSSIBLE EXIT: Iker Casilla

If De Gea arrives, Casillas' position will become difficult. The long-time Real Madrid number one has indicated he will stay whatever and compete with De Gea if he has to. But Benitez might decide that constant sparring between the two is not worth the hassle and move Casillas on. Arsenal have always shown interest.

GETTY IMAGES

10/11 POSSIBLE EXIT: Karim Benzema

The France international seems to be linked with a departure from the Bernabeu every summer, and this one is no different. Over six years at the Bernabeu the 27-year-old has been a consistent goal-getter. Arsenal regularly linked.

GETTY IMAGES

11/11 POSSIBLE EXIT: Raphael Varane

The 22-year-old has become a regular at the back since breaking into the team he joined in 2011. Considered among the best defenders in Europe and with his career ahead of him, the Frenchman is in demand and could potentially be sold to finance other deals. Manchester United and Chelsea are the clubs most consistently linked.

Getty Images
His arrival in Madrid earlier this week sparked suggestions that a deal had been reached and that he was on his way to discuss personal terms, but he instantly dismissed the rumours and said he was only in the Spanish capital top relax.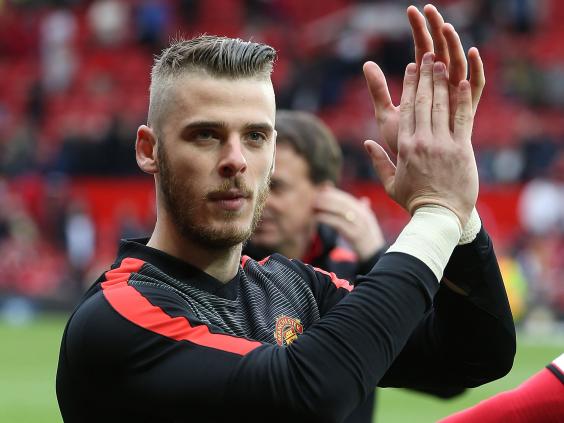 It's added that United are not afraid of Real Madrid's relentless pursuit of players that they set their sights on, having bullied their way to moves for the likes of Cristiano Ronaldo, Gareth Bale and Luka Modric in recent years, and will refuse to budge if Real do not meet their own demands this summer.
Despite taking the firm approach, it leaves the club open to the possibility of seeing De Gea leave next summer on a free transfer.
Real are yet to make an official offer for the Spanish No 1, but their perceived valuation of £12.7m was not received well by United officials, who originally valued the 24-year-old at £35m. In contrast, United have already seen a £28.5m bid for Ramos rejected by their Spanish opponents, and look certain to make an improved offer in an attempt to sign the unsettled defender.