Didier Drogba says he cannot imagine playing for another English club and is likely to move to Major League Soccer this summer.
The striker was carried off the pitch by his team-mates on Sunday in his last game for Chelsea. There is no prospect, though, of him joining another Premier League side.
"A few years ago when I left I said it before, I would never play for another English team," said Drogba, who left Chelsea in 2012 for spells in China and Turkey before returning to the club last summer.
"No disrespect to them, there are some brilliant, fantastic teams in the Premier League, but my love for this club I can't share it with another team."
on Monday, Drogba was soaking up the acclaim on the first of three buses which took Chelsea players, staff and owner Roman Abramovich on a Premier League-winning celebratory tour through west London, from Stamford Bridge along Fulham Broadway and King's Road, in front of an estimated 70,000 people. The European Youth League and FA Youth Cup-winning squad were also present.
Chelsea lift the Premier League trophy
Chelsea lift the Premier League trophy
1/13 1)

Getty Images

2/13 2)

Getty Images

3/13 3)

Getty Images

4/13 4)

Getty Images

5/13 5)

Getty Images

6/13 6)

Getty Images

7/13 7)

Getty Images

8/13 8)

Getty Images

9/13 9)

Getty Images

10/13 10)

Getty Images

11/13 11)

Getty Images

12/13 12)

Getty Images

13/13 13)

Getty Images
On his future, Drogba joked: "Since I put [my departure] on social media I was receiving some calls from teams. It really showed that maybe I can still bring something to a team."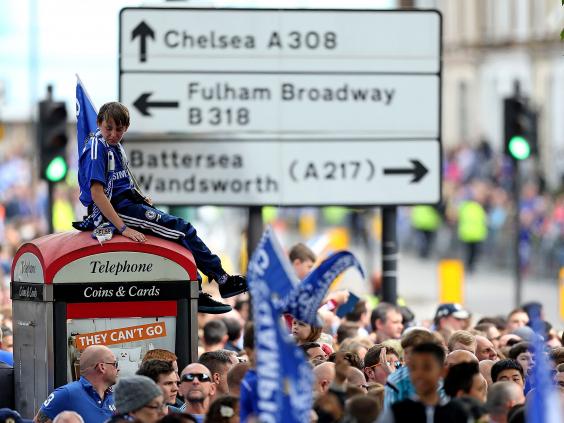 While he would not discuss his plans in detail, MLS is his most likely destination, where he could join fellow Chelsea legend Frank Lampard next season. "I am going to take a few days, a few weeks, to think about what is good for me next, but all I want to do is play," he said.
"I played enough games to give a contribution to win the league – and that is the most important thing. I'm a bit frustrated because you want to play, like every player, you want to play every game but it is not possible. But when I see all the players we have in this squad I feel happy because I gave a good contribution."