1. Lamela signs for Spurs and the jigsaw can begin to be pieced together…
All roads lead out of Rome, or rather via business-class flights out of Fiumicino airport, is what Daniel Levy, Andre Villas-Boas and the men in Madrid, Florentio Perez and Carlo Ancelotti, will have their hopes set on. And they are not alone. If, or rather when, Erik Lamela and his advisers, Roma and Tottenham Hotspur agree a deal – likely to be between £25m and £30m – it could spark the biggest and most intense binge the last week of the transfer window has witnessed.
Lamela's move, and last night Italian TV was reporting his bags were packed and all but labelled "Londra"*, is piece one. Tottenham want to ensure this deal, and possibly another for Hulk, Zenit St Petersburg's Brazil striker, is tied up before Gareth Bale's protracted move to Real Madrid has its i's dotted and t's crossed. Tottenham are concerned that Real's Bale-in campaign has already hampered and further complicated their attempts to recruit replacements for the Welshman.
Roma themselves are equally keen to usher Lamela out the door and deposit Levy's cheque as they have targets of their own, not least going back to Manchester United to ask one more time about Nani.
2. Bale gets his move and Real can begin to balance the books (as much as Real ever worry about balancing the books)…
With the 21-year-old Lamela safely installed at White Hart Lane, the Spurs hierarchy can finally let go of Bale, who will depart for the Spanish capital with a record £85m heading in the other direction (Tottenham want a lump sum, not instalments). The Welshman will pull on the No 11 shirt at the Bernabeu (and Real can resume selling them) and the focus in Madrid, and elsewhere, will switch to whose number is up.
Karim Benzema, scorer of Real's winner against Granada on Monday night, appears likely to stay despite Arsenal's interest, but Arsène Wenger, and Europe's other top-drawer shoppers, have some alternative high-class options to consider.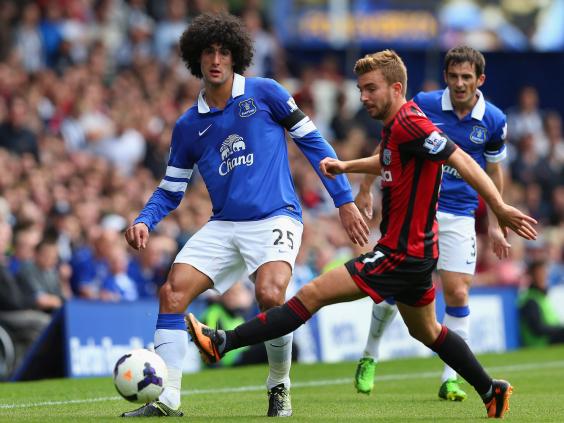 3. Arsenal lead the rush to the Bernabeu's back door, but they are not alone…
Wenger was panicked into playing supermarket sweep this time in 2011. Time is running out again in his search for the extra attacker and midfielder he wants and Madrid provide solutions to both. Real are looking for a buyer for Angel di Maria, the Argentine wing who will become surplus to requirements with Bale's arrival. Di Maria can play wide or in a more central role and at 25 would appeal to Wenger both in terms of his relative youth and also already having ample Champions League experience, along with four years of international football.
Real are less keen to see Mesut Ozil go, but that does not mean he is out of Arsenal's supposedly cash-rich reach. He would provide just the blue-ribband signing wanted at the Emirates, both in the dugout and around the stands. Like Di Maria, the 24-year-old German balances relative youth with high-level experience – attributes which make him much-coveted. David Moyes needs a midfielder of just his creativity; should United claim him it would return Wenger's focus to Yohan Cabaye. The French midfielder has been left out of Newcastle's squad for tonight's Capital One Cup game at Morecambe, the third successive match following Arsenal's opening bid in which Alan Pardew has thought it better to do without him.
4. Tottenham, meanwhile, having counted the Bale cash still have more to spend and make a polite inquiry to the other side of the capital…
Juan Mata spent Monday night sitting on the bench at Old Trafford, unwanted for Chelsea's first significant test of the season. Whether that proves a significant sign of what is to come remains to be seen but Mata's peripheral place in proceedings under Jose Mourinho so far, and with Willian soon to add £30m worth of extra competition, has raised inevitable whispering over the Spaniard's future.
Tottenham may test Chelsea's determination to keep him – Uefa's Financial Fair Play hovers in the background like a worried father at a teenage house party – with more Stamford Bridge money needing to be spent on at least one striker. "No way" remains Jose's most probable answer, certainly to any English enquiries.
Whether that was the reply Mourinho had always expected from Wayne Rooney – although in truth it was United who were adamant while Rooney kept his counsel (no Bridges burnt there) – Chelsea have some strengthening of their own do.
Samuel Eto'o is expected to add striking power, although only in the short term, and given Mourinho's apparent lack of faith in the forwards he already has, it is this space that may be filled with the biggest surprise before the window shuts on Monday. Just to be sure, what did that label say on Lamela's luggage*?
5. With Rooney staying put, United can turn their attention to some late deals of their own...
Roberto Martinez has said that Everton had received no further offers from United for either Leighton Baines or Marouane Fellaini. Martinez admitted the window remaining open into the season's first footings is a growing issue for all concerned. It is contagious; if Fellaini goes, Martinez may return to his former club Wigan in pursuit of James McCarthy, who is also interesting Newcastle should Cabaye depart for Arsenal…
"It happens up and down the country and it is a global concern in football," said the Everton manager. "I think the football authorities need to look into it and not put the players, the fans and the league in this situation. You are going to get people's minds turned in every dressing room in the country, but that's what the laws in the game are forcing us to do. It's not a great situation."
Nevertheless United are expected to be back, in particular for Fellaini, with an offer of around £20m set to be placed before the weekend. The need for another left-back is not so pressing, and there are alternatives. Madrid would be happy for Fabio Coentrao, the Portuguese full-back, to move, which brings us, just about, back to where we came in.
* NB That's north London, not west London, on no account is this bag to be dropped anywhere but N17. Avoid Cobham at all costs. Best, Daniel Levy
Reuse content