It's great to have the Premier League back and the opening weekend certainly didn't disappoint. No doubt about it, the stand out result of the weekend has to be West Ham's win at The Emirates. Many people (including me) have been touting Arsenal as title challengers, but West Ham absolutely bossed them last week. I can't believe the boy Reece Oxford is only 16 years of age – he went toe-to-toe with the likes of Aaron Ramsey, Santi Cazorla and Mesut Ozil and did not look out of place one bit. It's frightening to think how good that boy could be.
As for Arsenal, it's a minor setback really. I remember when they lost at home to Aston Villa on the opening day the other season and they went on a major winning run after that. If anything, it just acts as a little warning to Wenger that he needs another out and out striker before the end of the window, but everyone just needs to calm down a bit – it has only been one game! Palace away will be a tough match on Sunday and Selhurst Park will be going absolutely bonkers but I fancy Arsenal to get a result.
I was actually in Manchester last weekend as part of Carling's Shirt Amnesty campaign where we were giving out free shirts to United fans before the game with Spurs. I caught a bit of the match and it weren't a classic by any means. For me, Tottenham need to get in someone to support Kane. It looks like the lad Njie is on his way in from Lyon, but I would go all out to get Javier Hernandez. Someone like him would be the perfect partner for Kane and he is guaranteed to bang you in plenty of goals. Pochettino seems to know what he wants and has made it clear the likes of Lennon and Adebayor aren't in his plans. He'll have to ship those out before he can bring anymore in, but there's no doubt he'll bring in at least one striker before the end of the window. 
It was also surprising to see Chelsea drop points last week. Fair play to Swansea and Gary Monk, who I think is a top manager, but Chelsea were lucky to get a draw out of it in the end. There is one thing everyone is talking about from that game but it's all gone a little bit over the top. Jose is obviously desperate to get the three points and with his team down to ten men already, you can understand that he doesn't want to lose anyone else. Having said that, the doctor needs to do her job by putting the player's safety first and Jose can't really question that, so she was right to go on.
I've also got to say fair play to Leicester City for their win last week. I got a lot of stick from a few of their fans after I tipped them to go down, but to be fair, you have to be beating teams like Sunderland if you're going to have any chance of staying in the league. I wouldn't really have expected anything else and, sorry Foxes, but I don't think one win against a fellow Premier League struggler means you're going to stay up! Plus, you've got the mighty Irons this week so let's see what happens there!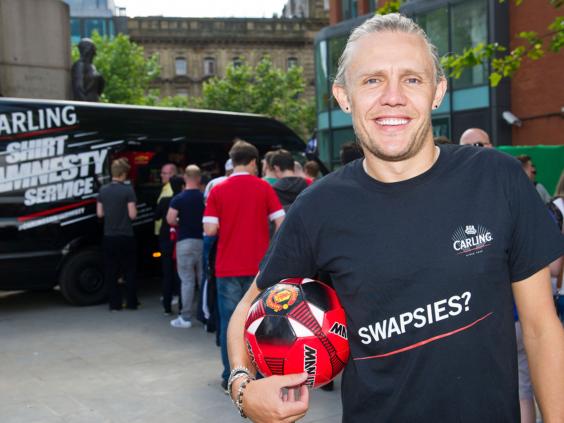 Jimmy Bullard has teamed up with Carling as part of their Shirt Amnesty, giving fans the opportunity to exchange their shirt with the name of a recently sold player, with a new one. Follow @Carling
Reuse content