David Moyes, the Manchester United manager, has spoken of his surprise that the club were able to pull off the signing of Juan Mata from Chelsea midway through the season, but claimed that Mata would be the first of many world-class arrivals at post-Ferguson Old Trafford.
"I am thrilled, Moyes, whose struggling United side sit in seventh place in the Premier League, said. "I got wind a month or two ago it could be possible, but I never thought we would pull it off.
"When we got the sniff there was a chance Juan could be available we went after it right away. Congratulations to the club and [executive vice-chairman] Ed Woodward for getting the deal done."
Moyes, who replaced Sir Alex Ferguson last June, added: "There will be more players like Juan in the future, I've no doubt about that."
And Moyes will soon be able to call upon one of the most effective players in the Premier League since he arrived in England from Valencia in August 2011.
Players directly involved in most Premier League goals since August 2011
Robin van Persie (Man Utd/ Arsenal) 84 (63 goals, 21 assists)
Wayne Rooney (Man Utd)  72 (48 goals, 24 assists)
Luis Suarez (Liverpool) 70 (56 goals, 14 assists)
Sergio Aguero (Man City)  64 (49 goals, 15 assists)
Theo Walcott  (Arsenal) 49 (27 goals, 22 assists)
Juan Mata (Chelsea) 45 (18 goals, 27 assists)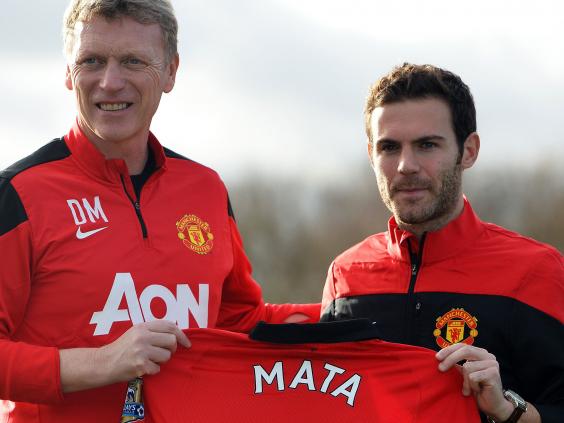 Most assists in the Premier League since August 2011
David Silva (Man City)  29
Juan Mata (Chelsea)  27
Wayne Rooney (Man Utd)  24
Theo Walcott (Arsenal)  22
Robin van Persie (Arsenal/ Man Utd)  21
Antonio Valencia (Man Utd)  20
Reuse content