Liverpool will reject any attempt by Inter Milan to reunite Mario Balotelli with Roberto Mancini in Italy, Brendan Rodgers declared on Saturday.
Mancini, who first coached Balotelli when the Liverpool striker was a teenager, has been open to suggestions that the forward, who has yet to score a League goal since his £16m move to Anfield, could return to Italy.
Asked if he was interested, Mancini, who came to blows with Balotelli during their time together at Manchester City, replied: "If he could become as strong as he was last time he was here, then why should he not come back? Everything depends on him."
Even though the three-year contract Balotelli signed when moving from Inter's local rivals Milan in the summer has plenty of break clauses, Liverpool are determined to give him a full season before making a decision on his future.
Liverpool injury list
Liverpool injury list
1/5 Adam Lallana

Replaced against Manchester United after picking up a groin problem, missed the game against Arsenal and is unlikely to return against Blackburn.

Getty Images

2/5 Jordan Ibe

The promising youngster has been out with a knee injury but returned to light training last month.

3/5 Brad Jones

A thigh injury forced the goalkeeper off on Boxing Day last year with no return date set.

GETTY IMAGES

4/5 Jon Flanagan

Hurt during pre-season, the defender is still yet to feature this season. Training is becoming more intensive for the 22-year-old and he played a small cameo in the Steven Gerrard charity game at Anfield.

5/5 Mario Balotelli

Missed the game against Arsenal but could be fit against Blackburn after training with the first team.

GETTY IMAGES
When Liverpool manager Rodgers was asked if Balotelli still had a role, he said: "We have a lot of games this season in a lot of competitions. The key is trying to keep this squad together."
The only centre-forward for whom Rodgers is prepared to listen to offers is Fabio Borini, who is paid around £2.6m a year and has started one League game this season – the 3-1 defeat at West Ham in September.
Nevertheless, the club points out that they agreed two summer transfer deals for Borini – with Sunderland and Queens Park Rangers – and the forward is still at Anfield.
Liverpool simply do not possess a striker of the quality of Wilfried Bony, who will lead Swansea's attack at Anfield tomorrow night.
However, until Daniel Sturridge is ready to return from a series of injuries that have kept him out since August, Rodgers will continue to put his trust in makeshift striker Raheem Sterling, arguing he could contribute up to 15 goals a season. The one that decided Liverpool's Boxing Day fixture at Burnley was his sixth.
Rodgers said: "Between 10 and 15 goals a season would be a very good return for him. There are players who are natural-born goalscorers. They live to score goals. On the other hand, you have players [like Sterling] who have the ability to create and score and that is something you can develop over the course of their career.
"I think you will see Raheem's numbers improve as his career goes on. He is offering us a real threat because his pace is phenomenal. He is going to miss chances, of course, but he had one chance at Burnley and he took it."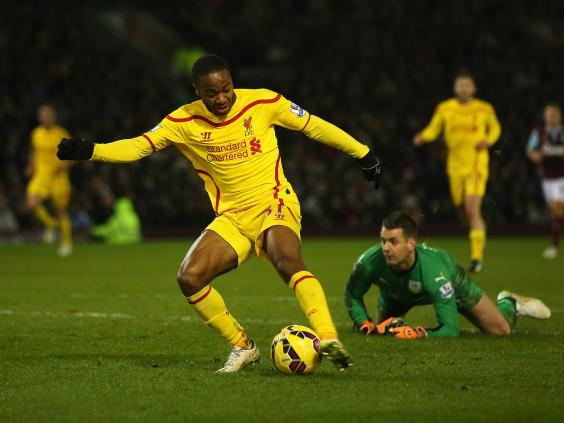 The percentage of chances Sterling fails to convert has been one of the criticisms aimed at the 20-year-old. Phil Neville, the former Everton captain, argued that Sterling could have scored a hat-trick against Manchester United this month in a game Liverpool lost 3-0.
"The higher you climb the ladder, the more people want to criticise you," said Rodgers. "If you have talent, you are going to be under scrutiny."
Monday marks the halfway point of what has proved the third and most difficult season for Rodgers at Anfield. Last season 79 points were required just to make the Champions League places.
To reach that figure, Liverpool require 2.7 points a game from their remaining 20 fixtures. In other words, their finish would have to be better than Chelsea's start. Rodgers acknowledged that this would be a long road, adding: "We know we will be much better in the second half of the season."
Former Liverpool striker Fernando Torres will make his loan from Chelsea to Milan permanent on 5 January .
Reuse content