The Aston Villa captain Fabian Delph said yesterday that he hoped striker Christian Benteke will stay at the club this summer, conceding that it would be hard to replace the Belgian if he is prised away.
Benteke is the target of a number of Premier League clubs including Tottenham Hotspur and Liverpool as well as Chelsea, potentially. Delph, speaking at the England team hotel ahead of Sunday's Euro 2016 qualifier against Slovenia, said that he would not try to talk Benteke out of leaving if that was his decision.
"It [Benteke leaving] would have a big effect," Delph said. "He is a great player, world-class in my opinion, a good lad to have around as well. It would be a big loss. He scores a lot of goals. I wouldn't try to convince anybody [not to leave].
Liverpool season player ratings
Liverpool season player ratings
1/24 GOALKEEPERS: Simon Mignolet

Was dropped after some really shaky form at the start of the season but recovered well to have a pretty solid campaign. But still not good enough to be Liverpool's No 1. 6.5/10

GETTY IMAGES

2/24 Brad Jones

Produced one of the worst performances in recent memory in the defeat at Old Trafford. His injury on Boxing Day was a bit of a blessing in disguise. 2

3/24 DEFENDERS: Glen Johnson

Never nailed down a regular spot this season and will leave the club this summer having never really lived up to his £18m price-tag. 5

GETTY IMAGES

4/24 Jose Enrique

Rodgers didn't fancy him last season and even less so this time round. Started just two Premier League matches. 2

Getty Images

5/24 Alberto Moreno

A real mixed season for the youngster. A talented and dangerous attacker but makes too many fatal errors. Plenty of room to improve defensively, however. 5

6/24 Javier Manquillo

Didn't start a league game in 2015 and endured a miserable time on the rare occasions he did manage to play. Has a long way to go. 3

Getty Images

7/24 Kolo Toure

Produced heroics in Madrid but also an error-strewn horror show in the Emirates. At 34 his future at the club is limited. 3

GETTY IMAGES

8/24 Dejan Lovren

Where to start? Looks close to a £20,000 player than a £20m one after a horrible season. Never got to grips with the pressure that being a Liverpool player would bring. 2

9/24 Mamadou Sakho

Athletically gifted and capable of good performances, Sakho also looks like a Sunday League player at times. There always seems to be an error round the corner. 4

10/24 Martin Skrtel

Liverpool's most consistent defender this season, Skrtel is very capable and has rarely put a foot wrong this term. 7.5

11/24 Emre Can

Did a good job playing as a third centre-back but next season should be given a real run in his favoured midfield position. Showed great flashes of promise and easily Liverpool's best buy last summer. 7

12/24 MIDFIELDERS: Steven Gerrard

Amid the emotion of his farewell tour Gerrard has had a torrid season. Last year was one of the best of his career but without Suarez and Sturridge the captain was unable to provide match his performances. Rodgers dropped the 'quarterback' role in the autumn and the years finally seemed to catch up to Gerrard. 5.5

Getty Images

13/24 Jordan Henderson

Stepped into his role as vice-captain and the man most likely to replace Gerrard. Offers a blend of graft, skill and drive that is hard to find. Liverpool's captain for the foreseeable future. 8

Getty Images

14/24 Lucas Leiva

It's a shame that the holding midfielder got injured just at the time when the 3-4-3 started to come together. Needs to stear clear of injury but still an intelligent performer. 5

GETTY IMAGES

15/24 Joe Allen

Allen is neat and tidy but doesn't offer much more. One goal all season, seems afraid to tackle and is weak when facing the best. His £15m fee is one of the worst pieces of business in Liverpool history. 5

Getty Images

16/24 Philppe Coutinho

The brightest spot of miserable season, Coutinho has truly arrived as one of the Premier League's best. Offers drive and skill from his attacking midfield position as well as an eye for goal - Reds fans should expect more of the same next year. 8.5

Getty Images

17/24 Adam Lallana

Has shown flashes but for £25m so much more was expected. Not quite a flop but the former Southampton man needs to do a lot more to justify his fee next season. 6.5

Getty Images

18/24 Jordon Ibe

In just seven Premier League starts he gave Liverpool fans a lot to look forward to. The powerful teenager was about to make the wing-back position his own before injury and he should get a big role in the team next year. 6

Getty Images

19/24 Lazar Markovic

Was bought as one for the future but a £20m winger who looks better when playing as a wing-back is quite worrying. At 21 time is on his side but he must start producing soon. 4

20/24 Raheem Sterling

Has unlimited potential but very rarely produced on the pitch this season - he only got seven goals in the Premier League. Doesn't seem like he'll be at the club next year and even if he is, will Liverpool fans forgive him? 6.5

AFP/Getty Images

21/24 STRIKERS: Fabio Borini

Not good enough for Liverpool. At all. He cost £10.5m and has scored three league goals since 2012. 2

Getty Images

22/24 Rickie Lambert

Was seen as a no-risk back-up option when he was the toast of England last season. That was before Sturridge got injured and Balotelli delivered nothing. 3

GETTY IMAGES

23/24 Mario Balotelli

A £16m gamble that completely back-fired. One goal and numerous off-field antics later, Balotelli doesn't have a future at the club. 1

GETTY IMAGES

24/24 Daniel Sturridge

Liverpool's season went down the pan with Sturridge's injury and got even worse with his numerous problems thereafter. Needs to bounce back next year. 3

Getty Images
"Everyone is entitled to make their own decisions. If they have a chance to move on and better themselves, I can't tell them not to do that. If they want to commit themselves to the club and stay there, then happy days as well. But it is down to that individual."
Delph committed his own future to the club in January when he signed a new deal until 2019, despite being able to leave as a free agent this summer. The 25-year-old described the decision as a "no-brainer" and manager Tim Sherwood has rewarded him with the captaincy in a season in which he won his first five caps for England.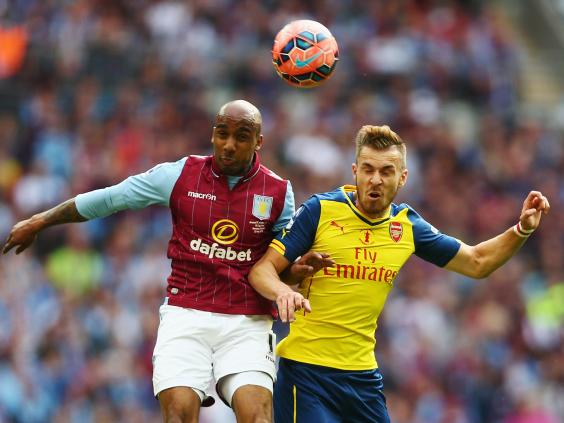 Delph said the 4-0 FA Cup final defeat to Arsenal had not lingered for long when the Villa players reflected on the quality of their opponents. He said: "It was probably the best I've seen Arsenal perform this season."
Reuse content