Arsenal defender Lukas Podolski finally made it off the bench this weekend – in order to visit the Winter Wonderland attraction in London's Hyde Park.
The Germany international has made no secret of his desire to discuss his role in the Arsenal side after finding himself continually on the bench, and he was left among the substitutes for Saturday's 2-1 defeat to Manchester United on Saturday that has seen the Gunners get off to their worst start in 32 years.
On Sunday, the 29-year-old World Cup winner ventured out in the capital with his family to visit the Winter Wonderland Christmas park, where he tweeted a picture of his day out – comically including the hash –tag "#BreakFromTheBench".
He said on Instagram: "Enjoyed my rainy Sunday afternoon at Winter Wonderland with the family' #hydepark #gunnersumbrella #familytime #dayout #EnjoyLife #Poldi #BreakFromTheBench"
Podolski has reason to be frustrated this campaign, having only made eight appearances for the Gunners in all compeitions, while just half of those have come in the league – none of which are starts.
Speaking to German media outlet Kicker, Podolski admitted his frustration at not being given much playing time this season by manager Arsene Wenger, and hopes to discuss his future to see whether he needs to leave in January in order to achieve first-team football.
"I have to try to talk with Arsene Wenger. I want a fair chance," said Podolski.
"I love London, I like the club, but I do not like the situation. I'm not a clown."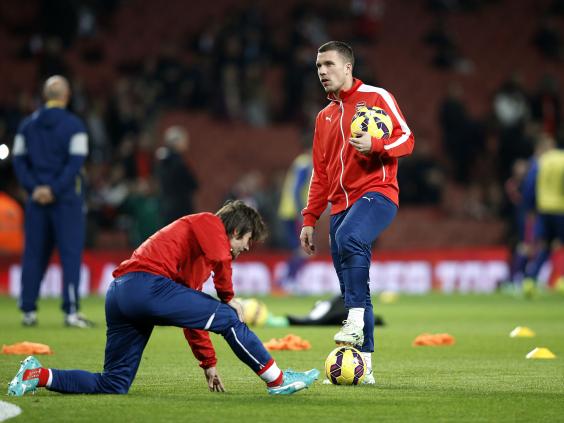 Podolski's chances of featuring regularly look to have taken another turn for the worse given that Olivier Giroud returned from a three-month injury lay-off in defeat to United, in which he scored a stunning consolation goal.
Given that Wenger clearly prefers Giroud and Danny Welbeck as his striker and Santi Cazorla, Alexis Sanchez and Alex-Oxlade Chamberlain in the wide roles, it's likely that Podolski will have to leave the Emirates if he is to feature regularly
Reuse content