MANCHESTER CITY ARRIVALS…
Juventus midfield Paul Pogba is being linked with a move to another big club in Europe with the likes of Chelsea, Arsenal and Paris St-Germain all said to be in the hunt. However, with Manchester City also monitoring Pogba's future, Real Madrid are being linked with a massive £78m bid for the 21-year-old. The Daily Star claims that Real will blow their competitors out of the water in order to land the highly-rated central midfielder, who is undoubtedly developing into one of the finest talents currently in the game.
Pogba spoke for himself following Juventus' 4-0 victory over Verona on Sunday, and claimed that he is currently worth nothing as he still wants to prove himself.
"I am worth zero euros. I am worth nothing unless I work on the field in every single game," said Pogba. "I need to do more because I want to be a champion just like Gianluigi Buffon, Andrea Pirlo and Giorgio Chiello. I want to be one of the best players in the world and to be able to reach this level, I need to play well. I focus on working on the pitch and giving all I've got for the squad."
Manchester City: Players linked with a move to the Etihad
Manchester City: Players linked with a move to the Etihad
1/5 Marco Reus

Borussia Dortmund forward Marco Reus is on a number of clubs' radars including Manchester City. His release clause of around £20m is sure to be activated sooner rather than later, although there are fears over his long-term fitness after suffering a number of ankle injuries in recent times.

Getty Images

2/5 Julian Draxler

The Schalke attacking midfielder appears to have fallen off the Arsenal radar of late but Manchester City remain interested in the Germany international, who impressed in the Champions League group games against Manchester City. Draxler would cost in excess of £20m, although he has not quite pushed on as far as he would've liked since emerging in the scene a few years ago.

3/5 Kevin De Bruyne

The former Chelsea midfielder is being linked with a Premier League return after resurrecting his career at Wolfsburg. De Bruyne has made 25 appearances for the Bundesliga side this season in all competitions, socring six goals along the way, and he could yet be the target of a surprise bid from City to bring him back to England.

GETTY IMAGES

4/5 Alexandre Lacazette

The Lyon winger has hinted that he could be on the way out of the French club by admitting his future lies in either England or Spain. That has alerted Manchester City, who appear to be keen to land the talented 23-year-old.

Getty Images

5/5 Ross Barkley

Ross Barkley remains a long-term target for City but a mega-money move around the £40m mark may have to wait until the summer due to Uefa's FFP restrictions imposed on City this season. There's no doubting he is one of England's brightest talents, and would also help City fill their home-grown quota in the Champions League.

Getty Images
HEADING FOR THE EXIT…
Influential midfielder Yaya Toure is again being linked with a move away from City with Chelsea, Paris St-Germain and fierce rivals Manchester United all reported to be in the hunt for his signature in the summer. The Daily Express claims that Toure could leave City if a bid of £20m comes in, and his latest quotes appear to leave room for a dramatic exit in the near future. Toure, who is currently on African Cup of Nations duty with the Ivory Coast, spoke about his future in an interview with CNN. He said: "I'm don't know. I'm at City at the moment."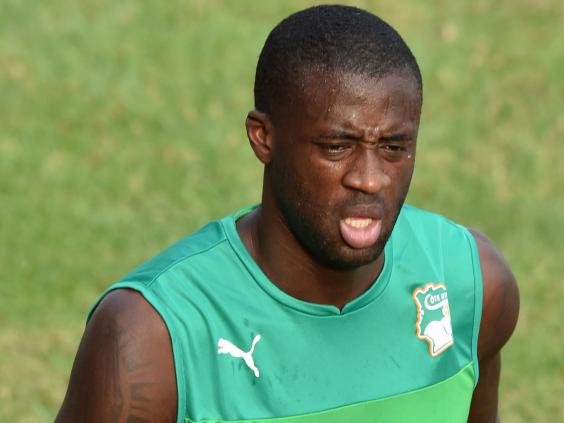 SIGNED AND SEALED…
Wilfried Bony has revealed why he chose to leave Swansea in order to join Manchester City in a £28m deal, claiming that it was the allure of the Champions League and Manuel Pellegrini's determination to see him take a step up in his career. In an exclusive interview with Sky Sports, Bony said that Pellegrini had asked Bony's international team-mate Toure about his talents and whether he should make a move for him this month.
Bony said: "He told me 'it's the next step for you in your career and I think you will enjoy it. He said he'd been asking Yaya Toure about me, my character and everything, and that was also part of the reason for moving to Manchester City. And Yaya's given me plenty of advice too."
Reuse content