Former England manager Sven-Göran Eriksson claims Wayne Rooney could be the next big-money target to join China's burgeoning football revolution.
The 30-year-old striker has endured a difficult campaign at Manchester United this season as Louis van Gaal's men, six points adrift of the top four, face missing out on Champions League qualification.
But Eriksson, who managed Rooney with England for five years, believes the Asian market could offer the former Evertonian an escape route with money proving to be no object. 
As manager of Shanghai SIPG, the 63-year-old former Manchester City and Mexico boss currently earns £15m-a-year after tax while Rooney could become the best paid player in world football if he relents and signs for a Chinese club in future.
"Who doesn't want Rooney? But I'm pretty sure he doesn't want to leave Manchester United. Not for this moment, anyway," said the Swede to native newspaper Expressen.
"Sooner or later, we are going to see names like [Cristiano] Ronaldo, [Lionel] Messi and Rooney in this league — players on this level." 
Eriksson's comments follow his earlier remarks last week when he suggested the influx of European and South American talent in China is largely down to the money on offer.
A blistering rush in the last 10 days of the January transfer window paid witness to Ramires and Alex Teixeira joining Jiangsu Suning, for £25m and £38.4m respectively, while Guangzhou Evergrande stretched their financial muscle to lure Jackson Martinez from Atletico Madrid for £31m.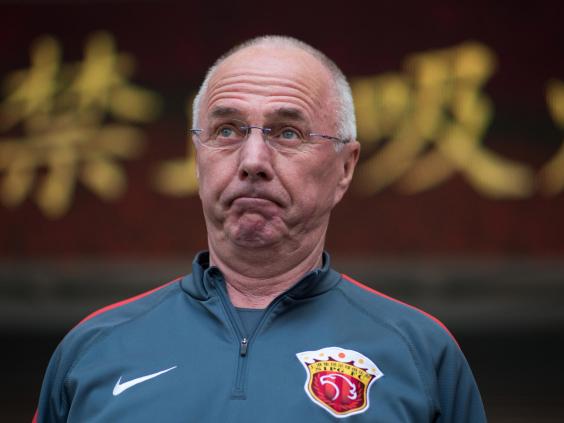 "You can't take away the fact that money is the primary factor," Eriksson added.
 "The [Asian] Champions League used to be dominated by teams from Japan, South Korea and Australia, but Guangzhou Evergrande have won it in two of the past three seasons.
"Football is on the TV all the time here, not just the Premier League or the Champions League, but all the European leagues. It is an emerging league, which is why they are attracting such big names. There will be more to follow.
"The football is improving all the time and they are very ambitious with the national team.
"The biggest problem is the language because it is so difficult for Europeans to learn. In the big cities, such as Shanghai, it is easier because so many people speak English.
"Shanghai is a beautiful city, with theatres, shopping malls and restaurants that can rival anything in London."
Reuse content