MANCHESTER UNITED BOUND...
Manchester United are expressing an interest in Alex Song. The former Arsenal midfielder is currently on loan at West Ham where he has made a big impression. The 27-year-old looks certain to depart Barcelona permanently in the summer and the Irons are keen to become his official club. However, Manchester United are reportedly ready to hijack the deal.
A staggering bid of £117m has been lodged with Real Madrid for Gareth Bale, according to sources in Spain.  The Welshman has come under scrutiny this season, with Real Madrid fans booing him for a perceived selfish style of play and even team-mates Karim Benzema and Cristiano Ronaldo making clear their frustration over the issue. The policy of turning over the star names at the Bernabeu has raised hope the world's most expensive player could leave - although both the club and player have denied the possibility recently.
Paul Pogba returning to the club remains a possibility. Conflicting statements have been emerging from Italy over the last 24 hours, with Juvenuts insisting they have no need to sell the France international but his agent Mino Raiola saying: "We're happy there (at Juventus) but when the right moment comes to leave, we will seize it." Pogba's attitude contributed to his departure from Old Trafford, but despite being shooed out the club, the 21-year-old has opened the door to a return by saying he still "loves" Manchester United. "I'm impatient," he told FourFourTwo about leaving United. "It was the feeling that I had. The coach had faith in me, but didn't put me on. He said that I was too young. He said: 'Your time will come.' It didn't come. But it doesn't mean I will speak ill of Manchester United. I love the club."
Manchester United: Players who were linked with a January move to Old Trafford
Manchester United: Players who were linked with a January move to Old Trafford
1/17 Gareth Bale

Manchester United would love him and some reports suggest he would be open to a return home - but Real Madrid have said they wouldn't sell the winger at any price, even the mammoth £150m that has been mentioned in recent reports.

GETTY IMAGES

2/17 Sergio Ramos

Real Madrid's Sergio Ramos would be perfect for United and is one of few truly world class centre-backs around. Another player Real will not want to lose, this move may wait until the summer.

GETTY IMAGES

3/17 Juan Cuadrado

The Fiorentina and Colombia winger was a target of United's in the summer but a move never transpired. He is lightning quick, brilliant on the ball and gets his fair share of goals. May cost more than £30m, however.

Getty Images

4/17 Ashley Cole

The former Chelsea left-back was linked with a move to United last summer, but instead went to Roma. There are suggestions he is unhappy in Italy and would be open to a return to the Premier League.

GETTY IMAGES

5/17 Ron Vlaar

Out of contract at the end of the season and impressing in his Aston Villa shirt, Ron Vlaar could be a quick and cheap fix at the back. That he's Dutch won't do his chances of an Old Trafford switch any harm either. Picked up a knee injury in early January that will likely end speculation.

Getty Images

6/17 Raphael Varane

The Real Madrid centre-back has been hugely impressive since breaking through at the Bernabeu. Would take a big bid to land the young France international, but that shouldn't be a problem.

Getty Images

7/17 Ezequiel Garay

Manchester United are keen to bolster their Argentinian contingent and the arrival of Garay would do just that. United reportedly sent scouts to watch the Zenit St Petersburg player.

Getty Images

8/17 Gerard Pique

He played for Manchester United before being allowed to return to his boyhood club Barcelona in 2008. But recently things have soured for the Spain international, with new Nou Camp manager Luis Enrique leaving him out a few times this season. Could he be heading back to Old Trafford again?

GETTY IMAGES

9/17 Nathaniel Clyne

A call up to the England squad boosts your profile, and in the case of Clyne, it's led to inevitable speculation that he could leave Southampton. The Saints will be desperate to hold onto the young right-back, but as they found last summer, if players want to go they usually get their way.

Reuters

10/17 Mats Hummels

Another Germany international interesting United is Hummels. The centre-back was made captain at Borussia Dortmund last summer to help ward off interest from other clubs, but with the German side struggling this term, they might not be able to keep the suitors at bay next time around. A £35m offer has been heavily reported and this deal is certainly one that is the more probable to see in the near-future.

Getty Images

11/17 Sami Khedira

Manchester United have been linked with Khedira, but then, who hasn't? The Germany international looks certain to be playing somewhere other than Real Madrid next term, and it could be Old Trafford.

Getty Images

12/17 Julian Draxler

The Schalke midfielder has been interesting Europe's top clubs for some time. So far, everyone has failed in their attempts to prise the youngster away from his boyhood club. With the money at Manchester United's disposal, they could persuade Schalke to relinquish.

Getty Images

13/17 Paulo Dybala

Manchester United have been linked with a move for Palermo striker Paulo Dybala. The 21-year-old has been banging in the goals in Serie A this term, leading to speculation he's in line for a big move. But the Palermo president has indicated he won't be allowed to leave for anything less that £31m

GETTY IMAGES

14/17 Yohan Cabaye

After leaving Newcastle for PSG, France international Cabaye has reportedly failed to settle in the French capital. That he has struggled to force his way into the starting line-up under manager Laurent Blanc hasn't helped. That could make him open to a return to the Premier League.

Getty Images

15/17 Marcos Reus

Another highly sought German player. With Borussia Dortmund struggling this term and no Champions League football next season a real possibility, it seems likely Reus could be sold in the summer. United will have to fight to be at the front of the queue.

GETTY IMAGES

16/17 Arjen Robben

The former Chelsea player has said numerous times he has no intention of leaving Bayern Munich. But then again, nothing footballers say can be taken as sacrosanct. His Dutch links and style of play make his a good fit at United.

GETTY IMAGES

17/17 Kevin Strootman

The Netherlands international was heavily linked with United in the summer but a serious injury ruled out the prospect of a move. The Roma midfielder has since returned to action and so the rumours have started up again. A fee of £30m has been mentioned.

GETTY IMAGES
Manchester United are thought to be the front-runners for Mats Hummels, although the German World Cup winner has been linked with just about every club going. He's spoken to Sky Italia to say he will be making no promises to Borussia Dortmund about his future: "I have never said I will stay until 2024 or 2030 or whenever. But I have stayed until today. I will stick to my way of not promising anything and maybe leave someday instead of saying I will stay forever and then leave all of a sudden. I am not really know as a globetrotter. I have been with two clubs in 26 years. Loyalty is important to me. The only thing I am concerned with right now is to play better than in the first half of the season. I was not satisfied at all with myself as one can imagine. I have gotten offers from different clubs ever since I have been with Dortmund."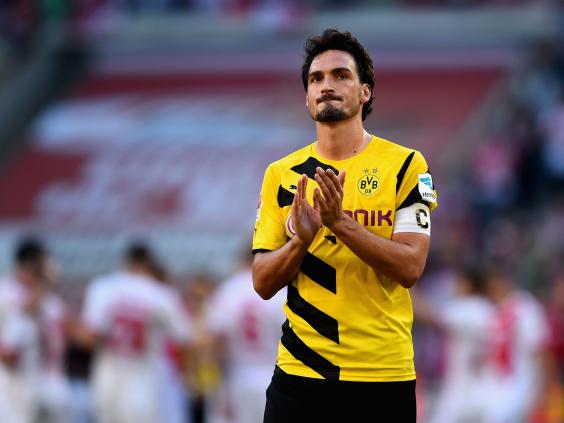 STAYING PUT...
Finally, Manchester United fans can breathe a big sigh of relief. Real Madrid president Ramon Calderon insists his team have no need for goalkeeper David De Gea - because Iker Casillas is better. "We already have the best goalkeeper in the world, which is Casillas. We also have Keylor Navas. I don't see any need to get any other goalkeeper," said Calderon. "De Gea is perhaps also one of the best goalkeepers in the world but Casillas can still be at the top for three or four years. I don't see any need [for De Gea]."
Reuse content