The fight over Borussia Dortmund starlet Marco Reus took a bitter turn yesterday as Dortmund turned on their great rivals Bayern, accusing the Bundesliga champions of trying to unsettle the German international.
The Westfalen giants must feel like they are under siege - Bayern's interest is well-documented, but there are threats from the Premier League too where Manchester United and Liverpool lurk waiting to submit bids for the former Borussia Monchengladbach forward.
It seems inevitable that Reus will be moving on this summer or next, when his release clause kicks in. The 25-year-old has rejected a new contract from the club he joined as a boy and returned to in 2012 following six years at Rot Weiss Ahlen and the aforementioned Monchengladbach and is evidently angling for a major-money transfer.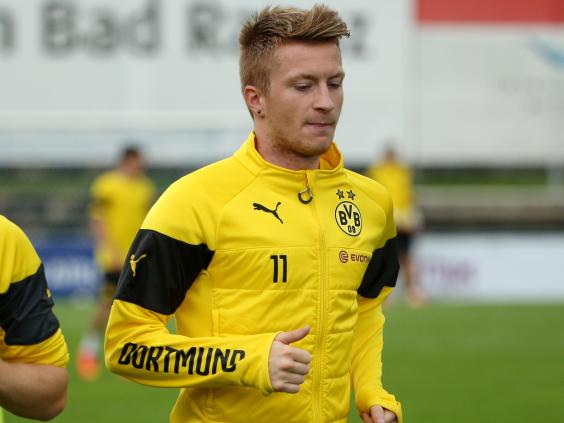 Given that Liverpool are reportedly leading the chase for Reus' signature should he indeed leave, it seems pertinent to ask where he might fit in along Brendan Rodgers' revamped forward line.
Despite his frenzied bout of activity in the transfer market the Northern Irishman has yet to fill the crater-sized hole left by the departed Luis Suarez.
That is entirely understandable - Adam Lallana is a fine player and Lazar Markovic has the potential to be a very exciting signing indeed, but neither come anywhere close to ranking amongst the world's best as the Uruguayan does.
Reus, however, would be a step up in quality from Rodgers' signings so far this summer. The German is a hybrid attacker, capable of playing anywhere along a front three or as a central striker.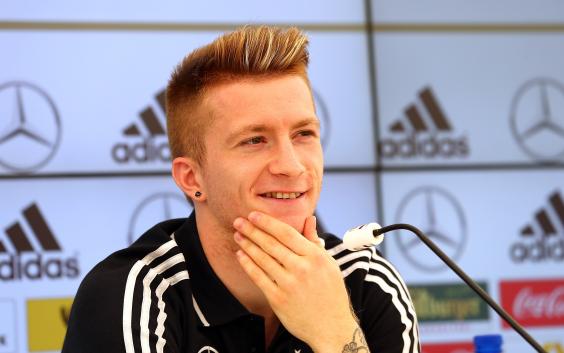 He possesses quicksilver pace and allies this to even quicker feet - making him a defender's bad dream to face. Push up against Reus and he will run in behind. But back off, and he has the skill to take you on and go past you or to shoot powerfully from range with either foot.
In other words, the reported £19.8 million it will take to release Reus from Signal Iduna Park will net his purchaser a versatile forward very much in the modern mould. Whilst Reus' playmaking skills are not quite up to the level of his former Dortmund teammate Mario Gotze, he could well fulfil a dangerous role in that most fashionable of 21st century positions - the 'false 9'.
Rodgers looks like he may line up for the start of the Premier League season with Philippe Coutinho tucked in behind a front three from right to left of Adam Lallana, Daniel Sturridge and Raheem Sterling.
Liverpool transfer targets: Who might they sign this summer?
Liverpool transfer targets: Who might they sign this summer?
1/4 Mohamed Diame

Mohamed Diame said he was on the verge of a move to Liverpool in 2012 but the dismissal of Kenny Dalglish scuppered the deal. The West Ham attacking midfielder has stated more recently that he wants to play for a bigger side. Having impressed last term with goals and assists to his name at Upton Park, a move to Anfield could be back on.

Getty Images

2/4 Mateo Kovacic

The last player Liverpool signed from Inter Milan, Philippe Coutinho, was rather successful. So it's no surprise Liverpool have been linked with rising star Mateo Kovacic. Th 20-year-old has a long-term deal at the San Siro and says he is happy to remain in Italy having joined in a £12.4m deal in 2013.

GETTY IMAGES

3/4 Mario Balotelli

AC Milan appear ready to sell the former Manchester City player and he's been strongly linked with a return to the Premier League. Arsenal were understood to be the front-runners in the chase for the striker but the departure of Suarez has seen Liverpool emerge as contenders.

Getty Images

4/4 Ezequiel Lavezzi

The Argentina international was linked with a move to Liverpool following the collapse of the move for Loic Remy. The PSG forward could be available due to the expected arrival of Angel Di Maria in the French capital. Lavezzi scored nine goals in 32 Ligue 1 appearances last term and has notched seven goals in 19 Champions League appearances since joining the club for £24m.

GETTY IMAGES
Signing Reus would upset that tactical applecart however and potentially signal a return to the diamond deployed during last season's title run-in.
Lallana is currently injured and is doubtful for the start of the season - but at £25 million he and the club are surely expecting him to start when fit.
Yet Reus would nudge him out of the team - the German international would dovetail far better with Daniel Sturridge than the former Southampton man, raising the once-unthinkable prospect of a partnership to rival that of the S-A-S in effectiveness.
Lallana's presence is perhaps the prime reason why Reus' transfer to Liverpool makes less than complete sense. Liverpool are arguably overstocked already with options along their front three - and even when you are overburdened with cash, you spend £25 million on a backup player.
Nevertheless, the idea of Sturridge and Reus intermittently dropping wide and deep to fill the other's spaces is an enticing one. Were Reus to sign, Liverpool would be making a huge statement of attacking intent in their pursuit of the Premier League title.
Reuse content