Marcos Reus has been linked with a move to Arsenal as a potential replacement for Theo Walcott.
The Germany international is reportedly seen as a suitable candidate to replace Arsenal's England forward, who will be out of contract at the end of next season and who earlier this week spoke out about negotiations over a new contract.
Should Walcott leave the Emirates, it's suggested Arsenal view Reus as the best possible replacement. With that in mind, we see how the two compare.
How do they play?
In terms of age and style, there are huge similarities. Reus is just a year younger than Walcott's 26, putting them at a similar stage of their careers. The pair also cut slightly frail figures, a potential weakness that both have turned to their advantage in terms of focusing on pace. Reus is a quick, aggressive dribbler in much the same style as Walcott. In terms of fitting Arsenal's counter-attacking style, Reus is ideal.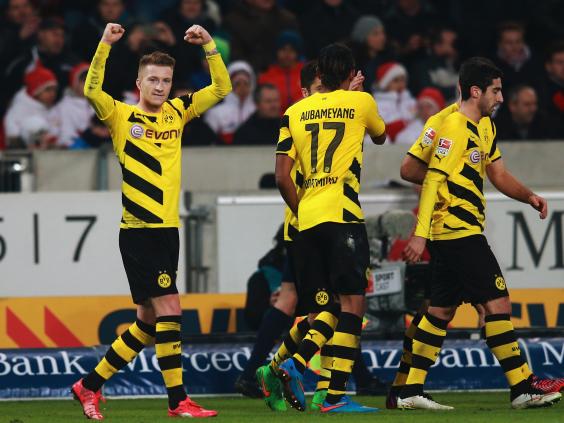 The 24-times capped Germany international also has the advantage of being adept with both feet - something that allows him to play on both wings to strong effect. The attribute of versatility would be a useful one in an Arsenal side brimming with talent in which no positions are secure. In contrast, Walcott is heavily dependent on his right foot, meaning he can struggle when playing anywhere but on the right wing.
Reus also has an eye for the spectacular which is never a bad thing - and his eight goals from set-pieces last season show how deadly he is from free-kicks.
But how do the stats stack up?
Reus is a player who likes to look forward and that's demonstrated by his 18.27 forward passes metric across 90 minutes, compared to 10.73 from Walcott this season. In fact, Reus just loves passing - completing nearly double that of Walcott across 90 minutes this season - 35.47 to 19.67. When it comes to chance creation, Reus wins as well - 2.92 a game to 0.6 for Walcott. However, Walcott has been finding his team-mates on a more regular basis this term, 83 per cent of the time compared to Reus' 79 per cent.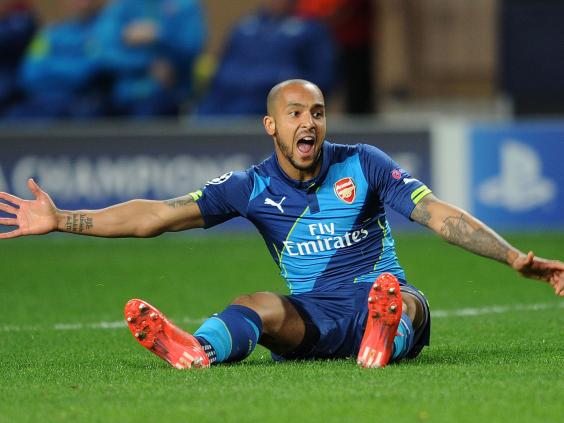 Statistics from this season also show that Reus shoots 3.65 times per game, whilst Walcott is shier by about one a match, at 2.68. When it comes to accuracy though, Walcott wins with 71 per cent finding their target compared to 49 per cent for Reus. That figure is backed up by a higher goal ratio based across 90 minutes, with Walcott at 0.6 and Reus on 0.46.
However, statistics from this season and last are somewhat difficult to compare, due to the serious injury sustained by Walcott in the FA Cup in January 2014.
The last season in which both players played over 30 games each was the 2012/13 campaign and their stats are incredibly similar.
They both played 32 league games and both scored 14 goals. When it came to shot accuracy and pass accuracy, Walcott scored 63 per cent on the shot front compared to Reus' 58 per cent, and 83 per cent to Reus' 77 per cent when it came to passing. In terms of assists the duo were neck and neck as well - 0.31 per game for Walcott and 0.28 for Reus. However the German did create more chances, 1.84 to 1.19.
Who is better?
The statistics and the players' styles are incredibly similar, which mean if Walcott leaves, Arsenal will struggle to find another player who has the capacity to slot in to Wenger's side better than Reus. The Germany international only agreed a new contract with his club Borussia Dortmund earlier this year, however with the club languishing in the wrong half of the Bundesliga and no European football next season, he could be convinced to leave - although a hefty transfer fee will be required. For Walcott, despite having just a year remaining on his contract come the summer, Arsenal will still be able to command a decent fee with a host of clubs understood to be monitoring the situation. Should he be sold, it'd go a decent way to financing a move for Reus.